UWS Academy events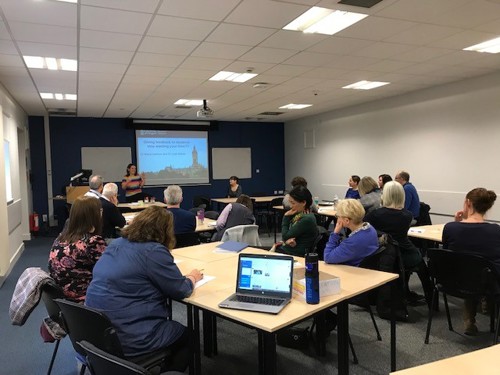 UWS Academy hosts a range of events designed to enhance the expertise of those teaching and supporting the learning of students, as well as promoting the development of researchers.
UWS Academy Events
Our seminars, workshops, networks and reading groups cover subjects of interest to academics and professional services staff throughout the University.  Events also highlight the UWS Focus On: Assessment and Feedback theme as well as the current QAA Enhancement Theme in Scotland, Evidence for Enhancement, and the area of technology enhanced learning, in conjunction with our colleagues in Education Futures. 
UWS Learning, Teaching and Research Conference
As a result of the Covid-19 pandemic, the annual UWS Learning, Teaching and Research Conference will take place in an alternative format in June 2020. 
More information about the revised event will be published on this website, the conference microsite (ltr.uws.ac.uk) and our Twitter feed (@UWSAcademy).
This will be our third conference to combine research and enterprise with learning and teaching and the theme – Learning, Teaching and Research: Making a Difference – explores different interpretations of how these key elements of higher education interact.
There are four sub-themes - Assessment for the future; Making a difference: health, society and sustainability; Student engagement with learning and teaching through partnership; and Using evidence to enhance student learning.  
In 2019, around 250 delegates drawn from higher education institutions throughout Scotland, England and Europe attended each day of the conference in our award-winning Lanarkshire campus.  UWS postgraduate research students also displayed posters about their work and took part in the finals of the Three Minute Thesis (3MT) competition. 
Programme Leaders' Events
Programme leaders benefit from a series of events run by UWS Academy.  The events bring programme leaders from across the University together, giving them a chance to discuss key topics and suggest potential solutions to challenges they may be facing. 
Bespoke Workshops
UWS Academy staff can offer workshops on all aspects of learning, teaching and assessment practice, in addition to curriculum design.  Workshops are available to Schools, programmes and subject areas.  For more information, contact UWSAcademy@uws.ac.uk.
Academic Induction drop-ins
In addition to the Academic Induction Moodle site, new members of academic staff are welcome to attend drop-in sessions to meet members of UWS Academy and see what we can do to help you.  Check the calendar section of this webpage, the ebulletin and the intranet for dates, times and locations.
Networks and Reading Groups
UWS Academy organises and supports different networks and groups as part of its academic development role.
The Senior Fellows' Network is open to staff who hold Senior Fellowship of the Higher Education Academy (HEA).  We encourage all Senior Fellows to attend meetings of the network.
The work of the Early Career Researchers' Forum is supported by UWS Academy through our researcher development role.
Collaborative, supportive and participant-led, UWS Academy reading groups allow you to discuss issues around the scholarship of teaching and learning in an interdisciplinary environment.  Meet colleagues from other subject areas and create new communities of practice. 
The Part-time Doctoral Students' Group, run in conjunction with the Doctoral College, provides peer support for anyone at UWS studying part-time for a ProfDoc, EdD, DBA or PhD.  The group is also open to UWS staff who are working towards their doctorate at other institutions.
For information about all these events, see the Academic Life: Education calendar of events, the ebulletin or the intranet.
Location of events (including multi-campus working and video conferencing)
We aim to have a mix of events available across campuses. To enable the facilitation of group work and discussion, interactive sessions will not normally take place at more than one campus at a time.

Using video conferencing (VC), some events will involve one facilitator in one location and a group of participants at another location.
Any session that involves the use of VC will close for registration 48 hours prior to the beginning of the event so that handouts/ resources can be provided to participants in advance of the session.
If you see an event that you'd like to take place on the campus you work at, please contact us at UWSAcademy@uws.ac.uk
Last updated: 26/04/2019