What we offer
Our pre-registration nursing and midwifery programmes are 50% work-based learning, where you'll put theory into practice in a real-life environment. When you are on-campus with us, you will have access to state-of-the-art facilities that will prepare you well for your future career. We offer the following undergraduate programmes:
Professional recognition
On completion of the BSc Adult Nursing programme you'll be able to register as a Registered Nurse with the Nursing and Midwifery Council (NMC).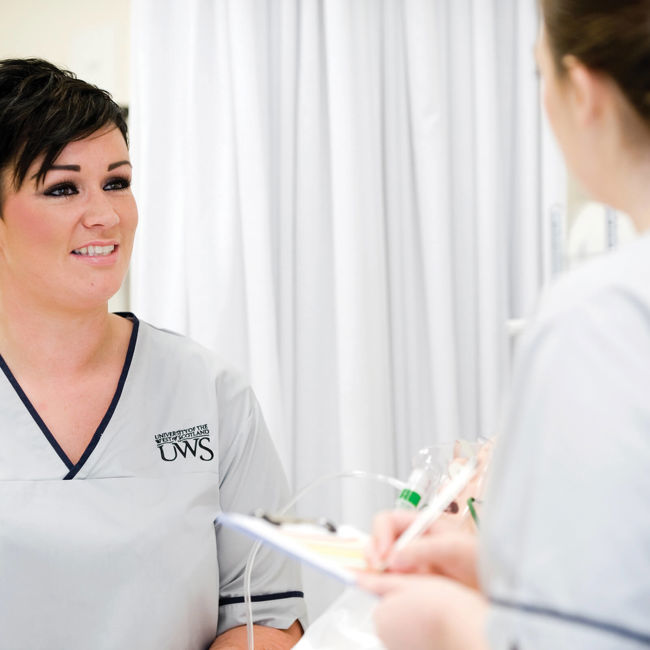 Practical experience
BSc Adult Nursing
Complementing the theory you study in class, our practice-led learning placements provide exciting opportunities to develop the skills to practise safely and effectively within diverse healthcare environments. Hands-on experience is a key component of your degree, with 50% of our pre-registration nursing programmes delivered in practice settings in hospital, community, and care home environments.
Placement opportunities will be available with NHS Greater Glasgow & Clyde, NHS Lanarkshire, NHS Highland, NHS Dumfries & Galloway, NHS Ayrshire & Arran and NHS Golden Jubilee.
First-class facilities
All four Scottish campuses are equipped with state-of-the-art clinical skills and simulation facilities, replicating hospital, primary care and domestic environments, supported by contemporary healthcare technologies. These spaces enable our students to learn authentically in a safe, supportive environment so that they can develop their knowledge and skills in direct preparation for practice.
Investment in the Domus Initiative – a simulated home life environment – provides students with experience of caring for older people living with dementia.
The modern skills labs at UWS were a pleasure to learn in and my lecturers were an amazing source of support to me and my fellow students.
Elaine Lawson, BSc Adult Nursing graduate