Please note: for the latest Covid-19 information and University announcements - including details on campus access arrangements and government guidance - please visit the dedicated Covid-19 information section of our website.
View the latest Arrival at UWS Residences guidance issued on 9 August 2021 here. You can find out more and apply for UWS student accommodation here.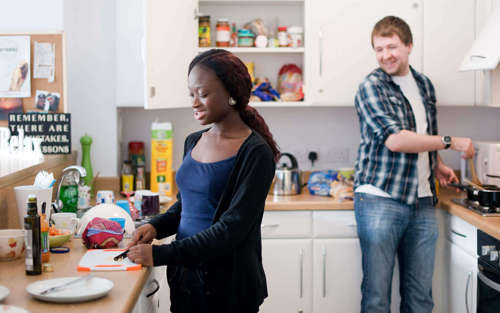 Accommodation FAQs
Q: What happens if I am unable to take up my place in the residences for reasons relating to COVID-19?
A: Under UWS's accommodation agreement, if you enrol at the University, but due to quarantine restrictions, official travel restrictions, public health restrictions or other Covid-19-related advisories being in place and you are prevented from travelling to the University campus, you can cancel your accommodation agreement without being liable for any rental payment, with any deposit you have paid being returned to you.
Q: Will all students be arriving at accommodation at the same time?
A: Given that Covid-19 is a fast-moving and fluid situation, it could mean that not all students are able to arrive at our accommodation as planned. If we do need to change the date on which you arrive at our accommodation, we will let you know as soon as possible and seek to agree a new date with you.
Q: What will happen when I arrive at the residences to move into my room?
A: Our team have transformed the residences with new signage and directional instructions to ensure the safety of all our resident students and our team. Our team will be in touch with instructions regarding the arrival process and to book an arrival time slot with you. We would kindly ask any students arriving to wear face coverings and use the sanitisers provided when entering our buildings.
Q: If I'm completing a quarantine period, how will I be able to access supplies like food?
A: Our residence team will arrange a welcome food pack and cleaning pack for your arrival and this will be placed in your room. We can also supply linen should you require it during any quarantine period. Our team will then remain in regular contact with you to ensure we top up any items you require before the quarantine period ends. You are also welcome to arrange food deliveries from supermarkets and take away restaurants. Our team will place these outside your main flat door when they arrive for you to collect.
Q: How do I access any mail or parcels that are delivered during my quarantine period?
A: We will make arrangements directly with you when items are delivered and these items will be placed outside your door for you to collect safely.
Q: What support will be in place for me during my quarantine period?
A: Our team are on site 24 hours per day, 7 days a week should you require support and the welcome guide in your bedroom has a list of contact numbers and email addresses you can use to contact us. 
Our team will arrange regular telephone and video calls with you throughout your quarantine period and we're here any time you need us for support outwith these arranged times too.
Our International Student Support Team are also available with a range of support which will be communicated to you.
Q: Will there be social events in the residences?
A: Yes, although these might look slightly different to our usual approach. We'll still be hosting different events, some of which may have to take place virtually but there will still be something for everyone and we'll assess our approach regularly as government guidelines change. We would still encourage you to take part in as many of our virtual events as you can – it's the best way to meet other students staying in our residences.
Last updated: 06/09/2021