SCHOOL OF COMPUTING, ENGINEERING & PHYSICAL SCIENCES
The School offers industry-focussed teaching and research opportunities, focussing on the modern-day challenges facing the computing engineering and physical sciences sectors.
The School of Computing, Engineering & Physical Sciences was established in 2018 to develop new opportunities for collaboration between strong subject areas. The creation of the new School underpins further aspirational growth across teaching, research and enterprise. The collective achievements and innovative thinking of recent years have provided a springboard to drive future direction and enable further success across the School's broad activity. The School consists of three Divisions: Computing, Engineering and Physical Sciences.
We seek to recruit enthusiastic, motivated and talented individuals for our academic roles.
MORE ABOUT THE SCHOOL
Our academics have a wealth of expertise and UWS has over 100 years' experience in training engineers
We continue to change people's lives offering vocationally-relevant courses which are designed to take into account and anticipate industry needs
Excellent, industry standard on-campus facilities
Programmes are strongly aligned to industry, professional bodies and other institutions
Exciting portfolio - 26 undergraduate programmes including three Graduate Apprenticeship programmes, transnational education partnership programmes and 16 postgraduate taught programmes
FACILITIES AND RESEARCH
At UWS, our students benefit from studying in modern learning facilities amongst the very best in the country, and we enjoy well-established links with partner organisations across the private, public and third sectors.
Our School is involved in ground-breaking, internationally relevant research that is continuing to establish the University as a force for good. Our academics are making a difference in a number of areas:
We play an internationally leading role in 5G and 6G research and development in the areas of network monitoring, management, automation and intelligence, leading to innovative technologies being used in sectors such as energy, healthcare and security
Our partnership with multinational firm, Thales, and Scottish sensors and imaging innovation centre, CENSIS saw the creation of technology that has the potential to save lives by identifying missing people. The system, which uses advanced cameras and neural computer networks to spot someone it's searching for, scooped a prestigious Times Higher Education (THE) Award in 2020
We are key partners in a £21 million UKRI project to decarbonise Scotland's food production industry by using advanced sensor networks, artificial intelligence, and cyber-physical systems
We have developed pioneering Artificial Intelligence (AI) technology which is capable of accurately diagnosing Covid-19 in just a few minutes. The groundbreaking programme is able to detect the virus far more quickly than a PCR test; which typically takes around two hours
We are a key collaborator in a £3.47 million research project funded by the European Commission which is developing innovative nanotechnology-based materials to protect historic buildings
Our Institute of Thin Films, Sensors and Imaging played a key role in the production of innovative thin film-based chips that have been embedded in non-contact thermometers – essential healthcare equipment to diagnose and limit the spread of coronavirus

Through Knowledge Transfer Partnerships, UWS is helping Moray-based Phoenix Instinct with the development of Phoenix i, the first ultralight wheelchair embedded with intelligent systems. Phoenix Instinct were the winners of the Toyota $1 million Mobility Unlimited Challenge. Their wheelchair design features an intelligent centre of gravity system, which gives enhanced ease of pushing and better agility whilst improving tipping stability
WE HAVE BIG AMBITIONS. DO YOU?
The UWS School of Computing, Engineering and Physical Sciences is a dynamic, vibrant community of scholars delivering innovative learning and teaching alongside our rapidly developing research profile.
We aim over the coming years to build on our achievements and to continually develop and enhance the successes of the School. For our team of dynamic and skilled academic staff, we offer a supportive and challenging environment, with growing opportunities.
Join The Team
We deliver modern, professionally-focussed education opportunities (Bachelor, Master's and Doctoral degrees) in computing, engineering and physical sciences all influenced by our multi-facetted applied research activities. We aim to make a difference, through getting our graduates into employment, our impactful research and through our staff, the lifeblood of the School. 
As we take the School forward in the next stage of its exciting development, we are continuing to make a significant investment in academic posts to support our strategic development and to help further position the School as a key player locally, nationally and internationally.
We look to recruit highly motivated academic professionals across our campuses.
THE SCHOOL'S FOOTPRINT
The School delivers programmes across all of UWS's five campuses.
Paisley Campus
The Paisley Campus offers excellent research and development opportunities, and is the home to the widest range of the School's programmes, across postgraduate and undergraduate level. In recent years there has been major investment in engineering, computing and thin film labs on the Paisley Campus.
Lanarkshire Campus
Our innovative £110 million Lanarkshire Campus includes new industry standard computing, network and cyber labs. A number of undergraduate programmes are offered from the campus, as well as our popular MSc Cyber Security.  
Ayr Campus
Ayr Campus creates a truly innovative learning environment for students and our innovative 'with Education' degrees in Chemistry, Physics and Mathematics are delivered in Ayr as well as our Paisley Campus.
Dumfries Campus
UWS's smallest campus in the heart of Dumfries & Galloway offers a modern and career-focussed approach to teaching through our BSc Computing Science degree.
London Campus
Our dynamic London Campus boasts professionally-focussed programmes in the heart of the city's Docklands. Teaching from our London Campus includes MSc Project Management and MSc Information Technology. There's no better place to teach than in the centre of one of world's business and financial capitals.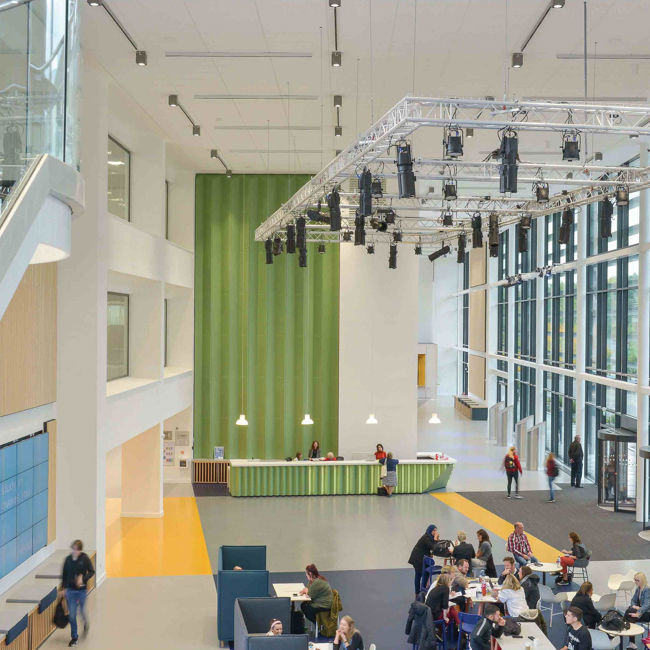 EXPLORE UWS
University of the West of Scotland is a large, modern, multi-campus University with its origins dating back to 1897. We have four campuses across the west and southwest of Scotland and one campus in central London.
We are here for our students
At UWS, we invest in our students' future. Our graduates go out into the world ready to succeed thanks to our industry-relevant courses, cutting-edge facilities and innovative approach to teaching.
Last updated: 13/12/2022