UWS is a global university on your doorstep. We have state-of-the-art technical and scientific equipment and facilities as well as academic expertise close at hand. 
Whether you are seeking use of specific piece of kit or a laboratory environment, we can help your business when it needs it most. 
UWS Research & Enterprise Equipment Catalogue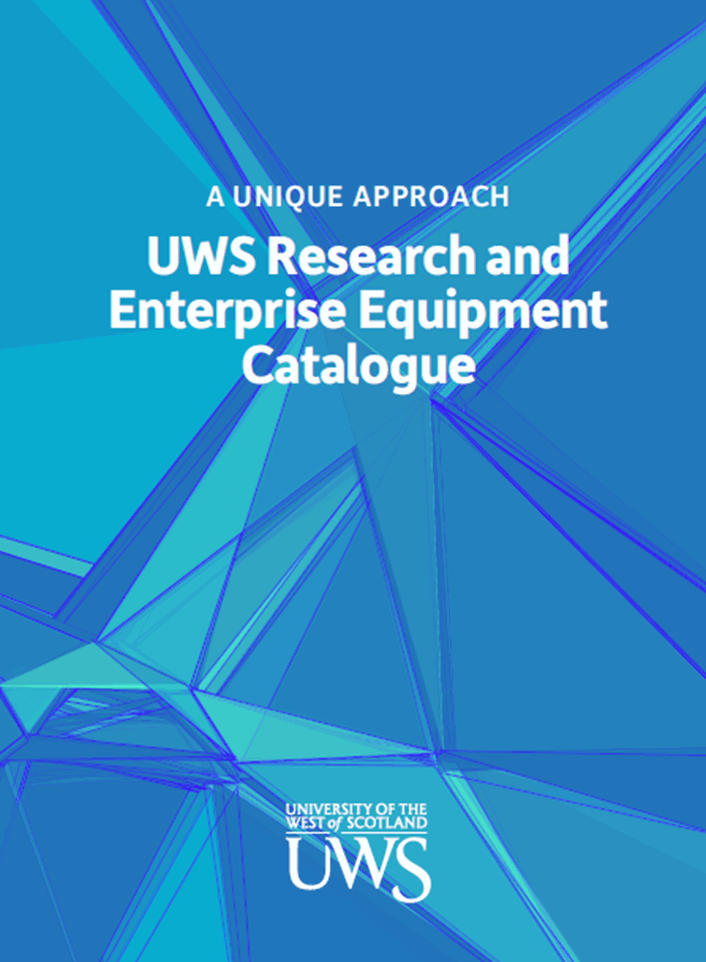 University of the West of Scotland continually invests in and develops technology and equipment to maintain our leading position in research. This equipment can also accessed by our partners in business and industry and this equipment catalogue showcases the range of equipment - across a variety of specialist areas - that is available.
Download now (18Mb pdf)
Engineering and computing 
We have an extensive range of equipment and facilities which are available to hire from compression testing to 5-axis CNC machining, co-ordinate measuring machines, rapid prototyping to plastic injection moulding machines, MicroDyn DC Magnetron Deposition Systems, Atomic Force Microscope, Scanning and Electron Microscope through to multi-sensor UAVs and: 
Large-scale IT Infrastructure 
One of the first of its kind, this Large-scale IT Infrastructure is used to investigate: 
novel ways of reducing operational and capitals costs for businesses 
new ways to achieve smooth delivery of 4K video traffic to mobile phones 
access to new 5G networks 
network cognitive capabilities that enable the infrastructure to protect, configure, optimise and 'heal' itself. 
Internet of Things Sensor Kit 
These devices, packed with sensing and actuating capabilities, are used to monitor and respond to changing smart environments. They have applications in areas such as smart cities, infrastructure monitoring and remote sensing. Here at UWS, these devices are used for data stream analysis, security and privacy and personalised service provision. 
Science, sport and health 
We have an extensive range of equipment and facilities which are available to hire from liquid nitrogen freezer, autoclaves, to biological class II cabinets, to Gas and Ion Chromatography Systems and refrigerated benchtop centrifuge through to:
Extraction Platform for RNA and DNA  
This equipment identifies viruses, bacteria and fungus. 
Domestic Space  
The Domus Initiative is a highly adapted domestic environment, focused on the needs of vulnerable older adults, especially those with dementia. It includes a sitting area, a dining area, a bathroom and a fully working kitchen, with specially selected furnishings, lighting and a range of assistive technology. 
GPS Sports Systems, SPI PRO XII plus software 
This wearable GPS provides tracking for competitive sports. Capable of analysing training volume, intensity and work rate, it's currently used by rugby and football teams. 
Media & Culture
Through the Creative Media Academy we offer a wide range of professional TV, sound and magazine design facilities, editing suites, sound studios, two fully equipped TV studios and other facilities for hire across our campuses.
TV Studio 
A soundproofed TV studio with three cameras, linked to a Tricaster system for mixing and recording. Two of the cameras are fitted with autocue and there is a complete set of Kinoflow lights. 
Social Science
In this area we have our fixed eye tracker lab and our:
Large Psychology Lab  
This psychology teaching lab is set up to monitor individual and group work. Using experimental editing software, psychologists present visual and auditory stimuli to viewers with millisecond accuracy, while monitoring the viewer's reaction. Potential applications include assessing user responses to a website. 
Last updated: 24/07/2017