FAQs
Check below for the answer to your question. If you can't find what you're looking for, log in to the HUB Student Portal to search through further FAQs or ask us a question.
Getting Started Factsheet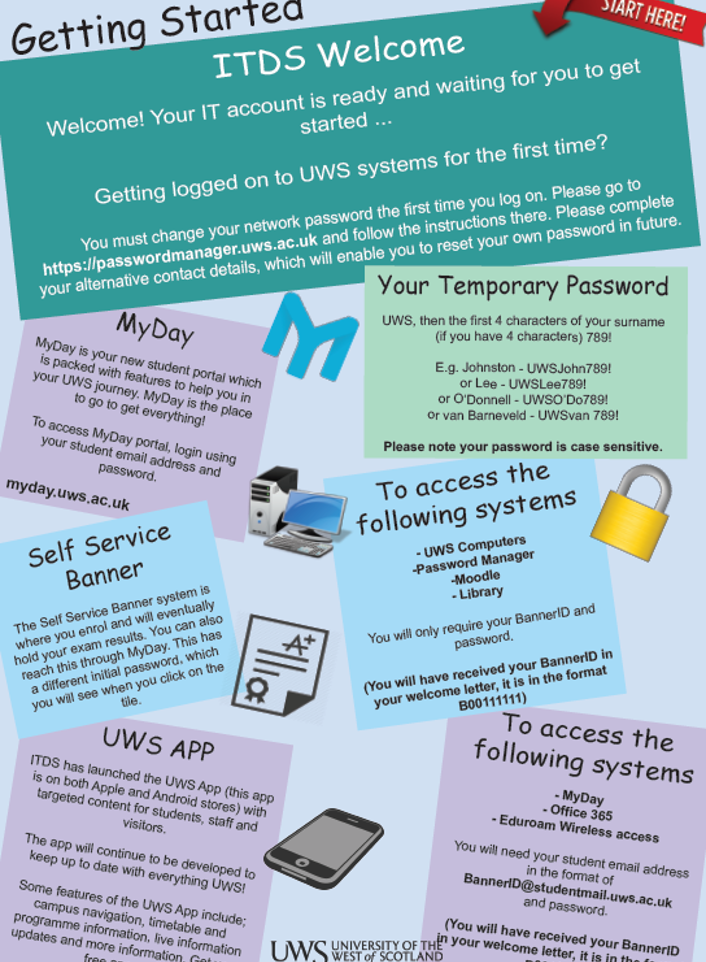 What is my 'network password'?
Your network password lets you access PCs and thin client devices on campus, and is the same password you will use to access Moodle, wireless and Password Manager.
If you've forgotten your network password, you can view our instructions on how to reset your password.
Can I change my network password if I am not on campus?
Who do I contact if I can't log into the PC?
You may also want to check that Caps Lock is not on since passwords are case-sensitive.
Try logging onto another PC if there's another one available. If you're still not able to log in, contact the ITDS Helpdesk.
Which systems will I use?
Download our factsheet to find out more about the systems you can access to support your learning.
How do I access Self Service Banner at home?
Who do I contact if I can't see a Moodle module?
Contact your Lecturer or course leader as they are responsible for making sure that you are added to their modules.
How do I use WebEx?
WebEx is an online meeting and video conferencing service. It can be used to meet and collaborate with people remotely through an internet connection and provides options to share files and screens.
If you're sent a WebEx invitation by email, you can join the meeting by clicking on the link within the email. Alternatively, if you have a meeting number, you can go to the WebEx page using the link below and simply enter the meeting number.
You can also host a meeting by logging in, selecting Start Meeting then using the Invite option to send your meeting link to participants by email, and they can click on this to join the meeting.
Don't forget to click on Connect to Audio and select either the Telephone or PC Microphone option so the other participants can hear you.
More information about using WebEx can be found here:
Why can I not use my mobile phone in the open access area?
Open access areas are for students to work on coursework or revise for exams. Mobile ringtones and phone conversations can be distracting and therefore all mobile phones should be set to silent/vibrate to prevent disturbing others when you are in any area of the University where people may be working.
Can I get software from the University to use at home?
Yes, UWS students can take advantage of the University's licence to download a free copy of Microsoft Office 2016 on up to 5 personal devices. Simply log in to http://products.office.com with your University email address and password, click on Install Office 2016 and follow the instructions.
There is also an online version available from the same location, which you can use without the need to download any software to your device. Both versions of the Microsoft Office software include Word, Excel and PowerPoint.
Can I play games on the PC?
No, games may not be played on the PCs in the Open Access areas. These PCs are intended for study purposes only.
Can I use my USB Device?
You can connect USB flash drives/Pen drives to save work and transfer files and folders from PC to PC. Privately owned equipment is connected to University PCs at the owner's risk.
The University will not accept liability arising from such connections (eg lost data/damage to USB drive).
Remember, always back up important files to your Home Directory (H:).
Can I access the WiFi network anywhere on campus?
Most University academic and administrative buildings on all campuses have wireless access. However, there may be limited coverage in some areas, eg toilets, stairwells, sports halls, changing rooms, outdoors, etc.
Details of how to connect to the WiFi network can be found on the WiFi Access page. 
Which browsers can I use?
There is no restriction on the browser you can use. No additional proxy settings are required once you have connected to the network.
Can I print from a wireless device?
You can access printers from the wireless network using EveryOnePrint. This enables you to send documents to the print queue from your laptop or portable device then log on to any on-campus printer to collect them.
Instructions about how to download and use this app, or access the web version, can be found on the Printing page.
How secure is the wireless service?
Your data is encrypted as it passes through the wireless network. However, you should be aware that no encryption is 100% secure. In addition, you must ensure that you have some form of anti-virus software installed on your device and this is kept up-to-date.
What should I do if I want to connect to WiFi at another institution?
Before you leave your own institution, you should check that:
your device is able to connect to the eduroam service at your own institution with your own login credentials
you have read the Acceptable Use Policy of the institution you are visiting
you will be able to use the required network resources using eduroam
Remember that, when connected to eduroam at a participating institution, access to some UWS resources may be restricted. The services available to you off campus are the same as those available to you when connected from home. You will be able to access the web version of your e-mail account (https://outlook.office365.com). If access is required to a specific site or system, please check this is possible by speaking to your local IT support team beforehand.
What can I check if I'm having problems connecting to the WiFi network?
Check that your laptop has an internal wireless card. Most modern devices will have this but some older models may require an external USB wireless adaptor to provide a connection to the WiFi network.
Some laptops do not enable the wireless card as default. Depending on the type of laptop you are using, there may be a switch on the laptop to enable WiFi or you may need to go to the Control Panel and switch this option on in the Network and Sharing Centre.
If your battery is running low, it may close down certain services on your device. Try plugging your laptop into the mains or charging your device.
If you are experiencing frequent disconnections from the network and your device is using Windows 7, ensure that you have switched off the 'IPv6' option. Details of how to do this can be found in the configuration user guide for your device.
What can I do if I am still having problems?
If you are still unable to connect to the WiFi network, please contact the UWS ITDS Helpdesk by phoning 0141 848 3999.
Last updated: 23/10/2017