A quick way to print from PCs, laptops, or mobile devices
Printing is available on all campuses. Documents can be sent to the print queue from PCs on the University network and from laptops or mobile devices then collected by logging in to any Multi Function Device (MFD).
Printing from a University PC
When logged in to a PC on the University network, students can select the default print queue (UWS Print) from the list of printers then log in to any Multi Function Device (MFD) to collect their documents.
Printing from a laptop or mobile device
More information about EveryOnePrint can be found in this User Guide:
Using the MFDs (Multi Function Devices)
Multi Function Devices (MFD) are installed on each of our campuses. These provide you with the ability to Print, Copy and Scan to Email.
You can print to any device so, if the nearest device is unavailable or busy, you can collect your printing from one on a different floor or room.
For your convenience, you can register your student card at any MFD and this will enable you to log in to the MFD by simply swiping your student card. Click below to view the instructions.
Assigning a student card to a MFD (PDF)
You can also log in at any time using the screen on the MFD. To log in, enter your Banner ID and network password. Once logged in, you can release any print jobs you have sent to the print queue or use the copy or scan functions.
Help with printing issues
If you experience any problems using the printers, please contact the IT Helpdesk.
If you have a query about the quantity or quality of the documents you've printed, take your pages to the IT Helpdesk on your campus and they will check the print queue records.
Please note that refunds for print credit are only given if there has been a problem with the printer.
Printing charges
Cost for Black and White - 5p per sheet
Cost for colour - 10p per sheet
You will only be charged when you collect your documents by logging in to the Multi Function Device (MFD) and clicking on Print. If you click on Cancel or don't log in to collect your documents within 24 hours of sending it to the print queue, the document will not be printed and you will not be charged.
Print credit
£10 free Print Credit is added to your account per academic year. When you're on campus, you can check how much credit you have by going to papercut.uws.ac.uk or at any time by clicking Print Balance in the UWS Student App 
To be able to print, you must have a minimum balance of 40p in your account.
Purchasing print credit
Students can add credit to their print balance by adding credit to their account online or using the print credit machines on campus.
ONLINE
To purchase print credit online visit the Online Payments web page and log in with your Banner ID and Surname.
A minimum purchase of £5 is required when adding print credit online. If you have any problems with this online purchasing page, or any other problems relating to printer credits, please contact the IT Helpdesk.
Take a note of the payment reference number in the event that you have any queries about your payment. Credits will be added to your account on successful completion of the transaction.
ON CAMPUS
Print Credit Machines on Paisley, Lanarkshire and Ayr campuses allow you to add credit to your account. The machines accept £5, £10, £20 notes and coins (except 1p and 2p).
Print Credit Machines can be found at the following locations:
Ayr - Level 3 Library (Area LRC3.01)
Lanarkshire - Library
Paisley - Level 3 Library
Swipe your student card at the machine where indicated below: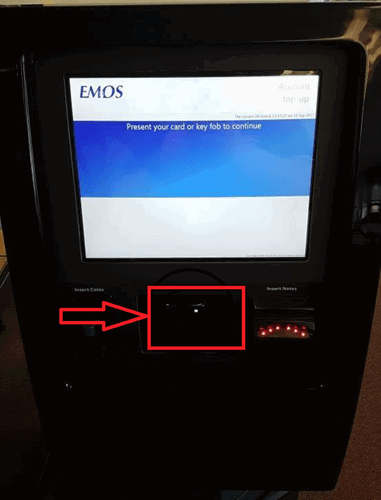 The screen should now show your account balance. Use the coin slot or note feeder to add credit then press the on-screen Finish button. Note: The machine does not give change.
Printing Services for one to one assistance
Printing Services use digital printers to ensure the last minute, urgent projects and dissertations can be printed and bound on time, same day on selected products. Fast turnaround colour printing starts from only 9p.  
For any queries or orders, please contact us by email at printingservices@uws.ac.uk. You can also contact us by phone (details below)
Benefits include:
No minimum orders
Quick turnaround time
Competitive prices
Variety of finishes
Mono and & full colour reproduction
We specialise in:
Hard back binding
Spiral, wire and tape binding
Dissertations
Notes
Presentations
Poster printing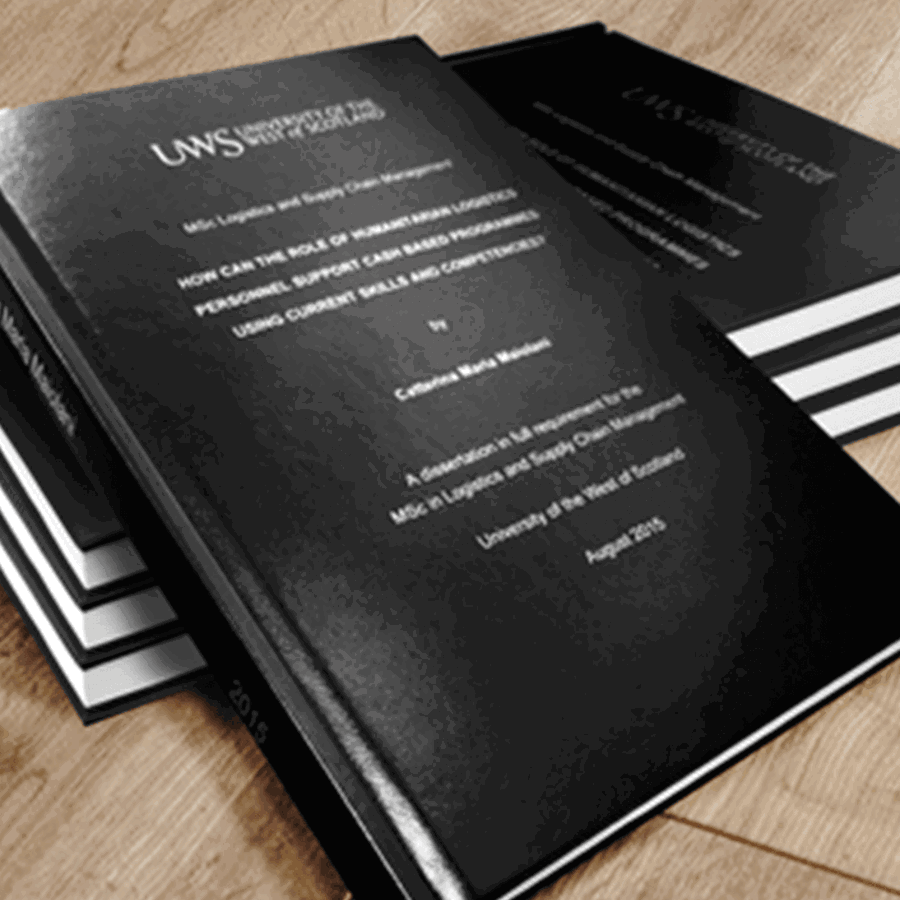 Hardback binding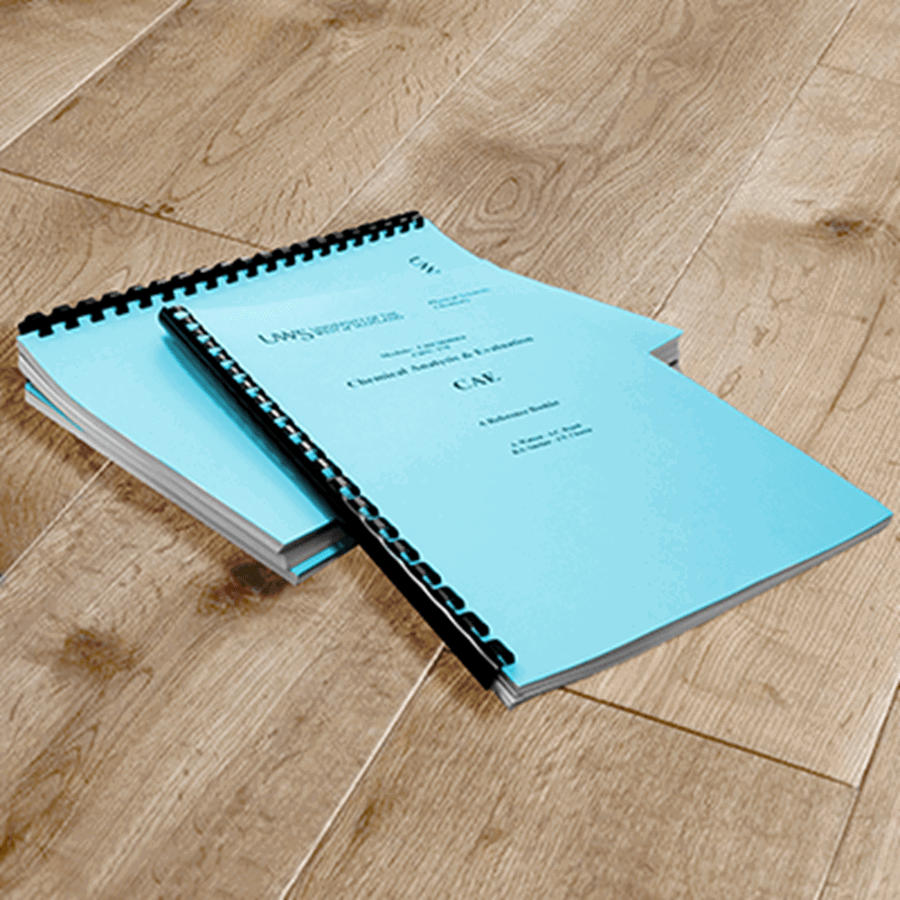 Spiral binding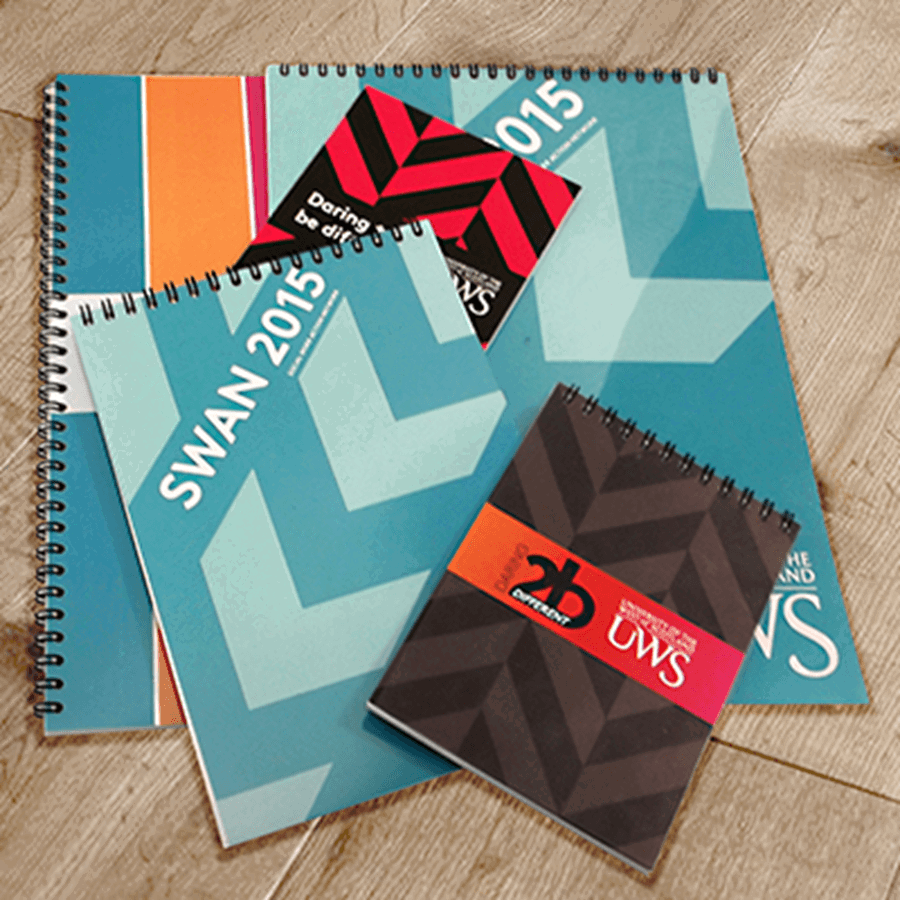 Wire binding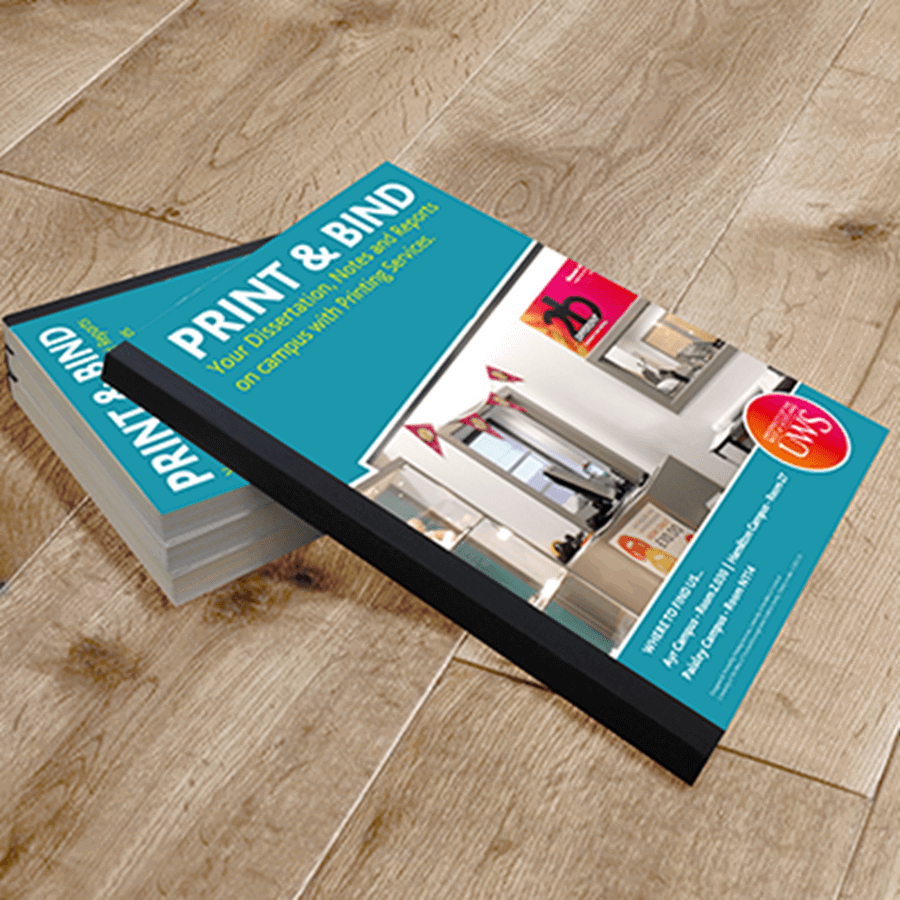 Tape binding
4 book binding options are available:
Hard back binding: From £20.00 (Gold foil printing, Magister hard back covers with metal channel bind. Minimum 60 A4 pages, Maximum 290 A4 pages)
Spiral binding: from £1.09 per book (includes clear cover and card back)
Wire binding: from £1.49 per book (includes clear cover and card back)
Tape Binding: from £1.29 per book (includes clear cover and card back)
Contact & Opening Hours 
Paisley Campus
Monday to Friday 10.00 – 14.00
Elles Building East, Room L129, Ground Floor
Tel: 0141 848 3343
Email: printingservices@uws.ac.uk

Print Design Superstore User Guide 2022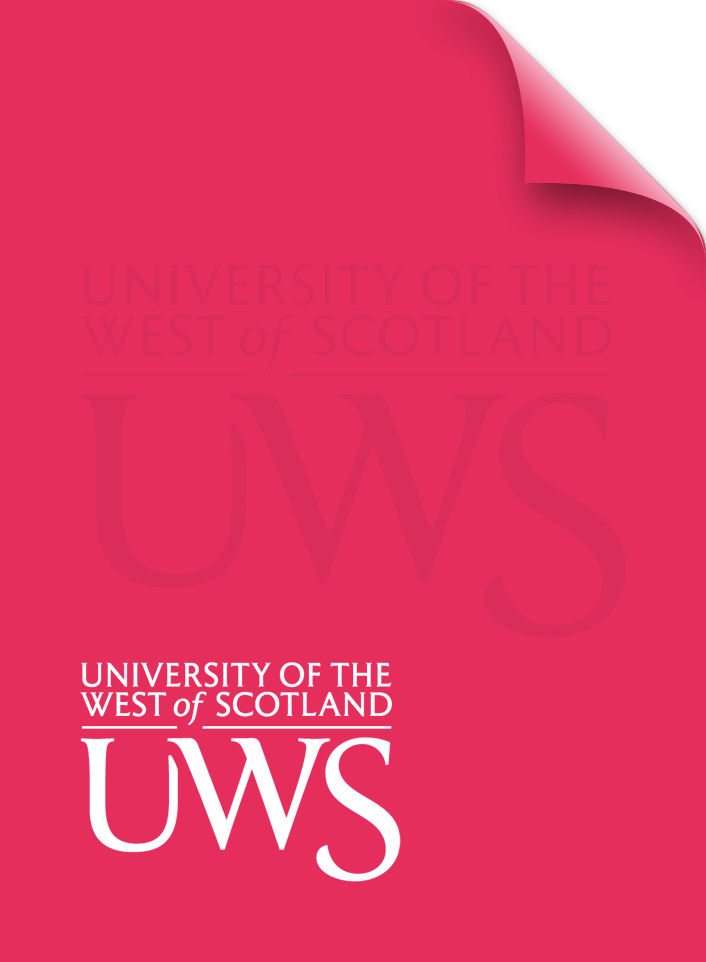 FAQs for Student Printing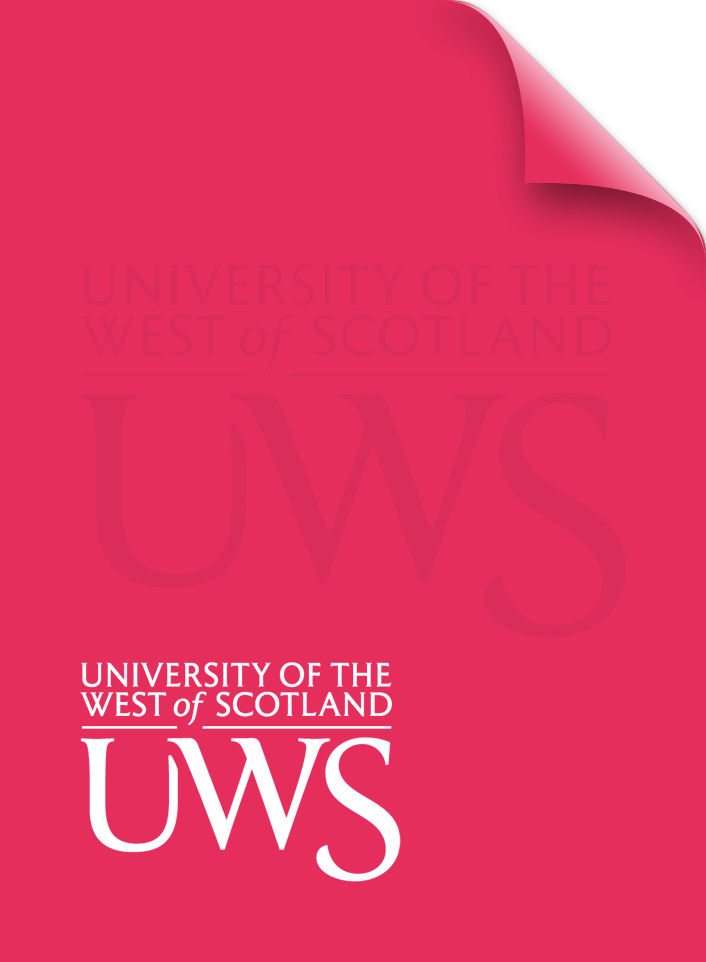 Tips to make you better at Microsoft Word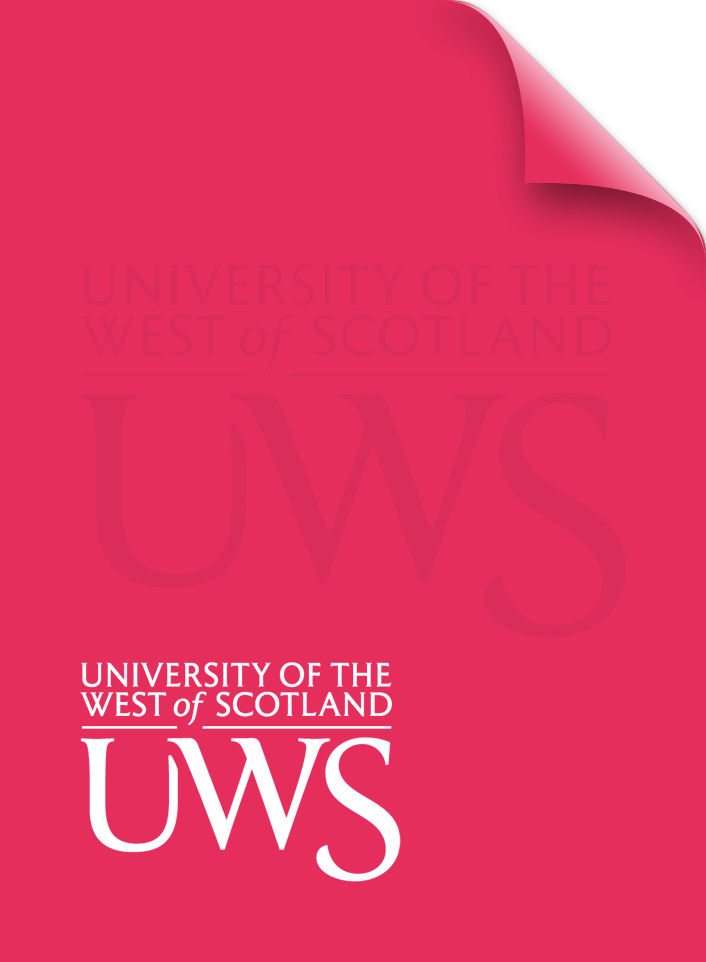 Last updated: 24/01/2023