Enrolment for New Students
All students must complete the online enrolment process each academic session, using Self Service Banner at https://ssb.uws.ac.uk
Please note that new students must have accepted an offer of a place by UWS Admissions.  If you have not accepted your offer, contact admissions@uws.ac.uk, or accept the offer on UCAS Track as soon as possible.
This year new Non-EU students will be able to complete online enrolment when they have accepted their offer to study at UWS and paid their CAS deposit. Individual emails will be sent to students with the details of how to enrol. There will be passport/BRP check sessions organised at the beginning of the Term for these students who have arrived in the UK and the details of these will be communicated to students nearer the time.
Information for new students
Accepting your offer to study at UWS
If you have a conditional offer, please make sure that you respond to all the UCAS deadlines promptly. Keep checking on UCAS Track to make sure you're up to date and remember that, although the University will get many results automatically such as Highers and A levels, there are some that we do not get automatically such as HNC and HND results. So, if you have been asked to provide evidence of successful completion of an HNC or HND as part of your offer, make sure you get this sent to us as soon as possible.
Student card
As a new student enrolling with UWS for the first time, you should upload a photograph for your student card during online enrolment.
Photographs should be:
Passport size (3.5 x 4.5 cm)
Full colour
Head & shoulders, or full face only
No sunglasses
Plain (not white) background
Free of headwear, unless normally worn for religious reasons
JPG, JPEG or GIF file type
No larger than 1MB
If your photo is not suitable you will be asked to provide another one.
If you are not able to upload a photograph, you will still be able to enrol but you should then email your photo to hub@uws.ac.uk from your student email account quoting your Banner ID.
New full- and part-time students (except Distance Learning) must collect their student ID card in person from the Hub or Student Link on their campus, providing photographic identity such as passport or driving licence. Student ID cards will be posted out to Distance Learning students.
Your student ID card is important as it is swiped to register your attendance in lecture theatres, classrooms and labs, and gives you access to the Library and other University facilities. It is required as proof of identity and valid student status for entry to examination halls, etc.
Student email account
Throughout your time at UWS we need to let you know about important issues, and we will do this via your student email account. If you prefer, you can forward student emails to your personal email but it is your responsibility to ensure you are checking your student emails regularly.
Help with your study skills
You've worked hard to get where you are and now find out how to work smarter. We have a lot of resources at UWS to help make study that bit more manageable so check out the Academic Learning Skills section for further information. 
Funding and money advice
You don't have to wait for your results before applying for funding so, if you haven't got that organised yet, apply now to avoid delays at the start of the session.
Further information about SAAS funding is available on the SAAS website.
Advice about funding is also available from our Student Services team – contact them via the Hub or Student Link.
Requesting a student buddy
The Buddy Project is open to all students - UK and international - over all UWS campuses.
The Project matches up newly arrived students with established students to help the new arrivals settle into university. We currently have international students from 59 different countries - for many it may be the first time outside their home country. Our 'home' students may also have come from a different part of Scotland or the UK. To assist new students settle in to University life, the university runs a Buddy Project which aims to offer informal and friendly support to all new students.
New student who would like to be matched with a Buddy should contact the Hub.
Meningitis ACWY immunisation for new students
Are you under the age of 25?
Is this your first time entering higher education?
If you answered yes to both questions, you can now be immunised with the new Meningococcal ACWY (MenACWY) vaccine to protect yourself against meningitis and septicaemia. This is available whether you are a Home, EU or International Student. Ideally you should be vaccinated two weeks before you arrive at University, or as soon as possible.
Contact your doctor, and find out more at: www.immunisationscotland.org.uk/menacwy. Be vigilant, and download the free Meningitis Now's 'signs and symptoms' phone app by visiting www.meningitisnow.org.
The social stuff
Check out the Students' Association plans for the new session, where to eat and drink on campus and recommendations from current UWS students on where to eat, shop, dance and explore around each of our campuses.
Check out our UWS Welcome pages for more information on how the University is welcoming new students to UWS.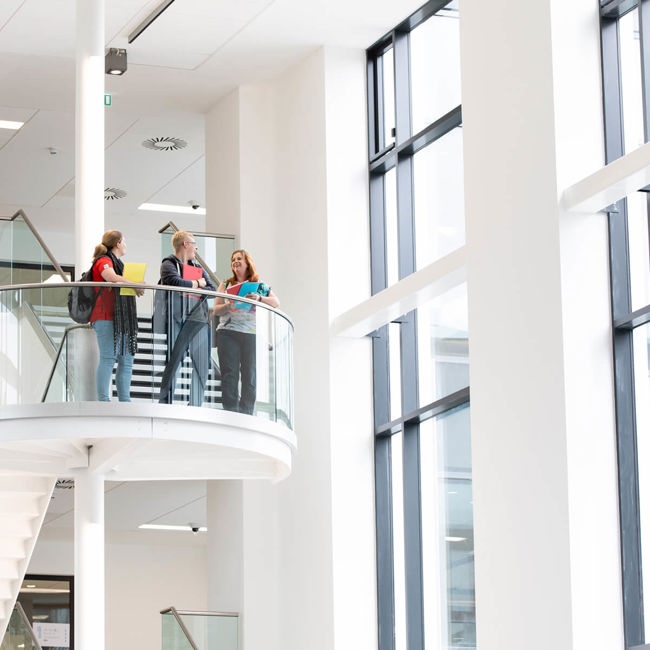 Explore UWS
University of the West of Scotland is a large, modern, multi-campus University with its origins dating back to 1897. We have 4 campuses across the west and southwest of Scotland and one campus in central London.
We are here for our students
At UWS, we invest in our students' future. Our graduates go out into the world ready to succeed thanks to our industry-relevant courses, cutting-edge facilities and innovative approach to teaching.
Explore our facilities
Last updated: 04/08/2020