Academic Year 2020/21 kicked off on Monday 28th September 2020 with Welcome Week and events will continue over the coming days as part of this.
Welcome Week is a really important part of your studies at UWS. You will finish your enrolment, engage with your school and programme, find out about the range of services here to offer you support and development and be introduced to your Students' Union. You'll also be offered a whole range of top tips to help you with your studies as well as have the opportunity to begin building friendship networks with other students. If you are a returning student, taking part in Welcome Week is still really important in helping you to settle into your next year of study.
Although Welcome Week will be different this year due to government guidelines, we are committed to providing you with the same opportunities as students have experienced in previous years albeit in a different format with many activities taking place online. Some of these activities will be live and can be joined in real time while others will be pre-recorded so that you can participate at your leisure. The calendars below will indicate which events are live.
Getting the chance to meet academics and fellow students on your programme is a key aspect of Welcome Week and this year will be no different. University-wide and school/programme specific induction activities are being planned to be as interactive as possible in order that you can engage fully with all members of the UWS community.
You can find out more about each aspect of Welcome Week below with live timetables available to view. Please consult these for the most up-to-date info on what activities are taking place and how to join them.
We also have a range of frequently asked questions relating to induction on our Welcome/Welcome Back website covering areas such as enrolment, groups and societies and our gyms at www.uws.ac.uk/welcome.
YOUR WELCOME WEEK
If you are a new student, you must engage with all the induction sessions for your programme below. If you're not sure which school your programme is part of, check the email you will receive/have received in week commencing 21st September. If you are a returning student, you will be receiving communication from your academic school soon.
Take a good look at all the top tips we're providing below. These will really help you get the best from your studies. 
Check out all the advice and support we can offer you throughout your time with us below. There's lots of ways we can help you in your life as a student. 
Have some fun with your Students' Union! Check out the events happening in Welcome Week and in the weeks to come.  
Remember, some online events are LIVE! Others are available for you to access this week and many will still be there to help you in the weeks to come.
You will find answers to many of the questions you may have on our Welcome/Welcome Back pages. If you have any other questions contact The Hub at hub@uws.ac.uk.    
Returning Students
It's not only new UWS students that we want to take part in Welcome Week 2020. There are plenty of activities that returning students can take part in through our wider top tips, advice and support sessions or through the Students' Union timetable for Welcome Week. Have a look through the list of activities below and we encourage you to take part in as much as you can. Your academic schools will be engaging with you shortly through Moodle, so keep an eye out for that too.
We would also encourage you to check out the Welcome/Welcome Back pages of our website to find out more about our plans for Academic Year 2020/21. There is information on these pages about our new hybrid model of learning and teaching, the digital skills you will need for this approach and how we can help, changes to how your timetable will look, our plans for safe and welcoming campuses and the support we are able to provide to you, plus much more.
Top tips, information, advice and support for your studies
There will also be a programme of University wide induction activities that students from any school or programme can join in with. These will start during Welcome Week and will continue into the first few weeks of term. While not compulsory to participate in these, we highly recommend that you get involved.
Planned university-wide activities include getting to know you chats, virtual quick question sessions and global hang-outs organised by our Student Services teams.
You can view the range of activities on offer below:
Top tips, information, advice and support for your studies
Please note: Once you have opened the calendar you should view it in 'Agenda view' for the best experience.
Students' Union Welcome Week Activities
Our Students' Union Freshers' Fair will be a bit different this year as they are not able to host traditional Freshers' Fairs across the campuses. Instead they will be holding a six week Freshers' programme of online events and social activities for students across all five campuses where you will have the opportunity to get to know other students and find out how to get involved in activities and societies. This will include events for:
Societies
Peer support groups
Liberation groups
Volunteering
This programme will be delivered online but they are also planning some additional face to face events at our Ayr, Lanarkshire and Paisley campuses. These will be organised in adherence to ongoing government guidelines.
You can find out more information on the Students' Union website at https://www.uwsunion.org.uk/whatson/
School Welcome Week Activities
Your school/programme induction activities will provide you with ways to connect to your classmates, help you feel part of the community and understand what is expected of you and how you can succeed in your studies. You will be emailed with details about what this induction includes and how to attend.
A welcome message from our Principal 
SUPPORT WITH ONLINE PLATFORMS
The majority of our activities are taking place on Microsoft Teams, with some available through Zoom.
All UWS students are provided with a Microsoft Office365 account. This includes your student email account and access to the full range of Microsoft software and applications, such as Word, Excel, PowerPoint, Teams, OneDrive and much more. You can access this via MyDay.
You can find advice on how to use Teams on the Microsoft support website and Zoom through their support site. 
We've also created a helpful video on best practice for using Microsoft Teams to attend your online lectures.
If you have any questions you can contact us at hub@uws.ac.uk or through our support portal at https://hub.uws.ac.uk  
There is also a range of information on digital skills and support that you can access from our website.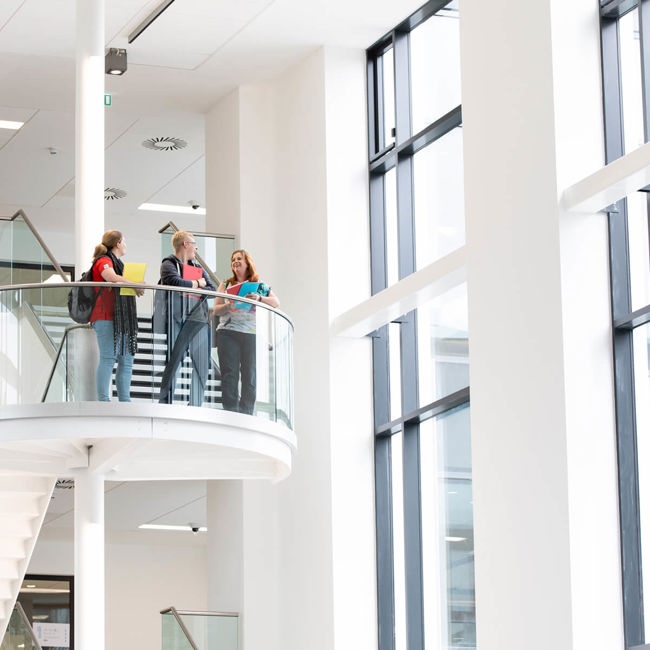 Explore UWS
University of the West of Scotland is a large, modern, multi-campus University with its origins dating back to 1897. We have 4 campuses across the west and southwest of Scotland and one campus in central London.
We are here for our students
At UWS, we invest in our students' future. Our graduates go out into the world ready to succeed thanks to our industry-relevant courses, cutting-edge facilities and innovative approach to teaching.
Explore our facilities
Last updated: 21/09/2020