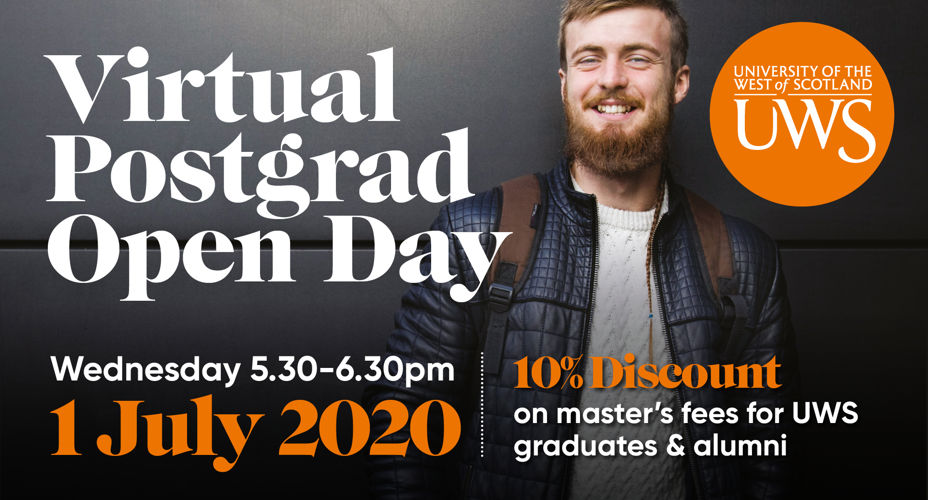 Join UWS and be part of an innovative research and knowledge exchange community that is helping to shape the world we live in.
Our Masters, Post-experience and Research courses can accelerate your current career path or give you the chance to embark on a new one. They feature practical experience options, recognition from professional bodies, are research-driven, and are supported by subject area experts.
Postgraduate students at UWS work at the forefront of their academic subject and contribute to the advancement of knowledge in their chosen field.
Our lecturers will support you to achieve highly-regarded postgraduate degrees at MA, MSc, MBA/MPA level, as well as our new professional doctorate (DProf) qualification.
We work with international businesses, regional enterprises, local and international education partners to ensure that UWS postgraduate tuition drives innovation and supports the future needs of society, industry and government.
This focus increases your employability and career prospects, whether you seek a career in an academic or commercial environment.
Register your interest in one of our programmes and we will be in touch with you directly over the next few weeks. That may be to invite you to our Virtual Postgrad Open Day on Wednesday 1st July between 5.30pm and 6.30pm where you can find out more about postgraduate study at UWS and hear from academics on your programme of interest, or one of our Programme Leaders may contact you directly to answer any questions you may have and provide more info.
UWS postgraduate and post-experience degrees are designed to create work-ready graduates and will help you develop advanced knowledge and understanding in your chosen field.
We look forward to helping you decide on your next steps!