UWS men's basketball team has won the British Universities & Colleges Sport (BUCS) Scottish Conference Cup – with the women's team securing silver.
The men's team achieved a league and cup double after winning their BUCS league and securing the Scottish Conference Cup, following a 77 – 73 defeat over Edinburgh Napier University at the event, which took place in St Andrews on Wednesday 11 March.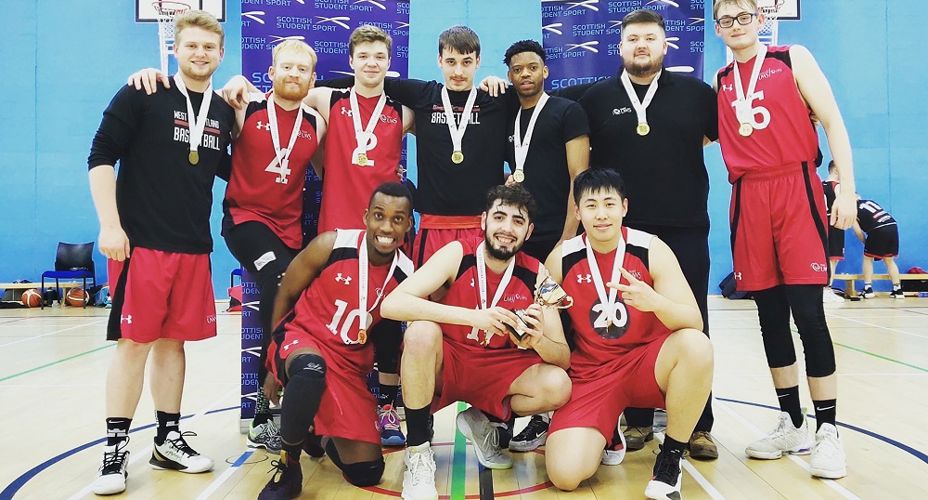 Ciaran O'Brien, Head of Sport at UWS, said: "We recognise the transformative power of sport at UWS and have high aspirations for our teams and sport scholars. We are delighted to see the success of our student athletes, and the wider benefits which sport and physical activity are contributing to the University."
The men's final saw Sports Scholarship recipient and Glasgow Rocks star, Jonny Bunyan secure a man-of-the-match accolade. The women's team also saw fantastic performances on the day, with Sports Scholarship student, Nicole Davidson shooting a number of key three point shots throughout the match. Both are students at UWS's Lanarkshire campus.
In karate, Ayr campus Sports Development student, Dylan Rush won a silver medal, as he reached the final of the men's senior under 67kg Kumite competition. There was also more BUCS success for Sport Scholarship Student, Craig McNally, who took home bronze medals in both the 100m and 200m men's backstroke events.
Craig, who is studying Applied Bioscience at UWS's Paisley campus, also qualified for the 50m backstroke final. This was Craig's third BUCS championships with Team UWS, winning a number of medals – and he also reached the final of the 200m backstroke as part of Team Scotland at the 2018 Commonwealth Games.
Also in the BUCS pool, Sport Scholarship Student Katie Mackenzie reached the final of the women's 200m individual medley. Katie, who studies Society, Politics and Policy at the Paisley campus, had an impressive swim to finish in 6th place.
Elsewhere at BUCS, UWS students had some strong performances across 60m hurdles, shot put and 3000m in the athletics arena, while Team UWS badminton also achieved strong performances in women and men's singles, men's doubles and mixed doubles.
John McGonigal, Sport Development Manager at UWS, said: "We are extremely proud of the achievements of our Team UWS students and individual athletes. Team UWS students have competed in a wide range of BUCS competitions over the season and there have been some exceptional performances and significant successes.
"These successes are demonstrated by all of our students who competed in individual competition finals, UWS students who won individual BUCS medals and by our two Team UWS basketball teams on reaching the BUCS Scottish Conference Cup finals, with the men's team securing the trophy for two consecutive years and the women's team bringing home silver in their first-ever appearance in the final."