UWS has marked the launch of its new School of Business & Enterprise with the signing of a Memorandum of Understanding with the Federation of Small Businesses (FSB).
The landmark agreement brings together two organisations that are key players in the Scottish business support network and will help the university and local small businesses work together.
The memorandum aims to boost the number of university-based start-ups and spin-outs and increase local business engagement through joint events and communications. The two organisations will also explore look to strengthen links between education and industry through a fully-funded Graduate Apprenticeship programme.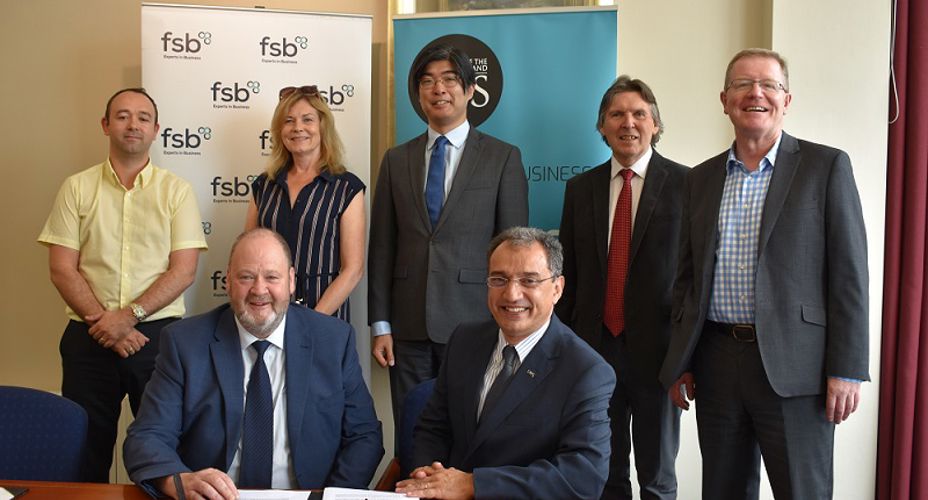 FSB members will have the opportunity to help the University shape how it engages with business to complement the organisation's current wide range of support. Plans are also in place to help firms access the University's wide range of research facilities across business, software, health and science.
FSB has 6,200 small business members in the West of Scotland.
Dr Daniel Turner, Deputy Dean, School of Business & Enterprise "The University is delighted to be signing this Memorandum of Understanding with the FSB. UWS has an exceptional track record of supporting small businesses whether through producing industry ready graduates, sector leading research or through providing professional training and development."
"Working closely with industry is integral to our approach to this and our partnership with FSB will allow us to further this commitment in the coming years."
Dr Daniel Turner, Deputy Dean, School of Business & Enterprise
Andy Aird, FSB's Area Leader for the west of Scotland, said: "Closing the gap between education and enterprise needs to be a priority if we're going to boost productivity and give businesses the best chance of success. And this exciting agreement means that small businesses across the west of Scotland will have direct access to UWS's fantastic expertise across a number of fronts.
"This collaboration is possible thanks to the enthusiasm and hard work of both organisations. This is an exciting partnership that I'm sure will yield dividends for many years to come."