The Alzheimer Scotland Centre for Policy and Practice's (ASCPP) ground-breaking work to improve the lives of those living with dementia was celebrated at a special event held at UWS Lanarkshire campus.
The third ASCPP Annual Celebration Lecture saw guests gather to listen to the Centre's achievements over the past year as outlined in its latest report, as well as receive a lecture delivered by guest speaker, Shelley Peacock, Associate Professor within the College of Nursing at University of Saskatchewan in Saskatoon, Canada.
Over the past 12 months, the Centre, which is a collaborative partnership between University of the West of Scotland and Alzheimer Scotland, has had a far-reaching impact within the field of dementia care, noting a number of significant success stories.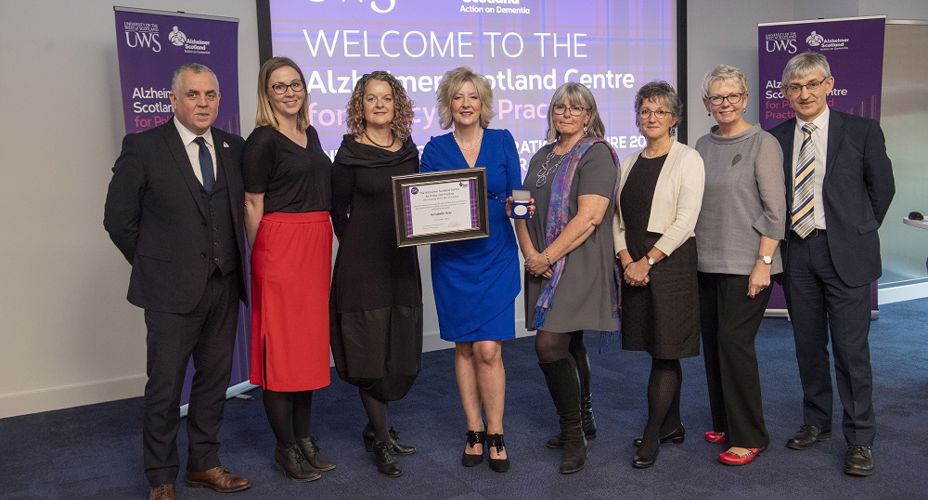 These include the creation of the first-ever ASCPP textbook and the introduction of The Carer's Academy, a pilot programme set up to educate and support those caring for people living with dementia, which was recognised as Best Dementia Education Initiative at Scotland's Dementia Awards 2019.
The Centre also played a key role in providing the research and practice evidence base for the Fair Dementia Care Commission and the subsequent Fair Dementia Care Campaign, both aiming to end care injustices experienced by people living with advanced dementia.
A highlight of the year was also the continued success of the Centre's Dementia Champions programme, an initiative which aims to teach qualified health and social care professionals to become change agents in dementia care. The tenth cohort is currently underway, with the Centre expected to have trained more than 1,000 Dementia Champions by the end of this year.
Guests at the event had the opportunity to hear more about the amazing work of the ASCPP team from its dedicated members, who include academics, researchers and directors from UWS, as well as dementia nurse consultants from Alzheimer Scotland and the NHS. Attendees were also treated to a musical performance of 'Stories & Songs', a selection of songs co-written by family carers with musicians, Carol Beckwith and Pauline Walmsley, known collectively as 'Acorn Shed Music' through a project funded by Life Changes Trust.
Professor Debbie Tolson, Director of the Alzheimer Scotland Centre for Policy and Practice, said: "It has been another exciting and busy year for the Centre's team and students and we're delighted to showcase the fantastic work we've undertaken in the last 12 months."
I am incredibly proud of the recent achievements of the Centre and we have reached some amazing milestones this year. I would particularly like to congratulate Annabelle Gray for being awarded the 2019 Celebration Medal.
Professor Debbie Tolson
"Annabelle's commitment to improving dementia care is absolutely inspiring, and all of us at the Centre and across the University value her significant contribution to dementia education."
Professor Craig Mahoney, Principal & Vice-Chancellor at UWS, said: "At UWS, we are committed to providing world-leading dementia education in partnership with Alzheimer Scotland. Universities can make a huge difference to people's lives, and I am thrilled that our education and research is having a transformative impact on what is a world-wide challenge.
"We are extremely proud of our partnership with Alzheimer Scotland, and the difference it is making, not only to those living with dementia, but their carers, families, and local communities. The reach of our work in this area is fantastic and I am also proud of everyone involved in our dementia studies, including those working in the Carer's Academy, our Dementia Champions, and of course our UWS nursing students. I look forward to seeing the rewards of our new collaborations."
Henry Simmons, Chief Executive of Alzheimer Scotland, said: "This has been another remarkable year for the Alzheimer Scotland Centre for Policy and Practice. Our shared aspiration of translating evidence-based research into meaningful policy and practice has again been strongly delivered. The impressive breadth of innovation, research and practice work the Centre continues to lead on is quite remarkable, and it is clear that the dedication and motivation of all the team to make such a huge difference is the true driving force behind the success of the Centre."
The full Annabelle Gray Celebration Lecture 2019 and Centre Report can be found here.