The Deputy First Minister & Cabinet Secretary for Education & Skills, John Swinney MSP, visited UWS to learn about its widening access initiatives and meet some of the University's inspirational students.
The Deputy First Minister visit to the Paisley campus allowed UWS to showcase the transformational impact it has had in promoting inclusivity and widening access to higher education in Scotland.
During his visit, the Deputy First Minister met with Professor Craig Mahoney (UWS Principal and Vice-Chancellor), Emma Shotter (President of the UWS Students' Association), and some of UWS's inspirational students to find out more about the life-changing role UWS plays in supporting our students to succeed.
UWS is widely recognised as the sector's leading university for widening access and year-on-year ensures more people from disadvantaged backgrounds go to university than any other institution in Scotland.
During the visit the Deputy First Minister heard how UWS's innovative student support services, personalised and flexible education delivery and interactive technology-supported learning is paying real dividends for students with recent highlights including:
the University exceeding its target for positive student outcomes three years ahead of schedule, with 85.7 per cent of graduates securing professional employment or further study in 2016/17
the percentage of students continuing their studies after their first year increasing from 75% in 2011/12 to 86% in 2016/17
continued increases in student satisfaction and application rates
As part of his visit, the Deputy First Minister joined some of UWS's inspiring students to discuss their own personal achievements at the University and how their higher education experience at UWS has shaped their lives.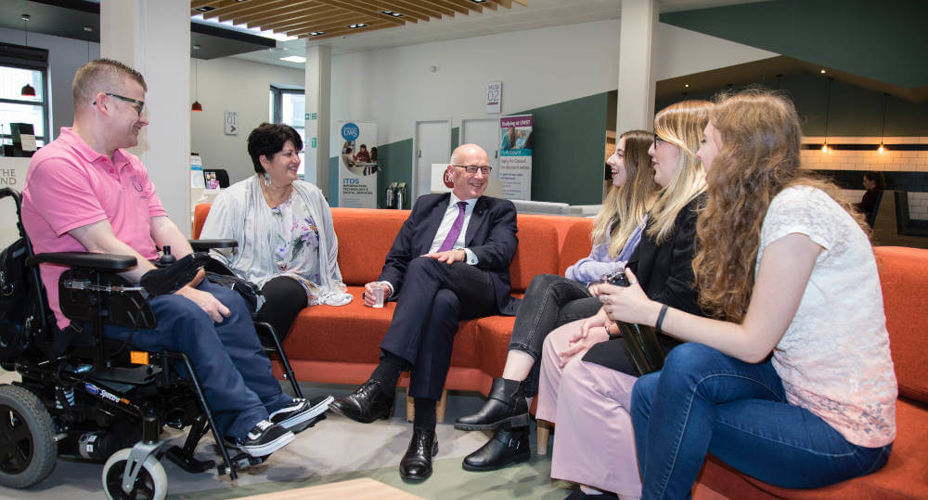 Left-to-right: UWS students Stuart McCabe, Nicola Duggan; Deputy First Minister John Swinney MSP; UWS students Alison McCluskey, Kayleigh McArthur, Emma Shotter (Students' Association President).
The Scottish Government is firmly committed to widening access to higher education, and the focus cannot just be on entrants – it must also be on retention, outcomes and destinations too. UWS has shown great commitment in all of these areas and as a result it is supporting many students from disadvantaged backgrounds to fulfil their potential. It is very encouraging to hear how UWS' flexible, personalised approach has helped attract students who might not otherwise have continued their studies.
John Swinney MSP, Deputy First Minister & Cabinet Secretary for Education & Skills
Last year I was part of a delegation of higher education leaders accompanying the Deputy First Minister on an official visit to India to demonstrate Scotland's reputation in research, innovation and learning. I was therefore delighted to host the Deputy First Minister at our Paisley campus today, showcasing first-hand UWS' impact on the national and global stage. I was particularly pleased to highlight the important work we have undertaken to widen access to higher education in Scotland, our world-leading teaching and learning approaches as well as the outstanding research and enterprise activity we are successfully delivering.
Professor Craig Mahoney, Principal & Vice-Chancellor, UWS
Professor Mahoney continued:
"During the visit, we discussed with the Deputy First Minister our commitment to the support, retention, and successful outcomes of students and the priority we place on ensuring our students have the best possible experience.  
"We shared with the Deputy First Minister the encouraging statistics as a result of our widening access initiatives, including the fact that the percentage of students continuing their studies after their first year at UWS has increased significantly in recent years, which we hope will continue to rise because of the positive and proactive steps we are taking to support our students.
"At UWS, we are delivering on our purpose to change lives and transform communities through outstanding, distinctive and progressive higher education."
It was amazing to meet the Deputy First Minister and share my experience at UWS with him. I spoke to him about my background and how the support I received from the University throughout my time as a student was crucial in helping me graduate recently with my degree, something I'm extremely proud of after the hurdles I've overcome.
Kayleigh McArthur, Tourism Management Graduate
Ms McArthur added:   
"At UWS, there are no barriers in the way of getting the help and advice you need. Leaving school, I went straight to another university, but looking back I don't think I was ready for it. I later went to college, and then joined UWS in third year, where I found everyone so friendly and helpful, and I was advised I could go part-time when my health affected my studies.
"Because of the incredible and accessible support at the University, it motivated me to become a student ambassador and I hope I can now inspire and show others that no matter what they're facing, or where they're from, they can achieve so much at UWS."
As well as hearing about UWS's widening access performance, the Deputy First Minister also learned more about the globally relevant research in areas including thin-films, 5G, gravitational waves and Dementia that is happening right now at UWS as well as receiving an update on the University's £110m Lanarkshire Campus, which, when opened this September, will be Scotland's brand-new, ultra-modern university campus.
While on campus the Deputy First Minister also visited the studio of Professor Alexander Stoddart, The Queen's Sculptor in Ordinary in Scotland, who as our Scupltor in Residence, has his base at UWS.
Professor Craig Mahoney, Deputy First Minister John Swinney MSP and Professor Sandy Stoddart