UWS has been shortlisted in two categories of The Herald Higher Education Awards.
The annual awards, which take place on Thursday 28 June 2018, see UWS shortlisted in the 'Widening Access' and the 'Innovative Use of Technology' categories. 
The Herald Higher Education Awards 2018 in association with Scottish Funding Council recognise success and achievements across Scotland's universities and colleges.
The University has been shortlisted for the Widening Access Award for its 'Wee University' initiative. This initiative, which was developed by the University's School of Education, is a new concept in early years education and aims to provide opportunities to build an inclusive community of learning. It strives to enhance awareness at an early age of future educational opportunities, help break down potential barriers around access to further and higher education and boost the confidence of parents and carers around the opportunities offered to future students.
Thanks to this initiative UWS is working with early years providers to instil in 2 – 5 year olds the aspiration and belief from the earliest possible age that higher education is very much an opportunity that can be theirs.
UWS has also been shortlisted for the Innovative Use of Technology Award for its pioneering Immersive Education with a Digital Heartbeat. The School of Business & Enterprise has successfully introduced an immersive digital teaching solution, which is delivering highly personalised, hyper-flexible and collaborative learning experiences for students.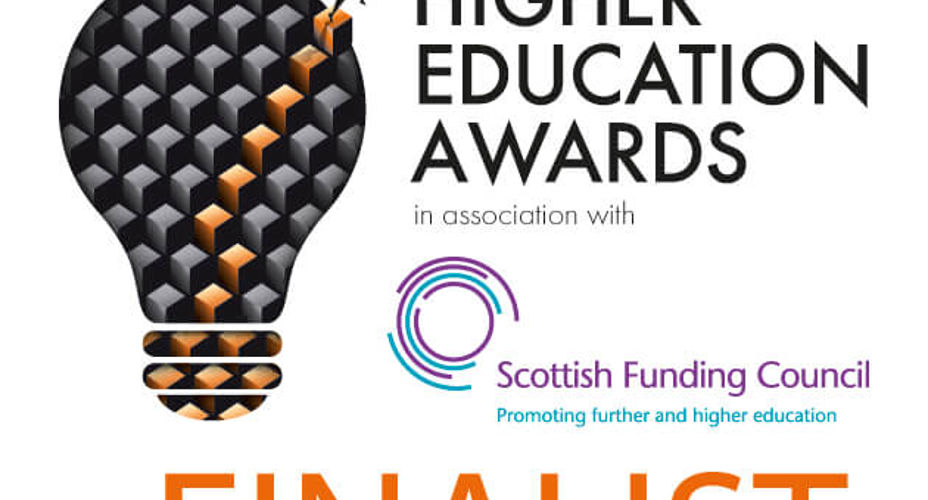 UWS has a unique student body, including students articulating from college and adults returning to higher education and it therefore needs to provide learning opportunities to its students that accommodate their lives, responsibilities and needs to ensure their success. 
At the very heart of this project is the UWS purpose to provide student-centred, personalised and distinctive learning and teaching experiences, underpinned by professionally relevant research, knowledge exchange and enterprise.
The School has taken a micro-learning approach to reconstruct and capture their teaching into bitesize video segments which students are able to access anytime, anywhere and on any device. Lecture content is compressed into a series of short segments which are collated and introduced through a TouchCast overlay. This platform allows students to consume lecture material at their own pace and self-direct their learning experience. 
Professor Craig Mahoney, UWS Principal and Vice-Chancellor, said: "The Herald Higher Education Awards celebrate the wide range of successes and achievements made in Scottish Higher Education and I am delighted that UWS has been shortlisted in two categories. This shortlisting is testament to all the hard work of colleagues working in these areas and I am really proud of everyone involved."
For more information on the Herald Higher Education Awards visit http://newsquestscotlandevents.com/events/heawards/
"The Herald Higher Education Awards celebrate the wide range of successes and achievements made in Scottish Higher Education and I am delighted that UWS has been shortlisted in two categories. This shortlisting is testament to all the hard work of colleagues working in these areas and I am really proud of everyone involved."
UWS Principal Professor Craig Mahoney