The UWS School of Science and Sport is running four summer schools in July on campus in Paisley - offering prospective students the opportunity to enhance their knowledge, helping them to progress into further study as well as boosting their employability.
The Summer Schools are 'Research: Preparation for Doctoral Study', 'Managing the Environment', 'Introduction to Statistics and Statistical Analysis with SPSS and R', and 'Biotechnology', and will all run from 15th to 28th July 2018. 
These Summer Schools combine world class multidisciplinary applied research in Science and Sport with outstanding resources, creating a unique experience for participants.
The 'Research: Preparation for Doctorial Study' will see participants take part in activities that will support their preparedness for doctoral study and worldwide research opportunities, including exposure to world-class experts and state-of-the-art resources, structured sessions and workshops on writing a research proposal, and detailed training on how to create a suitable PhD proposal. 
The Biotechnology Summer School aims to improve attendees' understanding and practical skills in the area. Participants will take part in a number of practical and applied activities in biotechnology such as using bioinformatics tools to identify genes from genome databases and using molecular cloning techniques to prepare plasmids for expression in bacteria. 
The Managing the Environment Summer School will raise participants' awareness of workplace waste minimisation and how we manage the environment we live in. The Summer School will also provide an overview of environmental issues and their potential impacts on the environment, and on the workforce and sets the stage for a study of both physical and managerial control methods.
The University's Statistics Summer School offers attendees an opportunity to enhance their statistics knowledge with the intention of application in further study, research, or use in the workplace. Taught with industry standard statistical software packages (SPSS, R) and innovative teaching methods from applied statisticians, participants can be guaranteed a unique experience and the chance to enhance their analytical thinking and problem solving.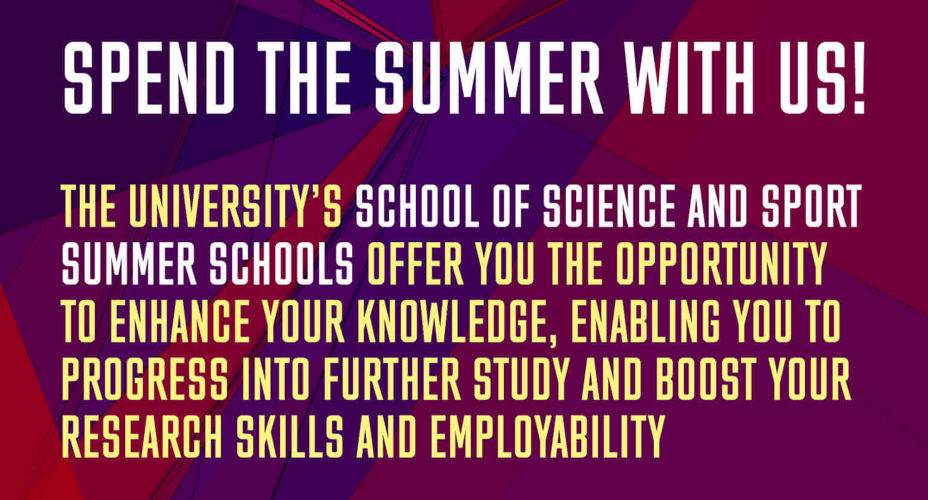 Julie Edgar, Dean of the School of Science and Sport, said: "We are delighted to be hosting these Summer Schools at our Paisley Campus. They are the perfect opportunity for are participants to find out more about the subject they are passionate about, develop new skills and enjoy a variety of experiences that will increase their appeal to future employers and expand their world view."
For more information about the Summer Schools visit www.uws.ac.uk/study/summer-schools