Brodie's Bikes, the popular initiative which sees UWS students loan the use of bikes, has now grown to include three UWS campuses including Ayr, Lanarkshire and Paisley.
Launched last year in memory of former UWS student Brodie Eaton by his friends and family in partnership with UWS, the short loan system has gone from strength to strength with students across the Ayr campus praising it since it was first rolled out.
Brodie's friends and family first came up with the idea thanks to his love of cycling, wishing to share this joy by providing bikes and equipment to enable UWS students staying at student residences to be able to cycle in and around their Campuses and the surrounding areas.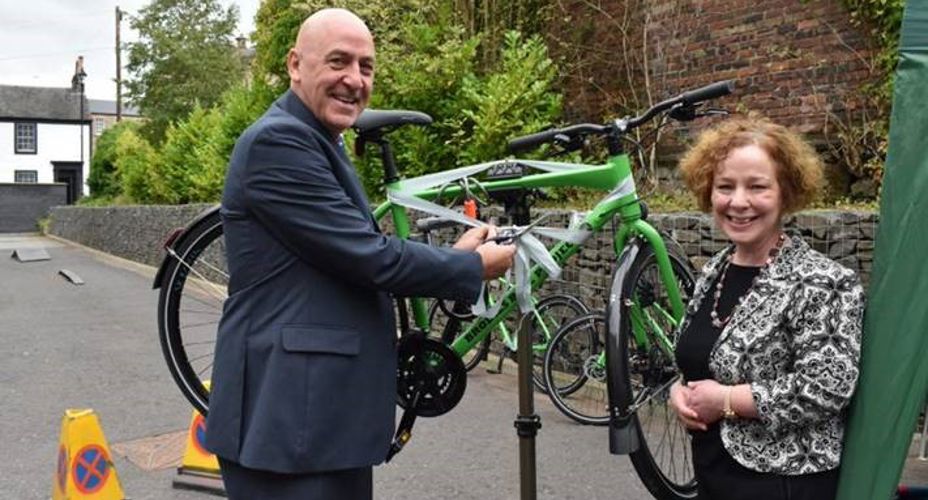 Brodie's Bikes has now grown to include 8 bikes in Ayr at the student residences, 4 in Lanarkshire at the Barrack Street residences and 6 in the Storie Street student halls at the Paisley campus. The bikes in Paisley have been funded by Sustrans, SPT and a donation from Brodie's parents.
UWS Principal & Vice Chancellor Craig Mahoney attended the launch to mark the second year of Brodie's Bikes.
Craig said: "There are so many known benefits to cycling, not only to one's physical health but also to ensuring strong mental health. Getting out and being active releases endorphins and is the ideal way to take a break from studies whilst also getting fit.
"I would like to express my sincere thanks to every single person involved in this project, and particularly to Brodie's family and friends, for making this happen and giving our students access to bikes completely free of charge."
UWS Principal Prof Craig Mahoney
"Students staying on campus can make the most of this initiative – using the bikes as a sustainable means of transport to get around town, or even to see the sights, using pedal power."
The launch event included a cycling obstacle course, giving people a chance to get behind the (bike) wheel. In addition, there were stalls promoting student-led sporting activities on campus as well as information on mental health and student wellbeing.