Graduate Apprentices studying IT: Software Development at UWS showcased their successes at an event held at the University's Lanarkshire campus recently.
The inaugural showcase and information event gave students the opportunity to share their projects with current employers and invited industry attendees, highlighting the real impact they're having on the businesses they work with.
Companies in attendance embraced the opportunity to discuss the benefits of Graduate Apprenticeships with the delivery team at UWS, who explained first-hand how the programmes can support companies to recruit, develop and retain talented individuals by combining academic learning with professional practice in the workplace.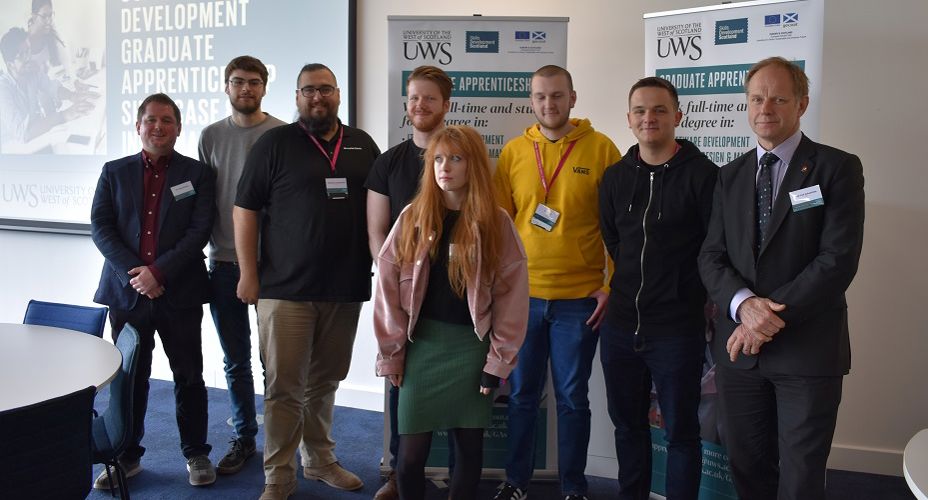 Now in its third year at UWS, Graduate Apprenticeships allow employers, universities and professional bodies the ability to create stronger links, upskilling the workforce of the future. The growth of Graduate Apprenticeships supports the Scottish Government's ambition to create 30,000 new apprenticeship starts by 2020.
In March, UWS announced that it would be providing 95 Graduate Apprenticeships commencing in September 2019, its biggest ever offering. The IT: Software Development programme is just one of four to choose from, with others including Business Management, Engineering Design & Manufacture and Civil Engineering. A further 15 places will also be available for a pilot programme in Early Learning and Childcare which the University is rolling out.
Fiona Kennedy, Graduate Apprenticeship Project Manager at UWS, said: "The showcase and information event was a great success and provided the opportunity for UWS' Graduate Apprentices to highlight the impactful work they've been carrying out as part of their IT: Software Development graduate apprenticeship programme.
"Not only did it give students the chance to present their work to an engaged industry audience, it allowed businesses in attendance the opportunity to see for themselves the benefits a Graduate Apprenticeship programme can bring to their company."
Utilities company, Energetics is one company which benefits from a Graduate Apprenticeship partnership with UWS.
Andrew Young, Training & Development Manager at Energetics, said: "At Energetics we are passionate about investing in our employees' futures and by partnering with UWS, we have been able to offer excellent development opportunities across multiple business streams."
"The innovative programme delivery has energised our Graduate Apprentices and already we can see them growing in confidence, knowledge and general business awareness. I would not hesitate to recommend the UWS GA programme and would encourage other employers to realise their employee potential and ambition through this scheme."
Andrew Young, Training & Development Manager, Energetics
"Moving forward, I am excited that we will be continuing to work with UWS and increase our number of GAs in future years."
Christina McKelvie MSP, said: "The UWS Graduate Apprenticeships Programme is the perfect example of recognition that there is no single pathway to success. I applaud UWS for their tremendous effort with this programme and more generally on widening access.
"Since 2016, the programme has allowed people to work while they study for a degree, benefitting both the individuals themselves and their employers."
To discuss how the IT: Software Development GA can support your business, please contact apprenticeships@uws.ac.uk