Seven students have successfully completed their Graduate Apprenticeships and received honours degrees from the UWS at the recent Lanarkshire graduation ceremony.
Nicole Strain, Radoslaw Lewandowski, Kieran Hamilton, Matthew Quinn, Connor Hay and Scott Bell collected their degrees in BSc Hons IT: Software Development during the special ceremony at the Hamilton Town House, with Lily Higham graduating in absentia.
By combining academic learning with real-time practical experience in the workplace, the University's GA programmes deliver industry-relevant skills and qualifications. Graduate Apprenticeships are developed in partnership with employers to ensure that the learning is relevant to industry and that apprentices can apply their knowledge in the workplace immediately.
The students undertook their Graduate Apprenticeships at UWS from September 2017, whilst holding full-time posts at a range of leading companies, including Arnold Clark, Leidos and Edge Testing.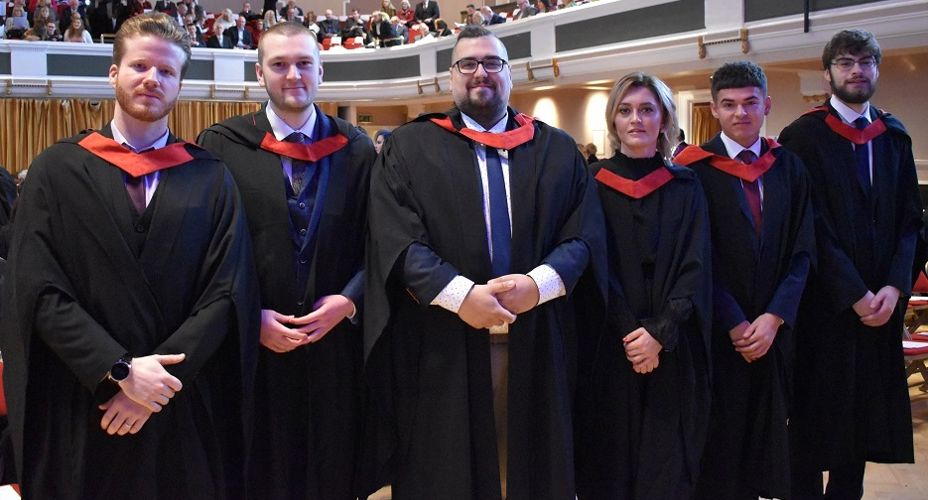 L-R, Matthew Quinn, Scott Bell, Radoslaw Lewandowski, Nicole Strain, Kieran Hamilton and Connor Hay.
Graduate Apprenticeships are rolled out across the country by Skills Development Scotland, with UWS working alongside the organisation to deliver its own GA programme based on industry demand.
Fiona Kennedy, Graduate Apprenticeship Project Manager, said: "With three in four employers in Scotland reporting skill shortages affecting productivity and growth, Graduate Apprenticeship programmes like ours have never been more important. It is fantastic to see our seven student's hard work and determination pay off as they receive their degrees - well done to all of them and we wish them every success for the future."
Professor Craig Mahoney, Principal & Vice-Chancellor of UWS, said: "I'd like to extend a huge congratulations to all seven UWS Graduate Apprentices for their fantastic achievements."
"The success of our graduates demonstrates there are many routes to Higher Education, and that everyone's learning journey is different."
UWS Principal Prof Craig Mahoney
"Graduate Apprenticeships are a fantastic way to enable students to build on prior learning through real-time, practical experience. At UWS, it is our goal to deliver meaningful Graduate Apprenticeship programmes which give our students the industry-relevant skills they need to have a real and immediate impact in the workplace."