Final year UWS MSc Social Work student, Edward McKim has been recognised with an honorary award for his services to Social Work.
Edward's nomination for Student Social Worker of the Year at the Scottish Association of Social Work (SASW) Awards was an exceptional nomination as it came from a family he has worked with.
The anonymous nominator drafted a heartfelt letter explaining how initially they were reluctant to receive help from social work services. In spite of this, the determined 27 year-old from Greenock didn't give up and the nominator goes on to say that "unlike every other person he was the only one who did not talk at me – he talked to me". The individual signed off the nomination "a family that feels much better for having this guy come into our life".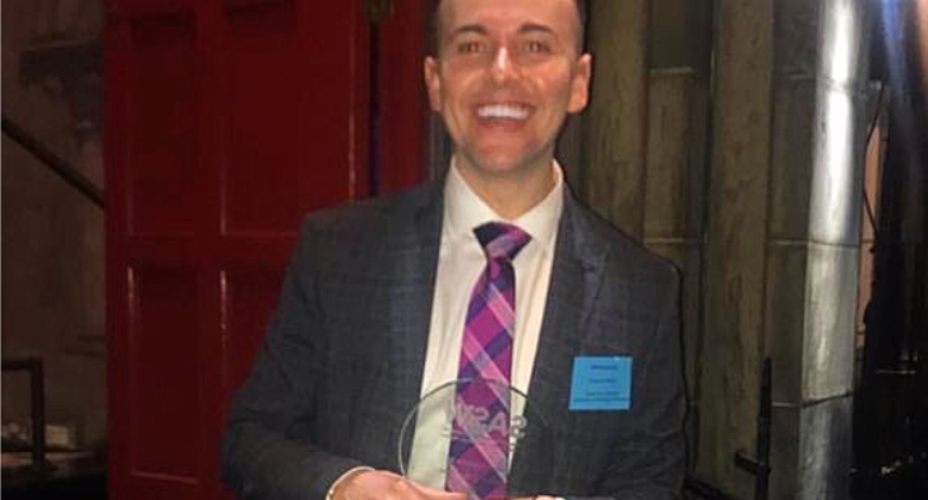 Edward was shortlisted for Social Work Student of the Year and came away with 'Special Recognition by Users of Service' an honorary award which was presented to him by Maree Todd MSP, Scottish Minister for Children and Young People.
He said: "The SASW awards were a brilliant evening bringing together a host of Social Workers, Practice Teachers and SASW members. It was inspiring to hear the stories of social workers across the sector and to learn about the impact they have on the lives of so many."
"I am thrilled to have been given the 'Special Recognition by Users of Service' award – it is a true honour and it means so much to me as I was nominated by a family I've been working with."
Edward McKim - UWS student and SASW Awards student
Professor Dominic Elliott, Dean of UWS' School of Media, Culture and Society, said: "On behalf of everyone at UWS we would like to say a huge congratulations to Edward on this incredible achievement. It is a real testament to his skills to be nominated by a family he supports and highlights the tangible difference he is making."
The awards took place on World Social Work Day (19 March) in the Ghillie Dhu in Edinburgh. Founded in 2007, the SASW awards celebrate exceptional practice within the social work profession.