A partnership between University of the West of Scotland (UWS) and G-Hold, the inventor of a device which makes it easier to hold and use tablet notebooks, has been awarded Innovation of the Year at the Scottish Knowledge Exchange Awards.
Dr. Chris Ugbolue from UWS' Institute for Clinical Exercise & Health Science, worked with Edinburgh-based G-Hold on a number of rounds of product testing, helping to prove the ergonomic benefits of the revolutionary accessory which reduces hand and wrist strain.
The research-generated data was instrumental in the product's successful patent application. These findings elevated the product's positioning within the highly competitive tablet accessory market, helping G-Hold to win new customers including tech giants Microsoft and Amazon Devices.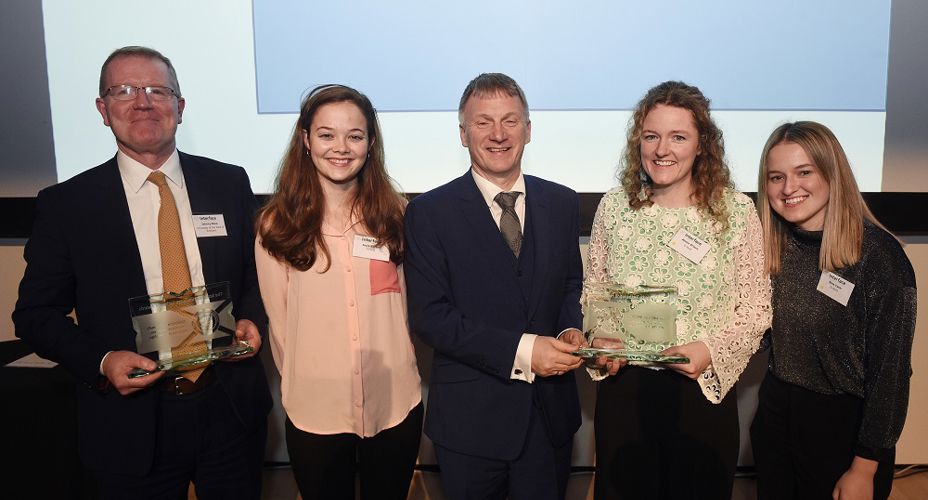 Alison Grieve, inventor and CEO of G-Hold, came up with the idea for the product after finding her tablet awkward to hold. She went on to develop the multi-purpose handhold which can be fitted to your device and used when taking photos, typing on the move, watching TV or presenting to an audience.
The Scottish Knowledge Exchange Awards, organised by Interface recognise, reward and celebrate the people and partnerships at the heart of the most ground-breaking innovations developed by businesses and academics. Ivan McKee, MSP, Minister for Trade, Investment and Innovation, presented the award to Alison Grieve from G-Hold and Johnny Mone from UWS at a ceremony at The Studio in Edinburgh on Thursday 21 February.
"This is a real coup for both UWS and G-Hold and we are thrilled the research we conducted played a big part in the evolution of an invention which has gone on to win 'Innovation of the Year'. Our sincere congratulations go to Alison Grieve and everyone at G-Hold."
Johnny Mone, Head of Enterprise and Employer Engagement, UWS
Alison Grieve, inventor and G-Hold CEO said: "Without the test data received from Dr Chris Ugbolue, we would not have been able to partner with companies like Microsoft and Amazon Devices on their programs. It's wonderful to have the science behind G-Hold and the expertise at UWS recognised with this prestigious award."
Professor Craig Mahoney, Principal and Vice-Chancellor, UWS said: "This is an excellent example of the power of sharing knowledge, expertise and ideas between industry and academia, something that UWS has an excellent track record in delivering. On behalf of everyone at UWS we would like to congratulate Alison Grieve and her team at G-Hold, as well as everyone involved from UWS on this fantastic achievement."