Professor Dame Anne Glover, one of the country's leading scientists, delivered University of the West of Scotland's annual Brough Lecture at Paisley Campus on 16th April 2018. 
Using her substantial scientific research experience, Professor Glover delivered a fascinating and insightful lecture entitled, 'The importance of evidence'.
The 2018 Brough Lecture was part of the University's 'UWS Inspires' event series and formed part of an NERC-sponsored conference, focused on Antimicrobial Resistance (AMR) in the Real World, being held at Paisley Campus from 16th to 17th April. 
The Brough Lecture saw Professor Glover talk about the value of the knowledge we generate from research and how important it is that we take the time to communicate it effectively to a wide audience. 
Dame Anne, who has a distinguished international career in scientific research, is member of the senior advisory team of the University of Strathclyde and took up the position of President of the Royal Society of Edinburgh on 1 April. She was the first Chief Scientific Adviser for Scotland (2006-2011) and first Chief Scientific Adviser to the President of the European Commission (2012-2014).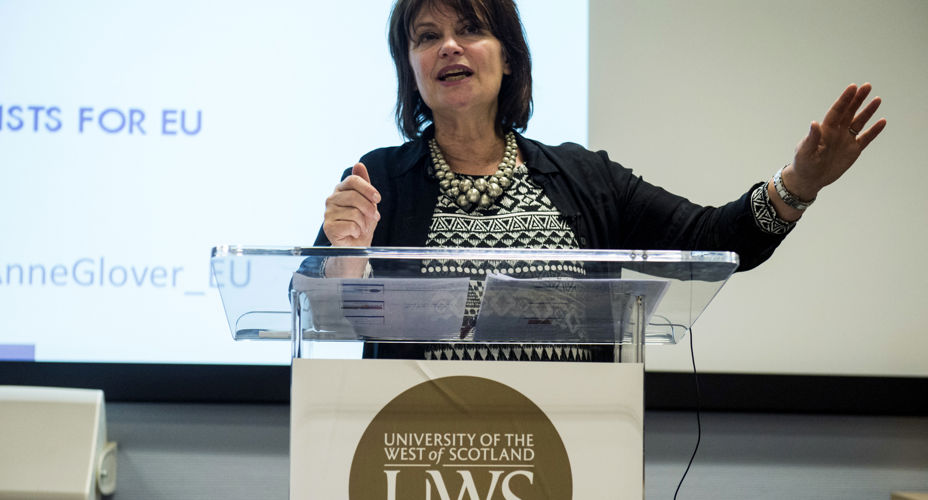 In 2009, she was awarded a CBE by the Queen in recognition of her services to environmental sciences and in 2015 became a Dame Commander of the Order of the British Empire (DBE) for services to Science in the UK and Europe. Amongst other external activities, Dame Anne is a Trustee of the African Agricultural Technology Foundation and the Centre for Agriculture and Biosciences International. 
"To encourage people to act upon the evidence we produce, we need their trust and during my talk I touched upon the high level of trust enjoyed by scientists compared to politicians or journalists and how we can use this."
Dame Anne Glover
Professor Craig Mahoney, Principal and Vice-Chancellor of University of the West of Scotland, said: "We are delighted that Dame Anne Glover delivered this year's Brough Lecture. As one of the country's foremost scientific experts she provided a thought provoking insight into the world of scientific research."
The University's Brough Lecture commemorates Peter Brough, the Paisley businessman, whose bequest to the town in the 19th century provided funds for his trustees to establish the original Paisley Technical School (upon which the University is based). The University is extremely grateful to the Peter Brough Bequest Trustees for their support.