A science experiment by a group of secondary school pupils is set to blast off into outer space as part of the Mission Discovery programme delivered by UWS in partnership with the International Space School Education Trust (ISSET).
This week, around 200 pupils from seven local councils - Renfrewshire, East Renfrewshire, Inverclyde, North Lanarkshire, South Lanarkshire, East Ayrshire and South Ayrshire – enjoyed an out of this world opportunity as they embarked on a jam-packed three day programme of science experiments in the hope that theirs would be selected to be sent to space.
The winning group, who will see their experiment tested out by NASA astronauts on the International Space Station, is Interstellar Intellectuals* with their experiment exploring whether artificially increasing root pressure will improve plant growth on the International Space Station, something which is compromised in microgravity. The experiment has the potential to make a significant impact on future crop production in space.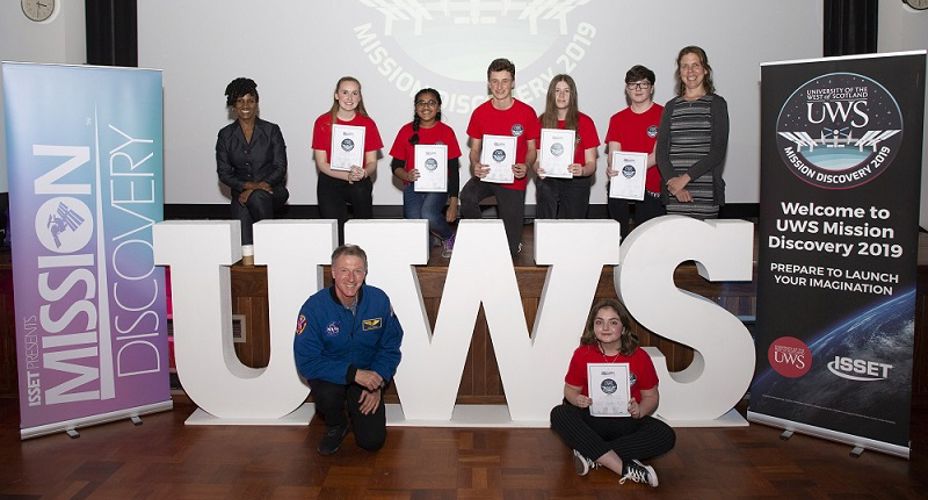 The judges were impressed by the original nature of the experiment, the in-depth research the team carried out and the potential benefits it has for life in space.
As well as working on their experiments, the pupils and students have been learning more about what life is like in outer space from former NASA astronaut, Dr Michael Foale, the most experienced British-born astronaut in the history of human spaceflight. Michael has flown into space on six missions and was Commander of the International Space Station. He brought the Hubble Space Telescope back to life and played an integral role in saving the Russian 'Mir' Space Station as it tumbled out of control, following the only known collision in outer space.
The purpose of the interactive Mission Discovery programme is to teach young people about space and science, technology, engineering and mathematics (STEM)-related subjects, in a unique and engaging way. The initiative's aim is to raise the aspirations of students to consider STEM subjects whilst demonstrating the breadth of career options they offer. 
"I have been so very impressed by the attitudes and ingenuity of the school pupils here in Scotland. Congratulations to them all."
Dr Michael Foale, former NASA astronaut
Chris Barber, Founder of the International Space School Education Trust (ISSET), said: "It has been great working with UWS who have the vision and commitment to give out of this world creative opportunities to so many of our young people."
Professor Craig Mahoney, Principal and Vice-Chancellor of the University of the West of Scotland, said: "I would like to take this opportunity to congratulate all the pupils and students who took part in UWS' Mission Discovery 2019 space school at our Paisley campus this week. A special well done must also go to the winning team, Interstellar Intellectuals, with their creative idea to investigate the effects of artificially increasing root pressure to mitigate the effect of microgravity and thus improve plant growth in space."
"The UWS Mission Discovery programme is a unique opportunity for participants to meet, learn from, and work alongside a NASA astronaut and leading NASA, ISSET and UWS scientists."
"At UWS, we are committed to developing the best talent in STEM-related subjects and this programme has demonstrated the vast and exciting career opportunities available to those who pursue this path."
UWS Principal Prof Craig Mahoney
The winning team were:
Sophie Hughes, Castlehead High School, Renfrewshire
Jamie Macpherson, Woodfarm High School, East Renfrewshire
Sam Clark, Port Glasgow High School, Inverclyde
Nairne Gillespie, Clydeview Academy, Inverclyde
Maryam Khan, Eastwood High School, East Renfrewshire
Mollie Quinn, Paisley Grammar School, Renfrewshire