UWS Honorary Doctor, Corinne Hutton, is using UWS Lanarkshire's new environmental chamber to prepare for an 11-day hike to the summit of Kilimanjaro, which will see her raise money to reduce social isolation for amputees.
The founder of the Finding Your Feet charity - who lost both her hands and legs below the knee after suffering from acute pneumonia and septicaemia - will use the cutting-edge facility to test physical fitness and inform the final few weeks of altitude training.
Corinne will begin her 90km trip in Tanzania on September 29 and aims to reach the summit of Mount Kilimanjaro on October 6, fundraising for her charity, Finding Your Feet, which supports families affected by amputation or limb difference through a range of sporting initiatives and social inclusion projects.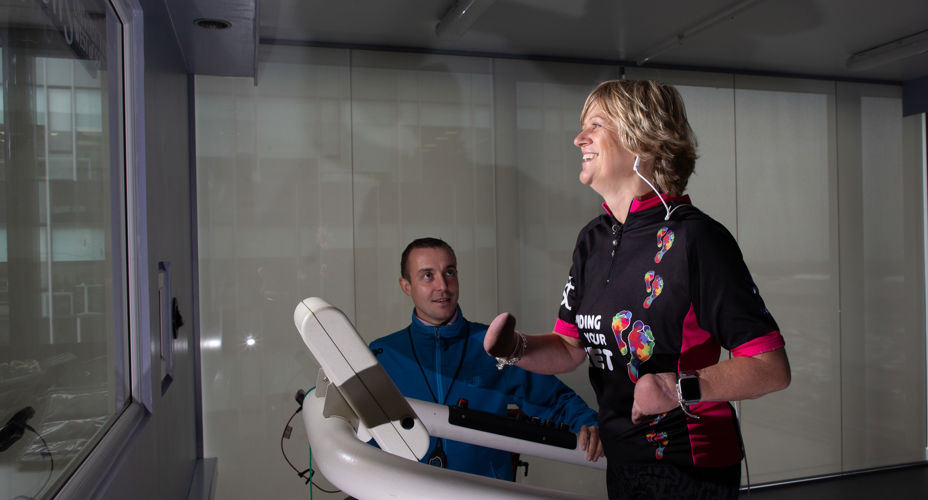 UWS' environmental chamber is Scotland's highest-specification chamber - one of only two in the country and the only one in the West of Scotland. The chamber replicates environmental extremes, from walking in the desert to standing on one of the world's highest mountains and can be used by athletes to improve physical performance in the run up to large sporting events, such as the Olympics in 2020 and the World Cup in 2022.
The chamber is an important asset for the University, enhancing students' experiences and enabling UWS to forge research partnerships and collaborations within industry and academia. Businesses and the public will also be able to access the chamber and take part in altitude training sessions.
The chamber controls a number of variables to create extreme conditions, with temperature ranging from 10 to 40 degrees celcius, altitude from zero to 5,000 metres above sea level, and humidity between 10 to 90 per cent.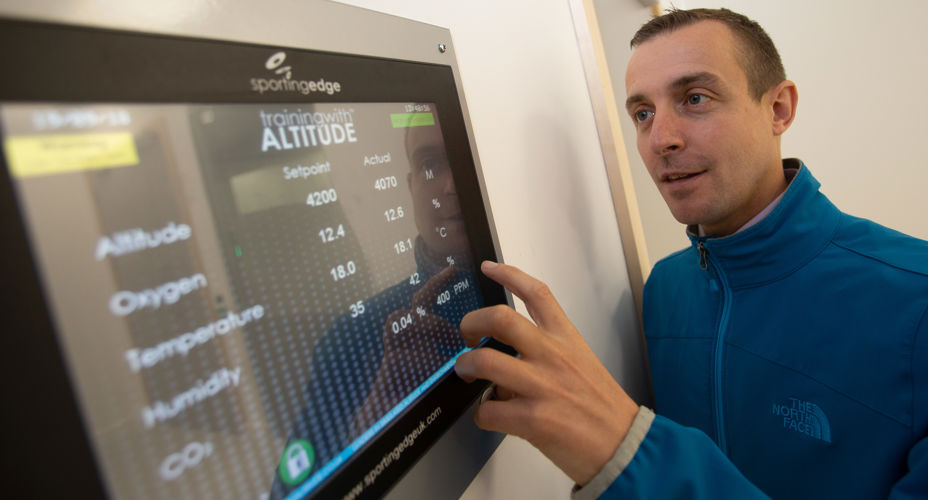 Professor Craig Mahoney, Principal & Vice-Chancellor of UWS, said: "Corinne Hutton is an inspiration to many of us, and it's truly amazing that she's going to climb Africa's tallest mountain for her charity, Finding Your Feet."
"We will be supporting Corinne all the way, and we hope that our environmental chamber will help her prepare for the challenge ahead, and that she'll be the first of many to use our new, state-of-the-art facility. From students and staff at UWS, we wish Corinne the best of luck."
UWS Principal Prof Craig Mahoney
Corinne Hutton said: "Following an infection in 2017 I had the majority of one of my lungs removed, so dealing with the altitude on Kilimanjaro has been a worry for both me and my family. The fact that UWS can offer this fantastic, state-of-the-art facility to help me get an understanding of how I'll deal with the conditions is just incredible.
"UWS have been great supporters of Finding Your Feet, and I'm delighted they can be a part of my trek up the mountain. I'm honoured to be an ambassador for them and delighted that they're so helpful in our goal of reducing isolation within the amputee community and helping those who have been through limb loss to realise their full potential."
Corinne Hutton