University of the West of Scotland's (UWS) sustainability credentials have been recognised once again at a national awards ceremony.
Guardian University Awards judges named UWS runner-up in the Sustainability category for the University's fantastic progress in cutting carbon emissions. UWS reduced carbon emissions by 42% – more than double the original target of 20% – alongside great strides made in modifications and adaptations to its campuses and operations.
The University's £110 million Lanarkshire campus, which opened to students in September 2018, is powered exclusively by renewable energy from a nearby windfarm and solar panels, using rainwater harvesting and incorporating LED lighting that is linked to daylight and occupancy. Compared to the former Hamilton campus, which it replaced, the building saves the University 1,842 tonnes of carbon every year.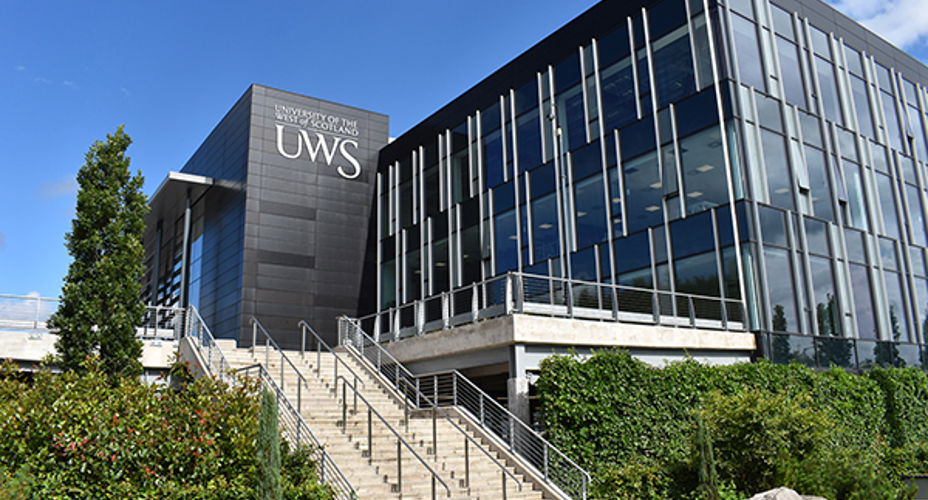 Professor Craig Mahoney, Principal and Vice-Chancellor of UWS, said: "From our inspiring Lanarkshire campus to a number of sustainability initiatives, including carbon reduction projects, more efficient management of resources, increased use of open plan and more sustainable catering, sustainability is high on the agenda at UWS.
"To be named runner-up in the Sustainability category at the Guardian University Awards is fantastic for our community, and there is still more to come from UWS in our sustainability journey, with a commitment in our latest corporate strategy to reducing our carbon emissions and becoming net zero by 2040."
The University came in second place to the University of Exeter, which won for its staff and student-led environment and climate emergency working group.
The prestigious awards recognise the best in higher education across a range of categories, including business collaboration, course design, internationalisation and research impact.
The Guardian recognition is the latest in a string of high-profile award nods for the University's sustainability work, which in 2019 took home the Buildings that Inspire award for its eco-friendly Lanarkshire campus at the Guardian University Awards, as well as a Green Gown Award for Campus of the Future.