University of the West of Scotland (UWS), which is set to open the doors of its new Lanarkshire campus in September, has today announced transport routes which will significantly improve connectivity between the campus and the rest of the region.
Transport operator First Bus is to launch two new bus services to Hamilton International Technology Park, where the new campus is situated.
Service UW1 will operate up to every 10 minutes between Hamilton Bus Station, Hamilton West and UWS Lanarkshire campus providing a frequent link with most other bus and rail services in the area.
Service UW2 will provide a direct service between East Kilbride Bus Station and the new campus.
Both services will be operated by UWS branded double decker buses with additional features including leather seats with built in USB ports and free wi-fi. A fantastic range of money saving fares will also be available.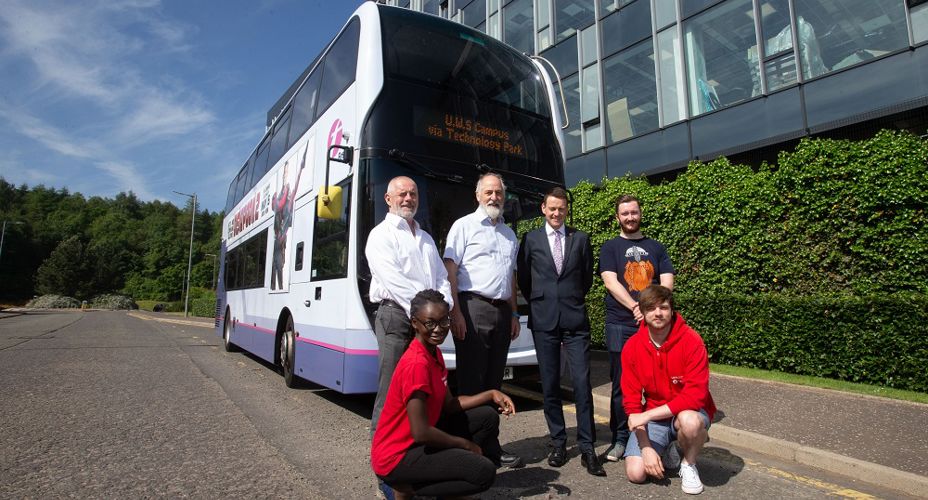 Routes will be fully operational from 3rd September when the full student cohort arrives. The UWS Lanarkshire campus will have a student population of 4,000 and 300 staff, with significant numbers expected to regularly use the service. This initiative will also significantly improve links for anyone working at the Technology Park, which is home to HSBC, Babcock and John Lewis premises.
These new services represent a £1 million investment by First Bus and comes after detailed discussions with UWS facilitated by Strathclyde Partnership for Transport
"It was important for us to achieve a public transport solution which was efficient, regular and environmentally friendly for our students and staff. These new services will play a significant role in achieving this goal by giving those working and studying at the business park, an alternative to travelling by car."
UWS Principal Prof Craig Mahoney
Professor Craig Mahoney, Principal and Vice-Chancellor at UWS, said: "In addition to being able to travel to the campus in style, the onboard wi-fi and charging ports gives students and staff the ability to browse the internet on the go. We see First's investment in the new routes with modern and environmentally friendly buses as an extension of what we're aiming to achieve with our Lanarkshire campus. We're sure the service will provide a significant number of benefits for to both UWS, and the wider Lanarkshire region."
Duncan Cameron, Operations Director for First Glasgow, said: "First Glasgow is delighted to be working in partnership with the University West of Scotland in providing an environmentally friendly transport solution for all their students and staff in one of the communities that we serve.
"First Glasgow operates high frequency bus services across Greater Glasgow and Lanarkshire. First Glasgow is putting in a significant amount of investment into this partnership to ensure bus is the attractive mode of transport for students travelling to the new UWS site."