Pupils from Park Mains High School in Erskine have been given a chance to showcase their debating skills at the University of the West of Scotland's (UWS) new Debate Series which seeks to instil curiosity in students, staff and the surrounding community.
Held at the Paisley Campus on Wednesday 22 May, four senior 5 Park Mains High School pupils went head to head with the support of UWS scholars to debate three topics themed around 'Health, Science and Society'.
The topics debated included: 'We should welcome the advent of Stem Cell research'; 'The death penalty is justified for those convicted of mass murder' and 'Protecting the public from terrorism should come before civil liberties'.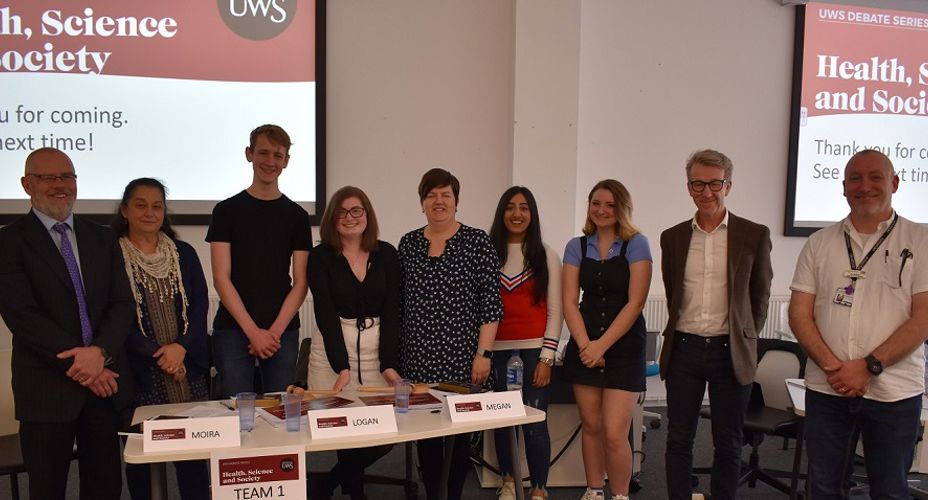 Putting their skills to the test were Park Mains High School pupils Megan Wilson and Logan Howarth, supported by Professor Moira Lewitt from UWS' School of Health and Life Sciences. They were up against Holly Adam and Maryam Malik from Park Mains High School, supported by Dr Darryl Gunson, Senior Lecturer from UWS' School of Media, Culture and Society.
The youngsters debated each topic to an audience of UWS students, staff and fellow classmates who voted on which team they found most convincing, seeing Megan, Logan and Professor Lewitt's team crowned victorious.
Tom McEwan, Lecturer in Midwifery at UWS, helped introduce the initiative to the university. Speaking about the importance of encouraging debate, he said: "The UWS Debate Series aims to ensure individuals are equipped with the necessary skills and confidence to speak authoritatively on topics they feel passionately about, becoming change agents for the future.
"Well done to the individuals who took part today and a very special congratulations to Megan and Logan on their victory. Thanks to the pupils at Park Mains High School and UWS students and staff who provided such an engaged audience for our debaters."
Tom McEwan, Lecturer in Midwifery at UWS
The event, chaired by Professor Steve Olivier, UWS Provost and Deputy Principal, is the first of a wider series set to be rolled out by the university providing students, staff and local schools with the chance to take part in lively and passionate scholarly debate.