A group of Scottish secondary school pupils are over the moon as their science experiments have been selected to be launched into outer space as part of a Mission Discovery programme hosted by the University of the West of Scotland (UWS) in partnership with the International Space School Education Trust (ISSET).
From Monday 4 June until today, around 200 pupils from Renfrewshire, East Renfrewshire, Inverclyde and South Lanarkshire councils as well as UWS students, embarked on a jam-packed week of hands-on science experiments in the hope that theirs would be chosen to be sent to space.
The winning group, which will see their experiment tested out by NASA astronauts on the International Space Station, is 'Orbit'* with their Vitamin C experiment exploring the effects of microgravity on the degradation of Vitamin C in space.
The judges felt the team's experiment was particularly relevant to current life in space as nutrition is extremely important to astronauts and preserving vitamins in their diet whilst in orbit could have beneficial effects on their health.
As well as working on their experiments, the pupils and students have been learning more about what life is like in outer space from former NASA astronaut, Tony Antonelli, who was the Space Shuttle Discovery pilot on the STS-119 mission to the International Space Station in 2009.
The purpose of the interactive Mission Discovery programme is to teach young people about space and science, technology, engineering and mathematics (STEM)-related subjects, in a unique and engaging way. The initiative's aim is to raise the aspirations of students to consider STEM subjects whilst demonstrating the breadth of career options they offer.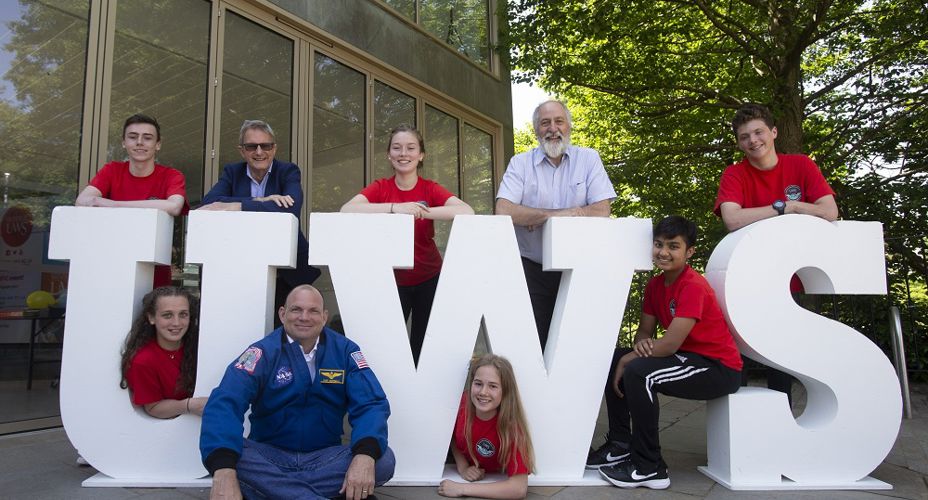 "It has been a pleasure to meet participants of Mission Discovery at the University of the West of Scotland this week. The students have really impressed me during the week-long endeavour with their innovative and creative ideas, and it has been great to see the University supporting so many students onto the programme."
Tony Antonelli, former NASA astronaut
"It is an incredible opportunity to have your idea used as an experiment on the International Space Station, and it's been fascinating to watch the ideas develop over the last few days. A huge well done must go to all involved."
Chris Barber, Founder of the International Space School Education Trust (ISSET), said: "It has been a full-on but exciting week for the students taking part in Mission Discovery. The programme gives young people the chance to learn a range of life-long skills from NASA and its approach to developing leadership, team building and personal development as well as fostering interest in science and research. It's an amazing opportunity for these young people to have their ideas carried out in space by astronauts as they orbit the earth."
Professor Craig Mahoney, Principal and Vice-Chancellor of the University of the West of Scotland, said: "Congratulations to all pupils and students who were involved in this week's UWS Mission Discovery space school at our Paisley campus. A special well done must also go to the winning team, Orbit, with their creative idea to investigate to effects of microgravity on the degradation of Vitamin C in space.
"The UWS Mission Discovery programme is a unique and inspiring chance for participants to meet, learn from, and work alongside a NASA astronaut and leading NASA, ISSET and UWS scientists. At UWS, we are committed to developing and encouraging the best talent in STEM-related subjects and this inspirational week has certainly demonstrated the vast and exciting career opportunities STEM subjects can present."
UWS Principal Prof Craig Mahoney
This week's event comes after UWS announced in February its official partnership with the International Space School Education Trust, which will see three world-leading UWS PhD research projects addressing health and sustainability being carried out on the International Space Station.
The initiative gives the University and its PhD students the opportunity to collaborate with NASA and other American academic institutions, enabling them to apply their research and expertise to tackle challenges faced on Earth and in space.