Ten schools from across Scotland have been recognised for their good practice in Holocaust education at a special event held at the Scottish Parliament.
The programme is delivered by UWS as part of the Vision Schools Scotland holocaust education initiative
Barrhead High, Campbeltown Grammar, Kyle Academy, Prestwick Academy, Kelso High, Lourdes Secondary, Whitehill Secondary and Lenzie Academy have been awarded level one status, with St Roch's Secondary and St Thomas' Primary School in Glasgow awarded the prestigious level two award of the programme.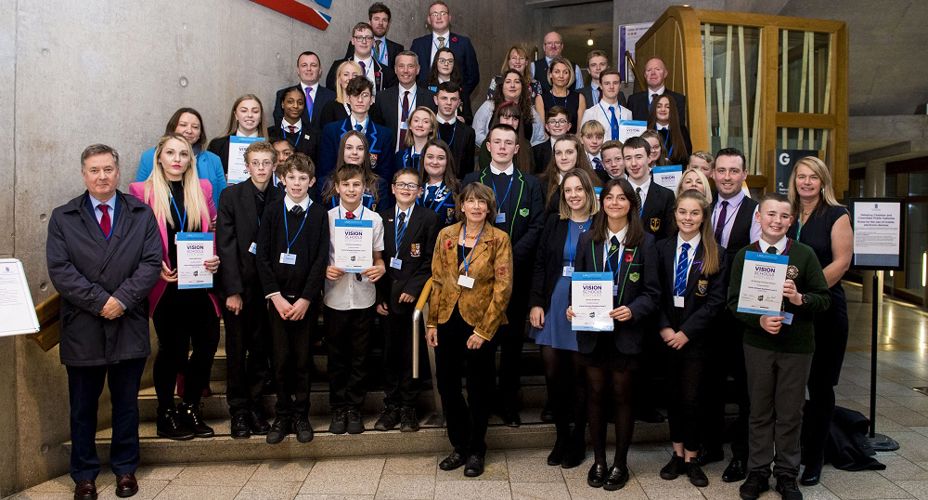 The initiative is delivered by Vision Schools Scotland, a partnership launched in 2017 between University of the West of Scotland (UWS) and the Holocaust Educational Trust.  
A Vision School is one committed to the view that learning about the Holocaust is a vital part of young people's education. To receive the award, schools must demonstrate their existing commitment to the importance of Holocaust education and to developing teacher knowledge to ensure continued expertise in this subject matter.
The Programme embeds responsible citizenship at its core, a key principle of Scotland's Curriculum for Excellence, as it encourages effective and sustained school-based Holocaust Education.
The celebratory event held at the Scottish Parliament was hosted by Jackson Carlaw MSP, Deputy Leader of the Scottish Conservative Party, with guest speaker, Barbara Winton, daughter and biographer of the late Sir Nicholas Winton.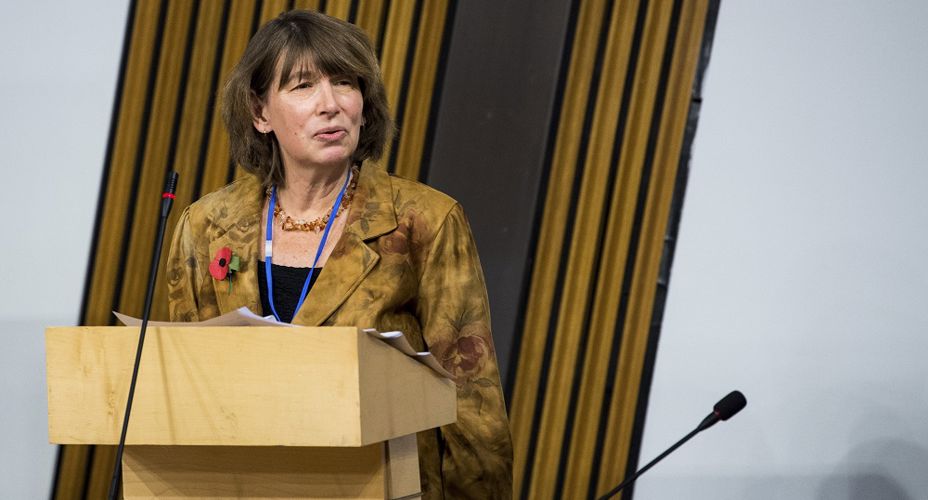 She spoke of her father who had organised the Czech and Slovak kinder transports that rescued more than 600 children from the Nazi threat just months before the outbreak of the Second World War. She spoke of her father's legacy and of the importance of understanding the plight of refugees in the past and in present day.
Ms Winton said: "The University of The West of Scotland and Vision Schools Scotland director, Paula Cowan and her team are to be commended. They have done a seriously important job to develop and run this programme."
"The lesson of the Holocaust teaches us to stand up for decency, respect, tolerance, truth and love and fight against cruelty, intolerance, dishonesty, hatred and aggression. We can all do something to make a positive difference. Nothing is a failure if you do something."
Barbara Winton
Dr Paula Cowan, Reader in Education at UWS' School of Education and Social Sciences and Director of Vision Schools Scotland, said: "Congratulations to our new Vision Schools. Our schools' network is now expanded to 15 schools, 13 secondaries and two primaries. We are so delighted that a growing number of schools from across Scotland are expressing an interest in receiving this Award. We are currently working hard to present and facilitate CPD for teachers in these schools so that we can support their continued professional growth in Holocaust and Citizenship Education.
We also welcome MSPs Mr Jackson Carlaw, Ms Jackie Baillie, Ms Emma Harper and Mr Alex Cole-Hamilton as Vision Schools Scotland political patrons. Committed to the work of Vision Schools Scotland, they will provide unique support to our Programme."
"We are proud of our involvement in Vision Schools Scotland and the leading role we play in the delivery of Holocaust education in Scottish schools."
UWS Principal Prof Craig Mahoney
Professor Craig Mahoney, Principal & Vice-Chancellor of UWS, said: "We are proud of our involvement in Vision Schools Scotland and the leading role we play in the delivery of Holocaust education in Scottish schools. We commend the ten schools who have recently been recognised for their fantastic achievements in ensuring more young people learn about the Holocaust, while also acknowledging the importance of encouraging teachers to continually develop their knowledge and skills in what is an incredibly important subject area. A huge well done must go to everyone involved in the programme."
For more information on the Vision Schools Scotland Programme please click here.