The first spin-out company set to emerge from University of the West of Scotland has closed its seed investment round, raising £1.5 million.
novosound, the winner of the 2017 Converge Challenge, has developed and patented a ground-breaking technique to mass-manufacture printable ultrasound sensors. The revolutionary method overcomes the limitations of existing technology, improving a manufacturing process, which hasn't majorly changed in more than 40 years.
Investors
Par Equity, the Edinburgh-based venture capital firm which has a strong track record in investing in early stage companies, is the lead investor
Kelvin Capital, the Glasgow-based venture capital firm are co-investing
further investment was secured from Gabriel, the Scottish Investment Bank, the EOS Technology Investment Syndicate and Investing Women
The investment will drive novosound's growth plan, allow it to expand its already-experienced team, and bring its cutting-edge ultrasound sensors to market.
Utrasound sensors & novosound
Commonly known for its use in maternity wards and other hospital departments, ultrasound imaging can also be extensively applied in industrial settings as a safe non-destructive testing (NDT) technique.
In the oil and gas industry, for example, novosound's new, low-cost, "fit-and-forget" sensors will be fixed along a pipeline to detect potential cracks and faults before they become critical; a problem that has been well-publicised recently for operators in the sector.
These sensors can operate at very high temperatures (above 250 °C) meaning that, in nuclear power stations and petrochemical refineries, crucial inspection of critical infrastructure can be carried out without the need to cool down pipes – a setback that currently costs the industry billions of dollars per year. 
During a recent visit to the US, novosound met with large-scale industrial companies, and after receiving positive feedback, the team is working to convert these opportunities into development contracts and production orders.
Once established, novosound plans to enter the lucrative medical imaging market with its ultrasound sensors, which can provide MRI-quality imaging without the associated costs.
The company, which developed its sensors at the Institute of Thin Films, Sensors and Imaging at University of the West of Scotland, has already received £550,000 of Scottish Enterprise grant funding and was presented with the 2017 Converge Challenge award by First Minister Nicola Sturgeon, an accolade which celebrates academic innovation in Scotland.
novosound was co-founded by Dr Dave Hughes and Richard Cooper. Dr Hughes is Chief Technical Officer, former project lead at University of the West of Scotland and leader of the Ultrasonic Imaging team within the UWS Institute of Thin Films, Sensors and Imaging. Richard Cooper, an independent consultant, supported Dr Hughes and the project over the last two years and is now novosound's Chief Executive Officer. He was a co-founder of Cascade Technologies, Strathclyde University's biggest exit to date, which was sold to US-based engineering firm Emerson in 2014.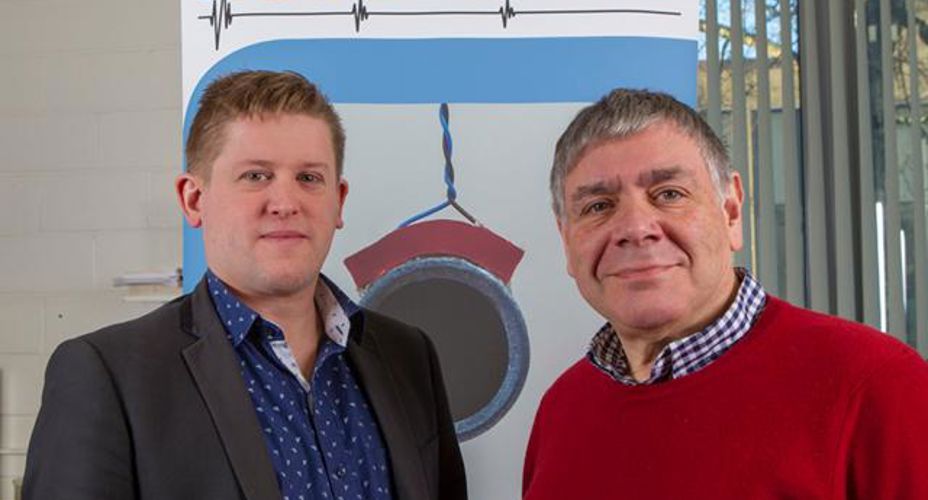 Dr. Dave Hughes, CTO, novosound & Richard Cooper, CEO
Our revolutionary sensors have the potential to disrupt the $2.6 billion non-destructive testing market unlocking a huge commercial opportunity for novosound.
Dr. Dave Hughes, UWS & Chief Technical Officer, novosound
novosound have developed a truly revolutionary ultrasound technology with wide ranging applications and benefits in multiple industries.
Marcus Henderson, Investment Manager, Par Equity
Dr. Hughes continued: "The manufacturing of ultrasound sensors has not changed in more than four decades, limiting their effectiveness in certain industrial settings. Our revolutionary sensors enable continuous, safe monitoring of petrochemical infrastructure."

Marcus Henderson also added: "At Par Equity, we invest in high-growth innovative technology ventures that have the potential to deliver significant returns to our investors.  novosound is a great example of this type of venture as Dave Hughes, Richard Cooper and the entire team at novosound have developed a truly revolutionary ultrasound technology with wide ranging applications and benefits in multiple industries. We believe that this provides the company with a huge range of opportunities and the potential to grow into a significant business over the next three to five years. We were delighted to lead this round of investment and we're now excited about the prospect of helping the company move through the next phases of growth and development in order to achieve their full potential."
Our university prides itself on its longstanding and close links with industry. Our academics and researchers are playing a key role in the development of a range of technologies that will have significant impacts nationally and globally. novosound securing the funding it needs to roll-out its cutting-edge sensor and imaging system technology, is a clear illustration of what that collaborative relationship can achieve.
Professor Ehsan Mesbahi, Vice-Principal (Academic), UWS
novosound is an innovative, ambitious, forward-thinking company that's hungry for growth and it's fantastic that they've secured this seed investment. Our strong support to the University of the West of Scotland team enabled the attraction of Richard Cooper as the commercial lead and included introductions to global players in non-destructive testing to help direct development of the team's product and business plan. We look forward to working with the company as it progresses its plans for global growth.
Eleanor Mitchell, Entrepreneurial Growth, Grant Appraisal & Management Director, Scottish Enterprise