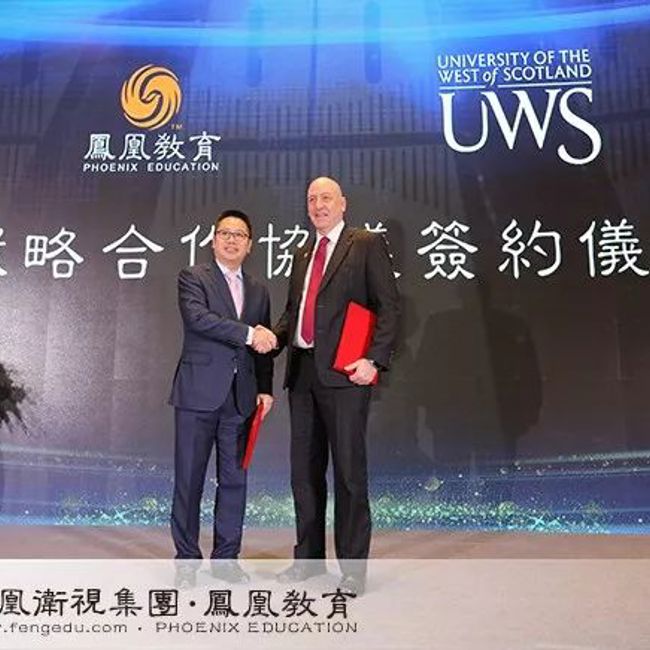 New international partnership
On January 18 2018, Wu Haoqiang, Chief Executive Officer of Phoenix Education, and Professor Craig Mahoney, Principal and Vice Chancellor at University of the West of Scotland (UWS), signed a strategic cooperation memorandum at the Phoenix Education Annual Conference to establish an international partnership.
This partnership is designed to facilitate international student exchange between Chinese universities and the School of Media, Culture & Society at UWS. By studying one of our media courses, students from China will gain first-hand experience in a professional context and be prepared to succeed as media professionals in their country.
Students will have the option to study either one semester or a full year at UWS and will obtain Chinese credits by their home institution on completion. The courses available for these students include:
This partnership will also offer Chinese universities an opportunity to benefit from the expertise of the UWS Creative Media Academy, led by Professor Nick Higgins, and develop academic projects and research activities.
Phoenix Education was founded in 2008 with the aim of cultivating talent in the fields of media, technology, and management. Through its vocational training programs and partnerships with other institutions, Phoenix Education continues to proactively enhance the communication, integration, and development of the media sector in both China and the rest of the world.
For further information about the partnership or the courses, please contact at international@uws.ac.uk.