University of the West of Scotland alumnus Gurjit Singh Lalli is the Founding Curator of TEDxGlasgow which is now in its sixth year and continues to go from strength to strength, with the annual event set to take place on Friday 1st June 2018 at The SEC Armadillo in Glasgow.
Business and Management graduate Gurjit is an entrepreneur with a keen interest in philanthropy and developing social venture capital firms. An avid TED fan, Gurjit acquired the licence for TEDxGlasgow in 2012, bringing together a team of volunteers to form an organisation that is now one of the most established TEDx events in the UK and Europe. Gurjit was named Businessman of the Year at the 2014 Scottish Asian Business Awards.
Gurjit now mainly supports the project manager and leadership team in their roles as well as working closely with the Brain Trust – a group of inspirational decision makers and business leaders who advise and support TEDxGlasgow's mission. 
"As curator, my role is to be an ambassador for the brand and so I'm regularly out speaking at events about the work we do here at TEDx. I'll bend anyone's ear about the virtues of sharing ideas and building stronger communities."
Gurjit Singh Lalli - TEDxGlasgow founder
From an early age Gurjit has been involved in business. Says Gurjit: "On a Sunday the family would come together and they would all be speaking about business. After school I would go to our family-run shop in the East End of Glasgow, serving customers and helping out - business was just second nature."
An early indication of Gurjit's entrepreneurial spirit became evident when he realised that some sweets were more popular than others and so began to take the most popular sweets in to primary school and sell them there. His first business venture proved to be so successful, that the now Cathkin High School pupil, diversified into the computer games market selling discs.
Not really knowing what he wanted to do in his future career, 17 year-old Gurjit was encouraged to go to University by his family. "My cousin was the only family member that had actually attended university so I wasn't sure if it was for me, but I was given a privileged opportunity by my family so I started having a look at what types of courses there were, focusing on business."
After attending an open day at University of Paisley (now UWS), Gurjit applied and was accepted into the BA Business and Management programme. 
"I loved my time at UWS, the best thing about the course was that it was very practical and hands-on. The lecturers had a background in industry and had been business leaders or entrepreneurs so you felt you weren't just learning theory."
Gurjit Singh Lalli - TEDxGlasgow founder
The other attractive element to the course was the year industry placement. "My first choice placement at a publishing firm in London fell through, so I ended up working for a year in Ayrshire with a computer hardware company as a data analyst. It was such a demanding role as there were only two of us creating reports for this huge organisation. I moved to Ayrshire and worked 12 hour days crunching numbers and producing spreadsheets, but the experience I gained working in a professional environment was invaluable. It was intense – but in a good way."
After 5 years at UWS Gurjit graduated with a BA (Hons) Business and Management specialising in Marketing in 1998, going on to do a Masters in Sweden. 
His advice to current students? "If you can, try and find a part-time job that has relevance to your studies. If you can't, then volunteer or throw yourself into any opportunity the university offers you – get involved in a society or become a class rep. I was treasurer of the ski club and I couldn't ski! I was also editor of the student magazine. The point is to manage your time well and be engaged and get as much on your CV as possible to make you stand out from all the other graduates."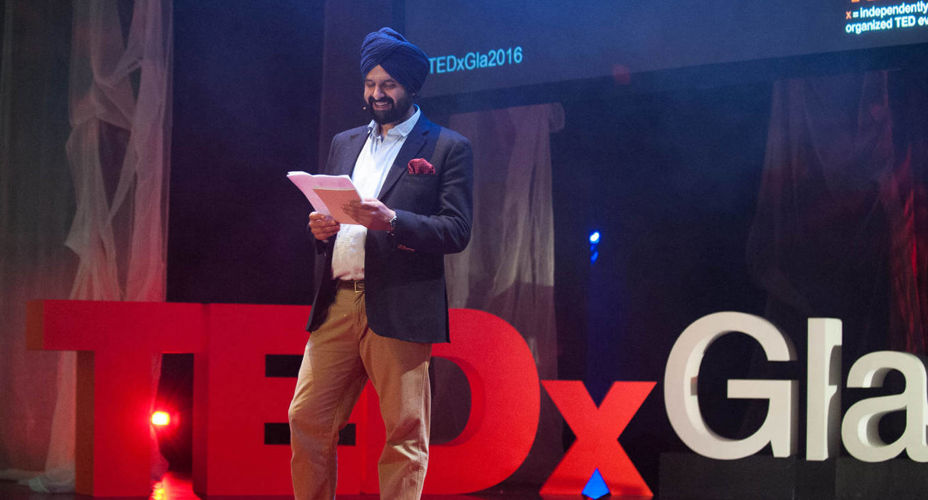 After returning to the UK Gurjit set-up a digital design business in London with a friend but left after a year as he grew tired of London. His next move was to Mexico to set-up a construction firm, Beyond Boundaries, that aimed to provide skills to Mexican workers whilst in employment. "We built some amazing buildings and helped Mexican workers to improve their own working conditions and skills.
"I hadn't run a construction business before, but the knowledge I gained from my degree at UWS – HR, sales, marketing, legal and finance gave me the confidence to take it on."
In 2007, Gurjit returned again to the UK and has been responsible since then for various start-ups, as well as being an ambassador for The Prince's Scottish Youth Business Trust and a mentor for Entrepreneurial Spark. However, it's TEDxGlasgow that's occupying most of his time at the moment.
Explains Gurjit: "My mentor Guy Spier put me onto TED as he knows how much I love learning. Having looked into it and realising that no one was organising TEDx events in Scotland and the platform could be leveraged to showcase great ideas and encourage others to challenge and collaborate, I jumped at the chance to get involved and bring it to Scotland. I applied for the license in 2012 and then did a call out for other volunteers to get involved. This was the beginning of an incredible voyage of discovery."
This year's TEDxGlasgow event will see twenty thought-provoking, inspirational speakers from astrophysics to medical technology, creativity to autism, genetics to the future of transportation under the theme 'Rethink'.
See the full list of speakers at www.TEDxGlasgow.com