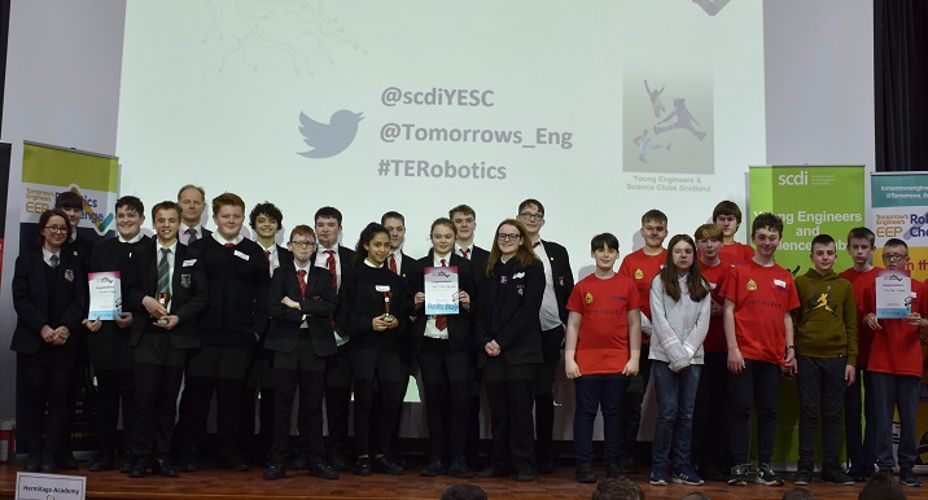 Young engineers from schools across Scotland tackled environmental challenges at a UWS-hosted event.
More than 100 students from 12 schools visited the University's Paisley Campus, to compete in a regional heat of the Tomorrow's Engineers EEP Robotics Challenge.
The environmentally themed competition introduces student teams to real-world engineering, technology, robotics and computing challenges.
The challenge helps students put their school learning into context and discover exciting new careers. Teams build, program and control a LEGO Mindstorms Education EV3 robot for a series of environmentally themed missions. They have also conducted research and presented an idea of what engineers can do to create a cleaner, more sustainable world.
At the UWS heat, West Calder Academy, Hermitage Academy and Stewarton Academy all advanced to the finals, which will be held at The Big Bang Fair in March 2020.
The competing schools in the UWS heat were Largs Academy, St Andrews Academy, Hermitage Academy, All Saints High, Stonelaw Academy, West Calder Academy, St Lukes High, St Columba's Academy, Greenwood Academy and Kilmarnock Academy.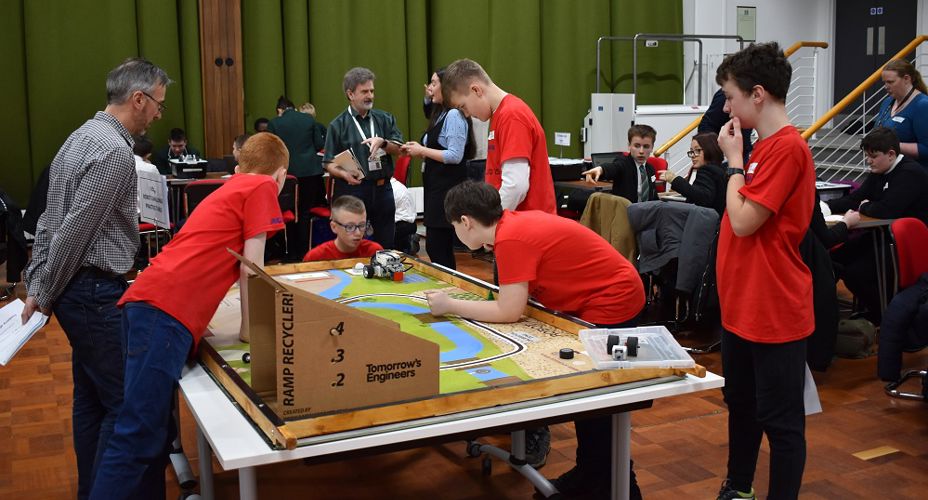 At the end of the day's challenges, the winners received their prizes from UWS Principal Professor Craig Mahoney, and Dean of the School of Computing, Engineering and Physical Sciences Professor Carl Schaschke.
Dr Hilary Leevers, CEO of EngineeringUK, said: "We've seen young people around the world coming together to demand action over climate change.
"The next generation can be part of the solution by choosing engineering careers that will be central to generating affordable and sustainable energy, and to solving other global challenges that they care about, like access to clean water and sanitation. We need creative thinkers with a range of skills and perspectives working together to secure our future."
Thomas Wild, Programme Manager of SCDI's Young Engineers and Science Clubs, said: "We are delighted to be the Scottish delivery partner for this inspiring robotics competition. It is crucial that young people develop digital skills needed now and in the future workplace and programmes like this are an exciting and fun way to do just that.
"The new environmental challenge was chosen for the Tomorrow's Engineers EEP Robotics Challenge to address an issue that many of us are passionate about and inspire students as they discover exciting new skills and careers in engineering, technology, robotics and computing."
Demand for engineering skills is high and will continue to rise in the future: EngineeringUK estimates that the UK needs tens of thousands more engineers annually.
Dr Leevers added: "Communicating the breadth and variety of engineering careers to young people is vital for the future of the UK economy, if the engineering community is to keep inspiring the next generation of engineers."
Click here for more information on the Tomorrow's Engineers EEP Robotics Challenge.