UWS student Chloe Docherty has been voted Scottish Building Society's Scottish Women's Premier League (SWPL) Player of the Month for March 2019.
Glasgow Girls FC central midfielder Chloe is currently in her third year studying BSc (Hons) Sport Coaching and wins the award for the first time after being nominated in September 2018.
Chloe said: "It's amazing to win this award. Being nominated last season was a great achievement but to go on to be nominated once again and this time be voted SWPL Player of the Month shows the dedication and commitment I have made to bettering myself as a player."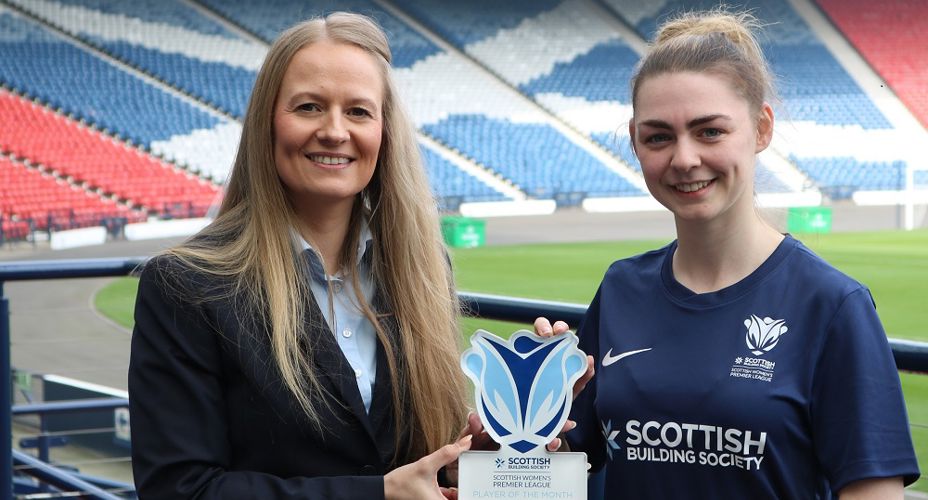 Jacki Hamilton, Mortgage Advisor for Scottish Building Society, said: "Congratulations to Chloe and Glasgow Girls. They've had a great start to 2019 and made themselves contenders for the league title."
Also nominated for the March award were Amy Anderson (Hamilton Academical), Jamie-Lee Napier (Hibernian), and Kelly Clark (Celtic).
Jacki added: "This was an extremely close month when it came to voting and all four players were deserving nominees. We had just shy of 2,000 votes, so we'd like to say thank you to all who voted and another well done to the nominees."
Professor Craig Mahoney Principal and Vice-Chancellor, UWS said: "On behalf of the university I would like to say well done to Chloe on this fantastic achievement. To be voted Scottish Building Society SWPL Player of the Month is a brilliant accolade and it is testament to Chloe's skill and commitment to the beautiful game."
"I also want to take this opportunity to recognise Chloe for her sterling efforts in balancing both a flourishing football career with her studies in Sport Coaching here at UWS."
UWS Principal Prof Craig Mahoney
It's been a great run for Chloe, who alongside fellow UWS student Ailse Stewart, recently represented Scotland in the Women's Football national squad as part of the Home Nations series. They played Wales in their opening game, coming out victorious on penalties after a draw, with Ailse setting up the opening goal. The team then went on to beat the English Women's side 1-0 to take home the 2019 Home Nations Title for Women's Football.