A panel of television industry experts have visited UWS Ayr Campus to share their insider knowledge with Creative Industries students.
The #FutureJobs event is jointly hosted by the Creative Media Academy and the Careers Service at UWS. Hosted at UWS's Ayr Campus, it brought together Jo Street (Channel 4's Head of Daytime and Head of the channel's Glasgow hub); Sarah Brown (Creative Director, Drama, STV Productions); and Louise Thornton (BBC Scotland's Commissioning Executive for Digital, Social and Youth), to discuss the three companies' approaches to new talent and gateways into the industry.
Nick Higgins, Director of the Creative Media Academy at UWS, said: "The #FutureJobs event gave our Creative Industries students a fantastic opportunity to hear first-hand from some truly inspirational figures from the industry."
"Events like this give our students a better understanding of the world of work to give them a head-start in life after university."
Nick Higgins, Director of the UWS Creative Media Academy
The keynote panel discussion was followed up by a series of subject-specific workshops for students studying Broadcast Production: TV and Radio, Filmmaking and Screen Writing, Journalism, Commercial Music and Performance, delivered by a variety of industry professionals.
#FutureJobs offered students the opportunity to hear the lived experience of those working in the creative industries and to expand their own networks and find out more about areas of creative media they may not previously have considered.
Speakers included representatives from QTV Sports, The Tron Theatre and the Scottish Music Industry Association.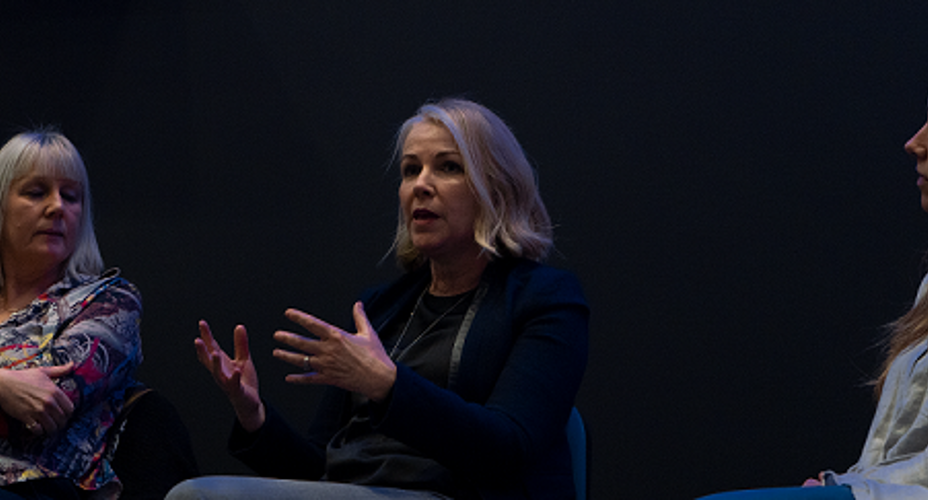 Lucy Lake, HR Director at QTV Sports, who delivered one of the workshops, said: "It was a pleasure to come down and be part of such a varied and interesting panel of industry experts. We also thoroughly enjoyed meeting the students and saw some genuine potential and enthusiasm."
Dave Donald, UWS alumni and a freelance Edit Producer, added: "I think it was a brilliant day. The students I spoke to were a bright lot and a credit to UWS."