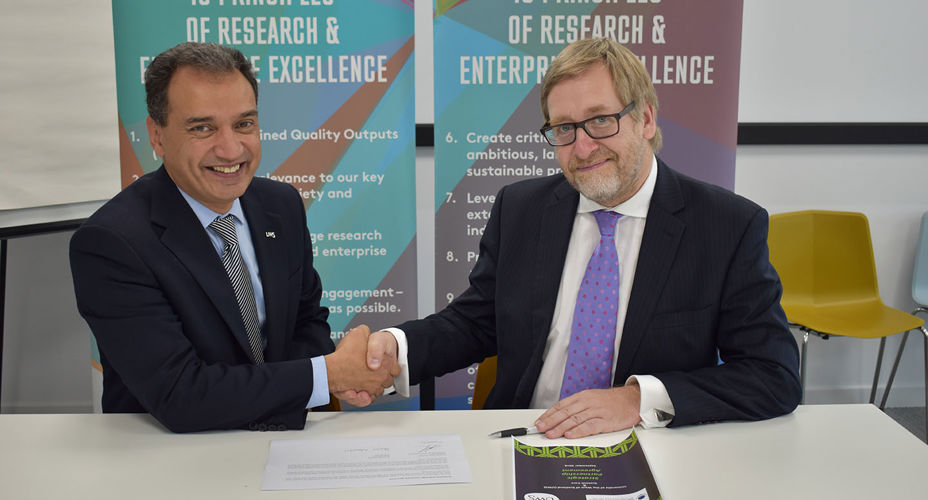 University of the West of Scotland (UWS) has agreed a new strategic partnership with Scottish Care, the representative body for independent health and social care services in Scotland.
The partnership, which is the first of its kind in Scotland, will provide students with hands-on experience in the care sector through placements and other practical learning opportunities, as well as provide a unique opportunity for the University's academics and researchers to work alongside the organisation in its role informing health and social care policy.
Delegates from Scottish Care and UWS met last week to discuss the strategic aims of the partnership, as well as develop an action plan.  The combined group plans to focus on projects concerning workforce development, technology in care and policy and practice reform.
Professor Ehsan Mesbahi, Vice Principal (Academic) at UWS, said: "The University offers a range of academic programmes in health and social care, from foundation courses to doctorates requiring hands-on and practical learning. Real-life experience is not only beneficial for our students entering careers in healthcare, but also for our researchers, to support and help shape solutions for the challenges facing the sector and wider society.
"Our partnership with Scottish Care will not only provide an opportunity for students to put what they're learning into practice, but also for researchers to work closely with the independent healthcare industry to inform best practice and policy."
Donald Macaskill, CEO of Scottish Care, said: "I am delighted that we have formed this partnership. I hope that over the coming months and years both organisations can combine our individual skills and expertise to ensure that there is very real benefit for those who work in social care across Scotland, and that together we can work towards improving the care and support of all our citizens."
Scottish Care is a representative body for independent social care services in Scotland, representing 500 organisations, providing almost 1,000 individual services such as residential care, nursing care, day care, care at home and housing support services.
The partnership with Scottish Care builds on investment by UWS into its health and social care capabilities, following the opening of its new £110m campus in Lanarkshire, the home of Scotland's newest simulated nursing and midwifery teaching environment. The new simulation facilities reflect cutting-edge hospital and care environments and have been developed in collaboration with industry partners.