UWS and Alzheimer Scotland Build on Long-Standing Links
Building on their close links, University of the West of Scotland (UWS) and Alzheimer Scotland have recently signed a Strategic Partnership Agreement.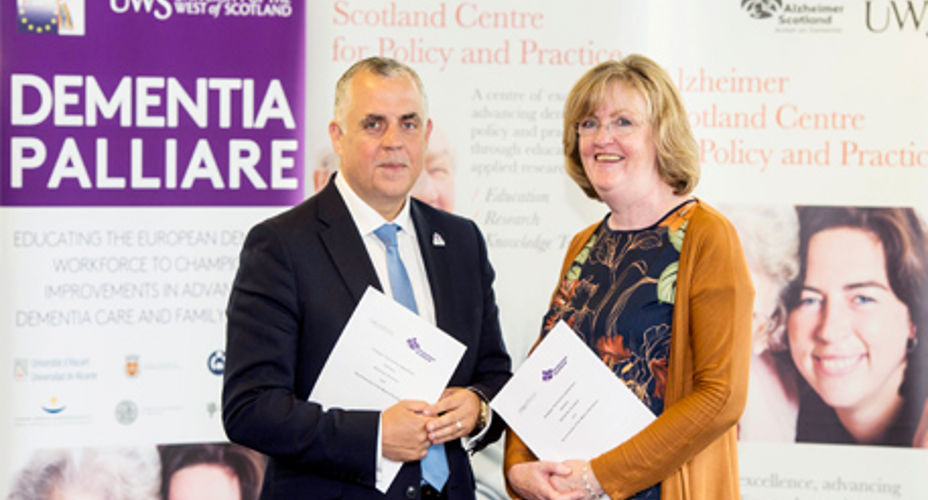 The University is a leader in the field in the Scottish higher education sector for dementia-related teaching and research.  The Alzheimer Scotland Centre for Policy and Practice at UWS provides a high quality environment for applied research, education and enterprise. It is a centre of excellence, advancing dementia policy and practice through education and applied research in Scotland and beyond.
The Dementia Champions programme which forms a key part of the Scottish Government's National Dementia Strategy is led by the Centre. This important programme, which creates 'Dementia Champions' to improve the quality of care provided for people with dementia and caring families, is a major part of the Centre's national workforce development. 
Dementia care is embedded in the University's nursing courses and every aspect of students' training is career-focused: they learn the essential skills they need to help people in this extremely difficult stage of life. At the root of all the activity is the University's close partnership with Alzheimer Scotland.
Collaborative Partnership
Both organisations have ambitious and far-reaching strategic development plans aimed at the provision of research and skills development to support the innovative and effective delivery of high quality dementia care within the integrated health and social care landscape in Scotland.
UWS and Alzheimer Scotland are committed to working collaboratively to support the advancement of their respective strategic objectives and this new Partnership will see both organisations focus resources on shared priority areas. These primarily concern a joint commitment to further develop the Alzheimer Scotland Centre for Dementia Policy & Practice; increasing collaborative working to influence policy; and shaping practice in dementia care, developing new and innovative interventions that reflect current needs and emerging policy.
The new partnership agreement will feature an annual winter lecture with the first taking place this year on 1st November at the UWS Paisley Campus.  The event will also showcase and celebrate the successes to date of this collaborative partnership. 
We are delighted to have further enhanced our links with Alzheimer Scotland, which has been a close partner of ours for so many years. The School of Health, Nursing and Midwifery is committed to making an important and lasting contribution to our society and this partnership will result in even more benefits to those living, and caring for a loved one with, dementia.
Karen Wilson, Dean of the University's School of Health, Nursing and Midwifery
Dementia is the biggest health and social care challenge faced by society today. There are around 90,000 people living with dementia in Scotland and around 3,200 are under the age of 65. By the year 2020 there will be more than 1 million people living with dementia in the UK. Alzheimer Scotland is passionate that nobody should face dementia alone.
It is hugely important for us to work in partnership with researchers who are dedicated to developing better practice in dementia. We must never lose sight of the people living with dementia today who can, and should, benefit from dementia research. University of the West of Scotland is at the forefront of developing new ideas and approaches to improve quality of care and quality of life for people with dementia and those who care for them.
Henry Simmons, Chief Executive of Alzheimer Scotland