A team of three UWS filmmaking graduates have been shortlisted for a Royal Television Society (RTS) Student Award.
The trio – comprising of director Harvey Gardner, producer Reece Steele and director of photography Luca Michelli – have won a place on the shortlist for best postgraduate drama for their short film UFO at the national awards.
UFO, which was also written by Harvey, is a drama-comedy about two brothers who happen upon their estranged father in the woods – to discover that has become the figurehead of a UFO cult.
Director Harvey said: "The nomination was such a surprise. The other two films on the shortlist are from the National Film and Television School, which is the biggest film school in the UK. That's the loveliest thing about it – to see UWS getting recognition."
The Filmmaking MA at UWS was established in 2017, with the UFO filmmakers part of its second intake. The three classmates worked together on the film as part of their coursework on the filmmaking programme before graduating from the course in November, with Harvey also receiving the class medal.
He said of the course: "I did the BA in Filmmaking at UWS first, and I came out of that with a film called SHED that I was really happy with – we got it into a few film festivals. But I think after the BA, I felt that I needed an extra year of freedom to make things and to meet people."
"There was so much freedom to be creative and lots of great interaction with people in the industry. Pretty much once a week, we'd have talks from terrific figureheads from the Scottish film and TV industry to really talk to us and we could often get one-on-one time after class too. That sort of thing is invaluable in this industry."
Harvey Gardner, UWS filmmaking graduate
UWS's Filmmaking masters is accredited by ScreenSkills UK and is part of the University's Creative Media Academy, one of only three such institutions in Scotland to be endorsed as a centre of excellence by Creative Skillset in 2011. The Academy brings together students, staff and practitioners within film, television, radio, music, performance, journalism and digital art.
The course is taught by academics from filmmaking backgrounds and based partly at Glasgow's Film City, seeking to give students exposure to the film industry as much as possible.
"I got so much from the programme at UWS – so many contacts, and a newfound confidence in networking," Harvey added. "That has been so helpful. I've also been able to build my confidence in my filmmaking ability, and learn more of who I am and what I'm interested in, and how to collaborate with others too."
Harvey is now embarking on a new project with his former course mates Reece and Luca, with a long-term ambition of making his own feature film.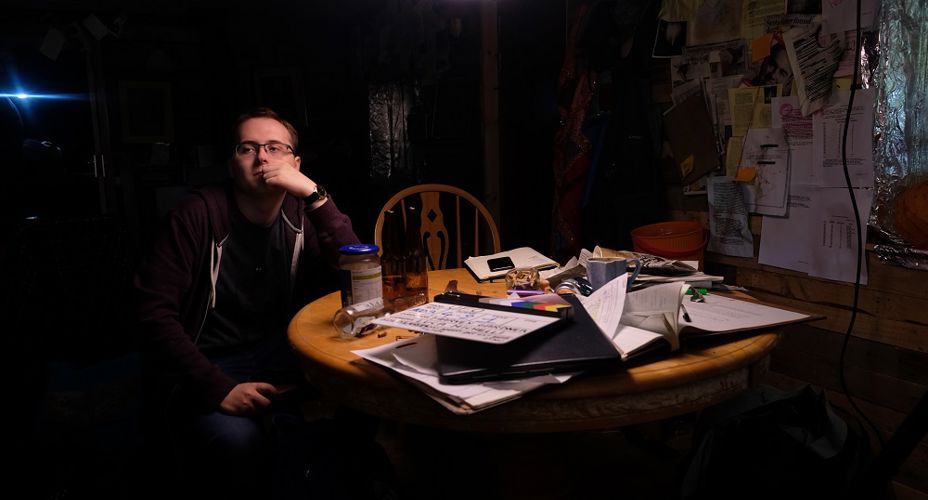 Professor Nick Higgins, course leader and Director of the Creative Media Academy, said: "At UWS, we try and support and nurture original voices. We're always encouraging the students to say something that comes from inside them, and not to imitate what's already out there. Harvey and his classmates have done that.
"A whole group from that masters programme were part of the production, and I am delighted for them and their RTS nomination. I think it will really help them go on and get future commissions and bigger opportunities.
"I'm also delighted for the programme – as it is also a recognition of our own distinctive approach and pedagogy, that supports students to produce work in a context as close as possible to industry standards as they can."
Find out more about the UWS MA in Filmmaking on the UWS website.