Ayrshire College chair, Willie Mackie, has been awarded an Honorary Doctorate from University of the West of Scotland (UWS) at the Ayr campus graduation ceremony on Tuesday 5th November 2019.
Willie, who has had an impressive 43-year career in financial services, collected his award alongside 139 other UWS students graduating from the University's Schools of Business and Creative Industries, and Education and Social Sciences, during the special ceremony at Troon Concert Hall.  
Throughout his career, Willie has held a number of top positions, and as well as his role as Chair of Ayrshire College, has served as Managing Partner of the Ayrshire and Arran region for Clydesdale Bank, President of the Ayrshire Chamber of Commerce, and Deputy Chair of Scottish Enterprise, where he is responsible for overseeing the delivery of a new strategic framework for the organisation.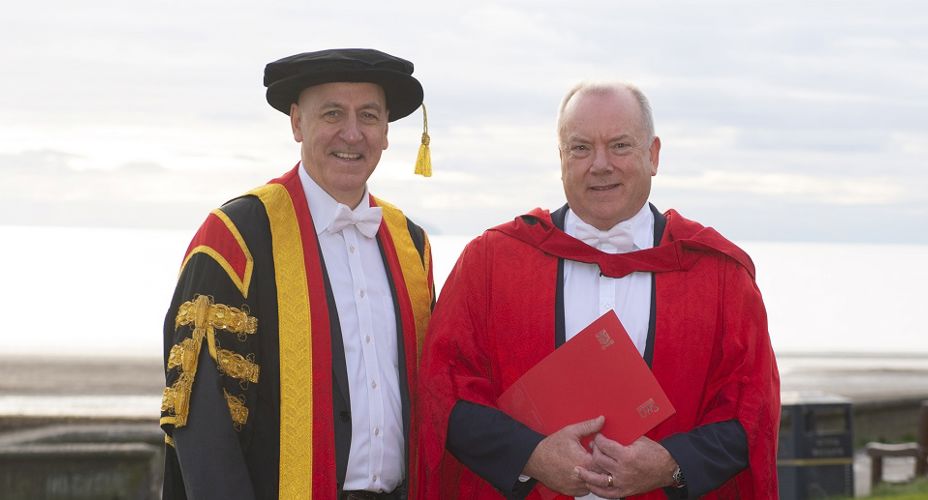 Commenting on his Honorary Doctorate from UWS, Willie said: "I am absolutely thrilled to receive an Honorary Doctorate from the University of the West of Scotland. Education has played a huge part in both my business and public sector careers, so I am immensely proud to share this award with the many people who have supported me over the years and who have made this such a special day for me and my family."
Professor Craig Mahoney, Principal & Vice-Chancellor of UWS, said: "We are delighted to award Willie Mackie with an Honorary Doctorate from UWS, recognising the positive impact he has had in business and education within the Ayrshire region."
"His work ethic, entrepreneurial spirit and significant contribution to the business community in Scotland and beyond makes him an incredibly inspiring role model for our students, and we are thrilled to celebrate his success today."
UWS Principal Prof Craig Mahoney