One of Britain's most experienced television journalists, Kirsty Wark, has received an Honorary Doctorate from University of the West of Scotland (UWS) at its graduation ceremony at Crichton Memorial Church, Dumfries.
Kirsty has presented a range of television programmes over the past thirty years, from the ground breaking Late Show to Election night specials. She has fronted the BBC's flagship current affairs show, Newsnight, since 1993.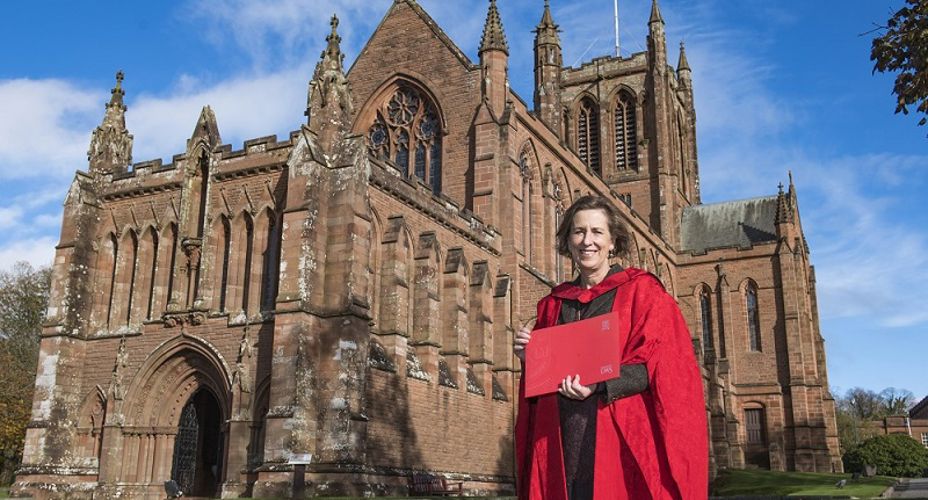 In addition to political reporting, Kirsty hosted The Review Show, the weekly Arts and Cultural review and comment show, for over a decade.
Career highlights have included conducting long form interviews with Margaret Thatcher, Madonna, Damien Hirst and George Clooney, to name just a few.
Kirsty has several major accolades to her name including BAFTA Awards for Outstanding Contribution to Broadcasting, Journalist of the Year and Best Television Presenter.
Kirsty said: "I feel very privileged to receive this Honorary Doctorate from an institution which offers so much to local students. It's also an area with which I feel a great affinity which made the day extra special."
Professor Craig Mahoney, Principal & Vice-Chancellor of UWS, said: "We are so pleased to have presented Kirsty with an Honorary Doctorate at our Dumfries Campus. It is particularly fitting for us to pay tribute to Kirsty in the town of Dumfries where she was born."
"She really is a leading light for our students, particularly for those looking to enter the world of media. Kirsty is an inspiring woman with so many achievements across her career to date and I am delighted that UWS is able to recognise and celebrate this with her."
UWS Principal Prof Craig Mahoney