UWS is hosting the Royal Society of Chemistry's Annual Andy Parkin Lecture at its Paisley Campus on Wednesday 17th April 2019.
The prestigious lecture, which is open to the public to attend, will be delivered by Professor Jackie Akhavan, Head of Cranfield University's Centre for Defence Chemistry.
The lecture, which is named after Dr Andy Parkin who was a Lecturer in Structural Chemistry at the University of Glasgow and passed away in 2008, is free to attend and is a non-ticketed event. The event takes place in UWS Paisley Campus in room P118 at 4pm.
Professor Akhavan joined the academic staff at Cranfield University in 1987 after graduating from Southampton University with a PhD in polymer chemistry. She has been based at the University's Centre for Defence Chemistry for over 30 years and recently joined the Defence Science Expert Committee reporting to the Defence Chief Scientific Adviser as the UK expert in explosives and weapon systems.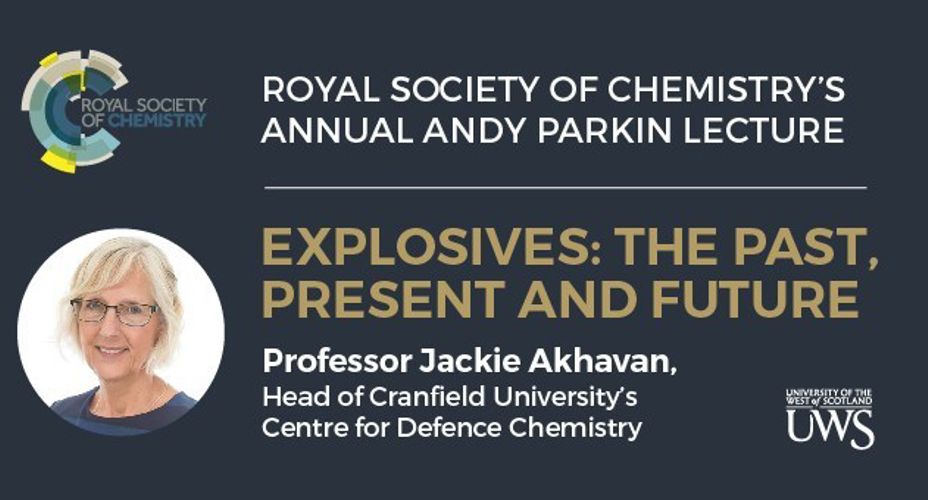 Explosives have been part of our lives for many years with the first recording of an explosive powder being used in China in 220BC. In the 13th Century, Roger Bacon experimented with explosives by making black powder and by the end of the 13th Century explosives were being used by many European countries. Nowadays explosives are part of our everyday life; they are in airbags, ejector seats and fireworks as well as propulsion for space shuttles, demolition aids and under water cutting charges for off-shore gas lines.
Professor Jackie Akhavan's lecture, 'Explosives: The Past, Present and Future', will see her introduce and discuss various types of explosions and explain the conditions under which a chemical reaction becomes an explosive. 
"It is a huge honour for UWS to be hosting RSC's annual Andy Parkin Lecture and we are delighted to welcome Professor Jackie Akhavan to our Paisley Campus. She will undoubtedly deliver an engaging and thought-provoking lecture."
Callum McHugh - UWS School of Computing, Engineering & Physical Sciences
UWS is also hosting RSC's Annual General Meeting (AGM) which will be attended by members of the Society and takes place following the public lecture.