To celebrate six years of the UWS Inspiring Women lecture series a special event was held which saw more than 120 guests listen to a Paralympian and a representative from NASA, among other top speakers. 
On Wednesday 5 June, UWS' Paisley Campus opened its doors to members of the public, staff and students giving them the opportunity to learn about the varied life experiences and career trajectories of four inspiring women, gaining insight into how they've handled highs and lows along the way.
As part of the celebratory event, which also marked the end of another year of the UWS Inspiring Women lecture series, guests were able to focus on their own personal development, with workshops designed to equip delegates with the skills necessary to flourish both professionally and personally including confidence, resilience and goal-setting.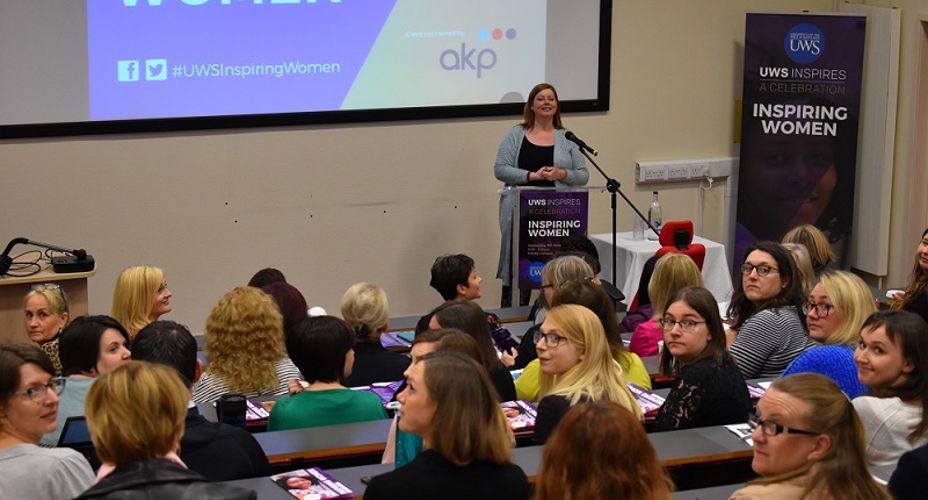 Sarah Murray (pictured below), NASA STEM (Science, Technology, Engineering and Maths) ambassador and lead on the Orion Multi-Purpose Crew Vehicle Programme, a NASA exploration spacecraft built to take humans farther than they've ever gone before, had guests reaching for the stars as she shared insights into her exciting career in an industry where typically women tend to be under-represented.
Attendees also had the chance to hear from Ron Coghill, Director of Major Project Delivery Globally at Barclays. Ron has had an inspiring career travelling all over the world championing her passion for using technology to improve the working lives of people and promoting diversity and inclusion. Ron discussed her career highlights while explaining the importance of her current role in which she is responsible for delivering the Barclays Glasgow Campus in Tradeston, set to trigger a major urban regeneration of a key part of Glasgow and will have long-lasting benefits to the city in the long-term.
Continuing the Inspiring Women theme, Taban Shoresh, Founder of The Lotus Flower, a non-profit organisation working with conflict survivors in Kurdistan and Iraq, and Red magazine's Women of the Year finalist, spoke about the support her organisation has given to over 5,000 vulnerable women and girls.
Whilst Paralympic athlete, adventurer, author and motivational speaker, Karen Darke MBE, shared her story of life after a rock-climbing accident which left her paralysed. Karen has gone on to be part of the British Para-cycling team and has a London 2012 Paralympics silver medal to her name amongst a number of other outstanding achievements. Delegates heard Karen speak about the commendable philosophy she adopts in life whereby she advocates challenging constraints, adopting a positive mind-set and supporting one another to be the very best.
The Inspiring Women lecture series was created in 2013 by the University's Principal and Vice-Chancellor, Professor Craig Mahoney, to celebrate and encourage equality and provide an opportunity for staff, students and members of the public to hear from successful women across a variety of different fields. This academic year the series has been sponsored by akp Scotland Limited, ensuring around 1,000 delegates from across Scotland have benefitted from the wisdom shared at the various events.
Professor Craig Mahoney, UWS Principal and Vice-Chancellor said: "The Inspiring Women lecture series is something I am incredibly proud of as it provides a platform to champion leadership, courage and resilience and gives people time out from their busy lives to consider how they can develop further. The series is open to all and fosters innovation whilst empowering people to challenge the status quo, alongside celebrating and recognising leading individuals on their exceptional achievements."
"There really is something for everyone at each event but this celebration, which marked the end of another year of the Inspiring Women lecture series, was particularly valuable thanks to the range of speakers and the workshops which were on offer. I am confident attendees will have gained a huge amount of inspiration and insight from the event."
UWS Principal Prof Craig Mahoney