University of the West of Scotland (UWS) is standing out from the crowd with its sustainability measures, a new report has highlighted.
UWS Delivering Sustainability 2018/19, published in April, showcases the University's progress in sustainability measures throughout the last year. The University has measured a reduction of 4,670 tonnes of CO2e since 2012 – a decrease of 42%, and more than double the target of 20%, set out in the UWS 2012/13 corporate strategy.
In the past 12 months, the University has won two prestigious awards for its sustainability measures – a Guardian University Award, and a Green Gown Award – thanks to a commitment to sustainability across all five campuses, and the introduction of a number of innovative eco-friendly measures.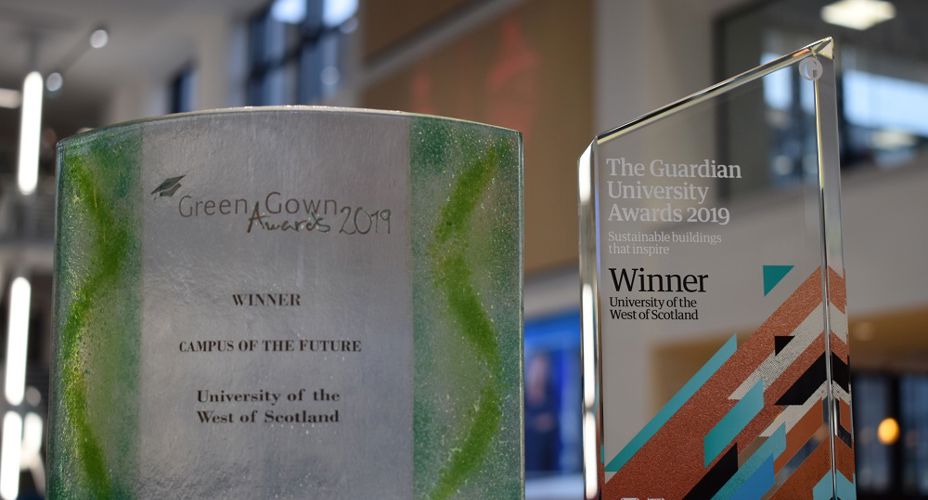 The University's new Lanarkshire Campus, winner of the Guardian University Awards' Buildings That Inspire, was designed with efficiency in mind – electricity is derived from Blantyre Muir windfarm, with supply supplemented by photovoltaic panels, and toilets are fed by rainwater harvesting. The campus is carbon neutral for energy – a significant shift from the former Hamilton Campus which accounted for 22% of the University's overall carbon footprint (1,842 tonnes of CO2e).
A 25-pence charge for single-use coffee cups at University catering outlets means 50% of customers now bring their own reusable cup – compared to 3% before the charge was introduced. The University, in partnership with Coffee Conscience, also roasts its own coffee beans on-site in Lanarkshire and Paisley – and has planted 308 trees to offset carbon emissions through the coffee partnership. Catering outlets have also introduced more vegan and vegetarian options, including Meat Free Mondays, to reduce food carbon.
The University's fleet of cars have been replaced by all electric or hybrid vehicles, while vans are new and more efficient, and the University minibuses have improved accessibility too. Sixty sustainability-focused research projects are also underway, with a value of £4.4million.
UWS Principal and Vice-Chancellor Professor Craig Mahoney said: "UWS takes its responsibility around sustainability very seriously – and this is of particular importance in the current unprecedented international coronavirus situation. Collectively, we have an obligation to embed sustainability across our key functions of learning, teaching and research and to ensure we are fostering a commitment to sustainability in our staff and student populations."
"We have made significant progress so far, and will continue to do all we can to be a more environmentally sustainable institution. Indeed, we are in the process of developing the next phase of our sustainability plan, taking the current global situation into consideration at all times."
UWS Principal Prof Craig Mahoney
"In an era when young people around the world are demanding action on climate change, we will step up and play our part in achieving this."
The environmental impact is just part of the University's efforts in sustainability. The institution has embedded the United Nations Sustainable Development Goals into its work, recognising a more holistic approach. The Sustainability Goals provide a shared blueprint for peace and prosperity for all people, with 17 goals in total, which include no poverty, no hunger and quality education.
The University has introduced a number of measures which contribute towards these, such as free gym memberships for students at University-operated gyms, contributing to good health and wellbeing, and providing free sanitary products across its campuses, tackling the goal around no poverty.
Building on the progress made so far, this year, the institution will develop a new Sustainability Plan to address the challenges of the United Nations Sustainability Development Goals through research, education, public engagement and its own campus operations. Embedded within this will be the University's commitment to reducing carbon emissions and becoming net zero by 2040.
The report can be viewed in full at the UWS website.