Andy Campbell has received an Honorary Doctorate from University of the West of Scotland (UWS) at its Paisley graduation ceremony (Wednesday 3rd July 2019) held at Paisley Abbey.
The Paisley born businessman has a wealth of experience in business start-ups and scale-ups spanning his 20-plus year career during which time he has concluded over £25m in international contracts, secured £2m in venture capital, and been responsible for the strategic vision, creation and management of several creative IT businesses, specifically within the Video Games sector.
Presently, Andy heads up the Accelerator Division for Elevator, a social enterprise at the heart of Scotland's entrepreneurial ecosystem which supports start-ups, scale-ups and entrepreneurs. He has been instrumental in the creation of a Centre for Entrepreneurship in both Aberdeen and Dundee, as well as the formation of a Creative Accelerator Programme in Perth, a new programme in the Highlands & Islands and the 'Global Domination' Accelerator aimed at internationalisation of Scotland's digital media and Video Game Sector.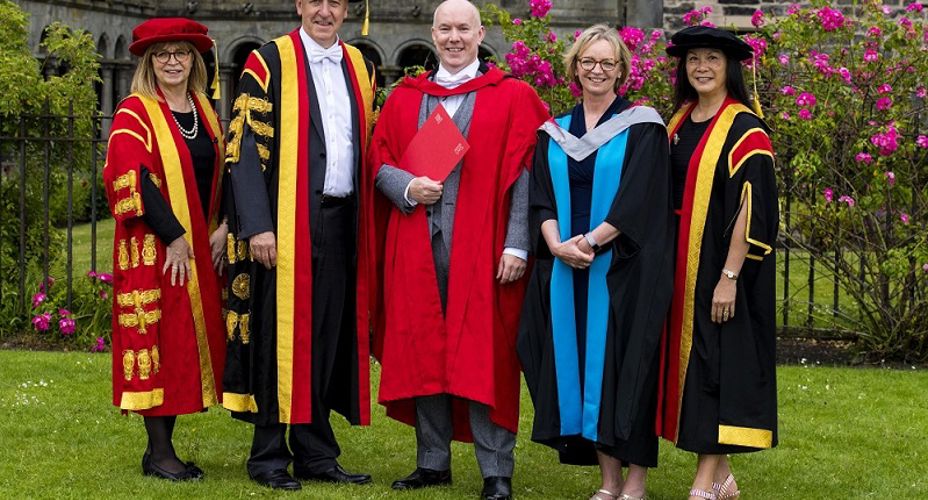 A big ambassador of science, technology, engineering and math (STEM), he works tirelessly to inspire future generations of Scientists and Engineers, and also consults as European Commercial Director for the International Space School Educational Trust (ISSET). The UK registered charity uses space to inspire and motivate young people to believe they can become whatever they want to be.
Andy was instrumental in bringing the ISSET Mission Discovery programme for schools to Paisley, which UWS hosted last month. Here, school children had the chance to work with astronauts, rocket scientists and NASA leaders to design an experiment to be launched into space and carried out by Astronauts on the International Space Station. As part of this, NASA astronaut, Dr Michael Foale (CBE), the most experienced British-born astronaut in the history of human spaceflight, gave a lecture to UWS staff, students and members of the public.
Andy is also a champion of his hometown and is a Founding Trustee of the Paisley Community Trust which aims to deliver community focused economic regeneration in the town.
Commenting on his Honorary Doctorate from UWS, Andy Campbell said: "The world truly is a wonderful place, filled with beauty, intelligence and opportunity. On spaceship Earth there are no passengers, only crew. As earth hurtles through the universe, I work away each day with the simple hope of assisting my fellow crew. I hope they can discover, explore, pioneer and learn. Fulfilling their potential whilst leaving a positive legacy behind. Allowing the next generation to stand on our and their shoulders to reach even greater heights.
"It is with this principle and ethos that I do what I do. Therefore, I am both honoured and humbled to be recognised and awarded with an Honorary Doctorate from the University of the West of Scotland."
Andy Campbell - Elevator
Professor Craig Mahoney Principal and Vice-Chancellor, UWS said: "Andy is a hugely inspiring individual with deep roots in Paisley and so it is with great pride we have presented him with an Honorary Doctorate from UWS."
"His entrepreneurial spirit and business acumen make him an inspiring role model for our students and his efforts to champion STEM aligns closely with our own ambitions as a university."
UWS Principal Prof Craig Mahoney
Professor Gary McEwan, CEO of Elevator, said: "Having worked with Andy for more than two decades, I couldn't think of a more deserving individual for this title. Throughout our working relationship we have weathered a few business storms; however, Andy's entrepreneurial mindset, ambition and drive have played an instrumental role in seeing us come out on top every time.
"Elevator prides itself on creating and nurturing an entrepreneurial society. Andy's ethos mirrors this and I know that he will work tirelessly alongside our dedicated team to see us achieve our goals. Personally, I would like to take this opportunity to congratulate, not only a hugely respected member of our team, but an old friend too.
Andy received his Honorary Doctorate at a ceremony alongside 189 graduates of UWS' School of Media, Culture and Society.