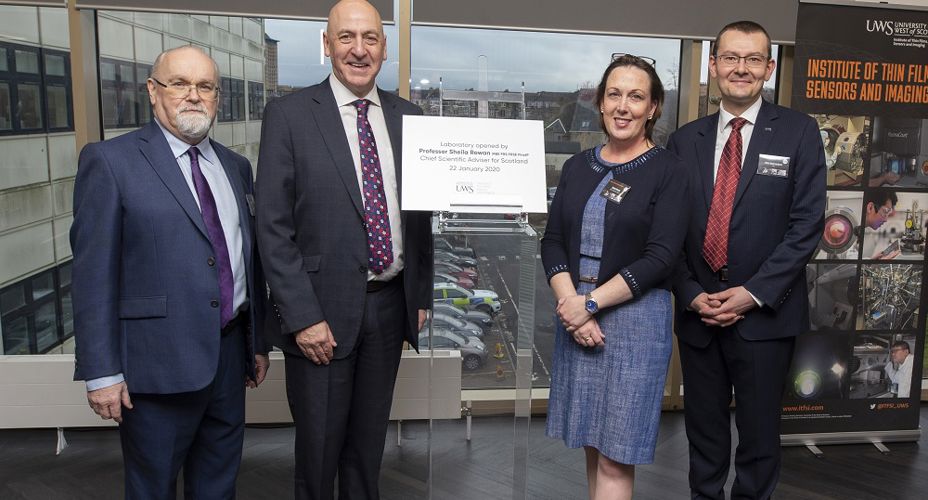 A leading University of the West of Scotland (UWS) academic has been elected a Fellow of the prestigious Optical Society (OSA).
Professor Des Gibson - pictured above on the far left at the launch of the University's upgraded thin films laboratory - will join a distinguished group of members from the world's optics and photonics community, recognising his pioneering work in photonic-based sensors, plasma-assisted deposition of optical thin films and associated technology transfer and commercialisation.
GREAT HONOUR
The physicist, who has been a part of the UWS community since 2014 following a successful career in industry, is also Director of the University's Institute of Thin Films, Sensors and Imaging (ITFSI).
Professor Gibson said: "The Optical Society Fellowship is a great honour and is a credit to UWS and ITFSI. The University's focus on and support of innovative research and partnership with industry has made the Institute a centre of excellence for our photonics-based research, and the Optical Society's recognition is testament to this."
The Institute specialises in thin films for various applications including medical devices, sensors, engineering, optics, sensors, electronic devices and photonics. Under Professor Gibson's directorship, ITFSI has won £7 million in external research and enterprise grants over the past six years, generated seven patents which underpin university spin-out companies Novosound and Albasense.
INDUSTRY-GRADE FACILITIES
Earlier this year, the Institute's Paisley-based laboratories received an extensive upgrade to include state-of-the-art, industry-grade facilities. The Institute's staff also deliver the University's MSc in Advanced Thin Film Technologies.
Alongside his work at UWS, Professor Gibson is a visiting professor at Beijing Institute of Petrochemical Technologies, Xian Technical University and University of Glasgow, and adjunct professor at Changchun University of Science and Technology.
"Professor Gibson is an example of the world-class research and teaching that comes from UWS, and I am incredibly proud that he has been elected Fellow of The Optical Society."
Professor Milan Radosavljevic, Vice-Principal for Research, Innovation and Engagement
Professor Radosavljevic continued: "This recognition of Professor Gibson and UWS, from a worldwide organisation and through a highly competitive process, is the latest exciting development in the University's journey towards being a leading name in optics-based research."
The Optical Society, founded 1916, promotes and delivers scientific and technical information on optics and photonics worldwide. The organisation has over 23,000 members from more than 100 countries.
Since 1959, more than 2,500 members have joined the rank of Fellow, elected by the organisation's board of directors. The number of Fellows is limited by the Society's bylaws to be no more than 10% of the total membership, and the number elected each year is limited to approximately 0.5% of the current membership total, making it a very competitive process.