UWS academic, Naeem Ramzan, has been rewarded for his ground-breaking work at the Scottish Knowledge Exchange Awards 2020.
Professor in the School of Computing, Engineering and Physical Sciences, Naeem has been recognised in the Knowledge Exchange Champion of the Year category for his ground-breaking work in artificial intelligence and multimedia processing.
The Scottish Knowledge Exchange Awards are hosted by Interface, which works with businesses of all sizes, in all sectors, to match them to Scotland's world-leading academic expertise. The event celebrated the local and global impacts achieved for society and the economy through R&D partnership and knowledge sharing between businesses, colleges, universities and research institutes.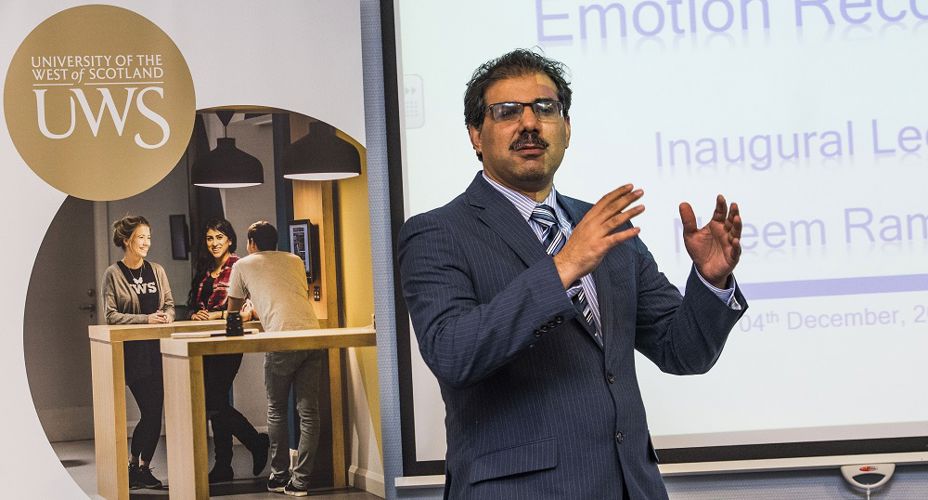 Professor Naeem Ramzan, who has been at UWS for nine years, actively supports knowledge exchange projects from grassroots level through to providing strategic insight to industry thought leaders, such as leading the call for culture change within different industries from IT to construction.
Naeem has been involved in a range of Knowledge Exchange projects with companies including Codeplay, Lumen Research, MODO, Seric, VMS and Loretto Care.
Ivan McKee, MSP, Minister for Trade, Investment and Innovation, presented the awards. He said: "I'd like to congratulate all the nominees and winners who have been recognised for their outstanding work at the Scottish Knowledge Exchange Awards."
"Not only do these awards celebrate activities and projects happening all over Scotland, they bring people together and create new collaborations and partnerships. Their innovation plays a crucial role in boosting productivity and creating sustainable economic growth for the country."
Professor Naeem Ramzan, said: "I am very pleased and privileged by this recognition, the panel members have acknowledged the successes of the team at UWS, which include colleagues involved in different Knowledge Exchange projects and Knowledge Transfer Partnerships and its industrial partners."
"We are delighted to have received this esteemed gratitude from Interface, whose principals of innovation and collaboration is in agreement with UWS's values of believing in partnership with businesses, public, private and global sectors in tackling social and economic challenges throughout Scotland and beyond."
Professor Naeem Ramzan