The student-centred culture – and transformative learning and teaching environment – at UWS has been praised in a major review.
The Quality Assurance Agency for Higher Education (QAA) praised the University for its achievements across six key areas, following an assessment by a team of five independent experts.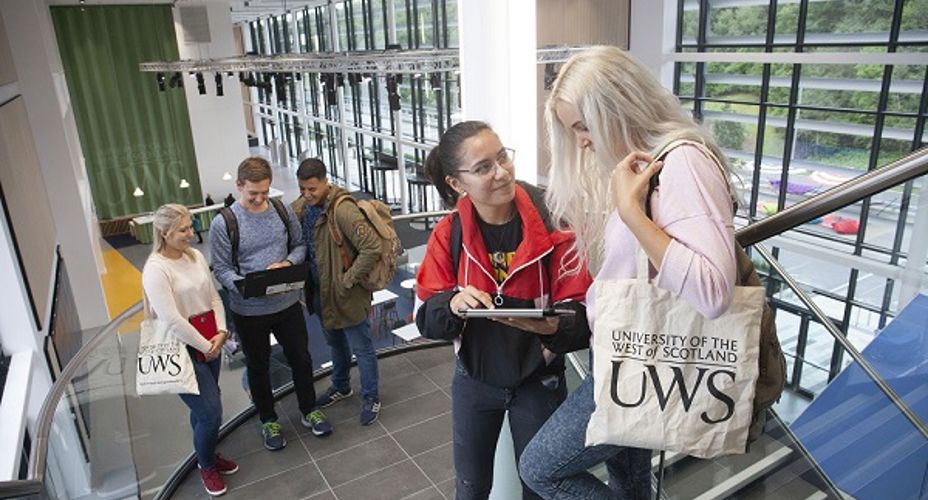 The final report, which assesses the standards of UK higher education, commended UWS's significant contribution towards widening access; well-designed and effective quality assurance and enhancement processes; and strategic collaborative provision, which ensures any partnerships align with institutional priorities.
Professor Craig Mahoney, Principal and Vice-Chancellor of UWS, said: "I'm delighted the reviewers recognised the excellent work going on across a range of areas of our University.
"I'm particularly pleased the review highlighted our student-centred culture, commitment to widening access to educational opportunities for all, and sector-leading learning and teaching innovations.
"The review – which also commended our processes, data use and strategic vision – comes at an exciting time for UWS, with us having recently unveiled our new Strategy 2025.  This lays the foundations for us to continue to achieve even greater excellence on the world stage, in partnership with global business, industry and the public and voluntary sectors.
"We welcome the review's endorsement of our strategic commitment to working in partnership with our students so that we can deliver world-ready graduates who will design, shape and build a new future."
UWS Principal Prof Craig Mahoney
"We couldn't have achieved these results without the commitment of our staff and students and I would like to take this opportunity to thank them for the part they have played in us achieving this great review."
Higher education institutions undergo QAA's Enhancement-Led Institutional Reviews (ELIR) process every five years, which examines arrangements to secure the academic standards, considers the approach to quality enhancement and also looks at the student learning experience.
The ELIR report confirmed that UWS has effective arrangements for managing academic standards and the student learning experience, recognising the quality of the learning experience the University provides for its students.
In addition to the six commendations, the ELIR makes four recommendations for the University, which include improving the effectiveness of two-way communication between students and staff, ensuring consistent support is in place for all students, introducing a process to review the contribution of student-facing professional services to student experience, and to continue with its plans to change the collaborative partnership model.
You can read the report here.