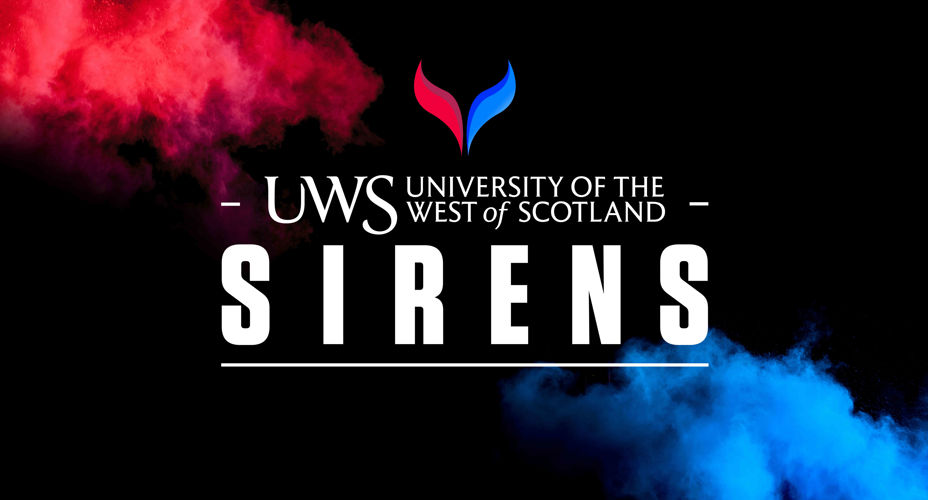 Season 2 - Sirens announce a new name 
Sirens announce game-changing new season 2 title sponsorship with University of the West of Scotland.
Scotland's Netball Superleague Team, the Sirens, is delighted to announce that it has entered into an exciting new formal partnership with the University of the West of Scotland (UWS), meaning that next Season they will be known as the 'UWS Sirens'.
We are extremely proud of our hugely successful association with Netball Scotland, which allowed us to support the launch of Scotland's first ever semi-professional netball team, the Sirens, as their Principal Partner in 2016. The overwhelming success of this partnership and our new status as the formal title partner of the UWS Sirens allows us to cement our emerging reputation for excellence in sport.
Professor Craig Mahoney, UWS Principal & Vice-Chancellor
Professor Mahoney continued:
"The Sirens are a truly outstanding group of high-performance athletes from across the world, who have had a significant and positive impact on women's sport in Scotland, and who have acted as exemplary role models for all.
UWS's revolutionary approach to investing in women's sport demonstrates our dedication to challenging the status quo and daring to be different through our ground breaking commitment to the development of the performance sport agenda for women in Scotland. We believe the UWS Sirens will continue to be excellent role models and play a key part in shifting inequalities in sports.
We share the Siren's ambition in establishing Scottish netball as among the world's best – the team's debut season was hugely meaningful for everyone involved, establishing this new team as a force to be reckoned with in professional netball.
We are excited about the future, and can't wait to see UWS Sirens continuing to change the game for women and sport across Scotland and beyond.
Together we will dream, believe and achieve."
The Sirens' debut season was ground-breaking, with the team attracting some of the biggest audiences across Sky Sports and at live games, and being recognised by multiple national Awards events for their impact and influence. With the backing of co-founding partners Netball Scotland and UWS, the UWS Sirens are looking to build on their season 1 successes and challenge for the 2018 Vitality Netball Superleague title.