UWS spin-out company Novosound Ltd is set to take its innovative work to the next level thanks to a recent round of investment.
The award-winning novel thin-film ultrasound technology company secured a total of £3.3 million, led by Foresight Williams Technology EIS Fund, which invested £1.5 million.
The company also gained £500,000 from Foresight Group's Scottish Growth Fund. The fund is financed by the Scottish Growth Scheme through a combination of Scottish Government funds and the European Regional Development Fund.
Existing shareholders including Par Equity, Kelvin Capital, Gabriel Investments, UWS and the Scottish Investment Bank, the investment arm of Scottish Enterprise invested a further £1.3 million.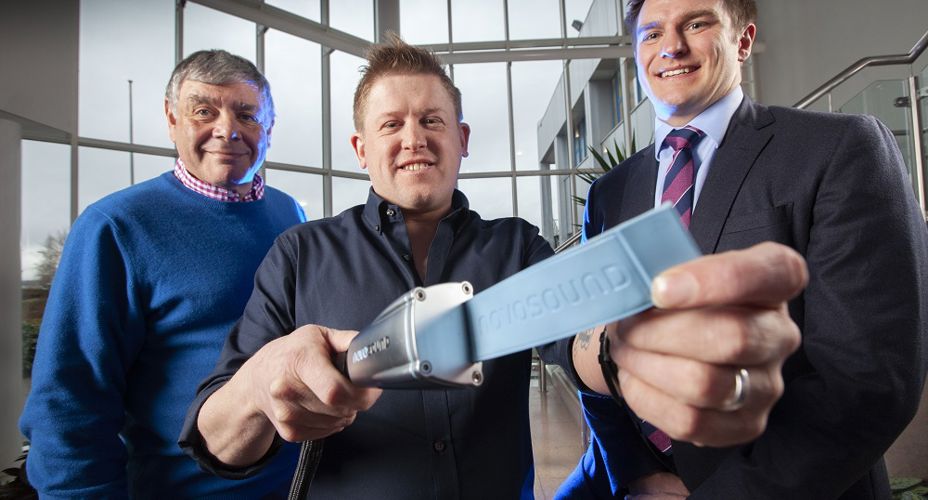 Novosound was established in 2018 by Dave Hughes, CTO, and Richard Cooper, CEO, as a spin-out from UWS where Hughes invented its core IP during his time as a Research Fellow. Cooper brings industry expertise as a successful technology entrepreneur.
Ultrasound sensors produce sound waves with frequencies above human range which transmit through an object to measure or image internal features. Commonly known for its use in maternity wards and other hospital departments, ultrasound imaging is also extensively applied in industrial settings as a safe Non-Destructive Testing ("NDT") technique for revealing below-surface deformities, cracks or corrosion.
Utilising the latest thin film deposition techniques, Novosound's patented innovation represents a turning point for ultrasound sensor technology. Operating in a high growth market valued at £35 billion, the Company has developed a unique thin film core material which eliminates limitations associated with existing ultrasound sensor solutions.
Dave Hughes, Founder and CTO of Novosound added: "This investment is really exciting for the team at Novosound as it will help us scale our operations and launch our advanced sensors for industrial monitoring and inspection."
"We are delighted to be working with the team at Foresight and Williams who have proved themselves thus far as the ideal partners for our growing technology business."
Dave Hughes, Founder and CTO of Novosound
Graeme McKinstry, Investment Manager at Foresight, commented: "Novosound is an excellent example of the talent and innovation coming out of universities in Scotland. We are delighted to have the opportunity to support entrepreneurs in the region and invest into early stage innovative Scottish businesses through the Foresight Scottish Growth Fund in partnership with Foresight Williams Technology EIS Fund.
The highly disruptive technology developed by the Company has global market application with the potential to contribute to increased productivity with applications across many industries including oil and gas and infrastructure. The investment will also enable the Company to pursue opportunities in untapped markets such as healthcare and wearables."