A group of third-year students from University of the West of Scotland (UWS) have been crowned winners at the prestigious Royal Television Society's 2020 Student Television Awards.
Daniel Greig, Julian Greenwood, Lawrence Hector, Neil Cunninghame, Jack Darrer and Kieran Colquhoun were recognised for their factual documentary "Grime Scheme Scotland", depicting the little-known, emerging grime music scene in Glasgow.
The six students, who are currently studying a BA in filmmaking and screen writing at the University's Ayr campus, scooped the coveted prize in the factual category for their film, which was commended for its honesty.
"We are delighted our students' creative work has been recognised amongst such strong competition from within the higher education sector."
Professor Nick Higgins, Director, UWS Creative Media Academy
"Such accolades are testament not only to the students' passion and talent, but also to the staff and mentors who nurture and encourage them to the next stage of their exciting careers."
Also recognised at the awards were UWS students Alex Cormack, Julia Tirkkonen, Annie Phelan, Josh Partington, Eve Manson and Kirsty Scott, who were nominated in the drama category for their film "Lost Brothers", which tells the story of two best friends struggling with guilt and grief in different ways.
Sponsored by STV and hosted by entertainment reporter, Laura Boyd, the glittering ceremony was held at The Everyman Cinema, Princes Square, Glasgow on Wednesday 5 February 2020.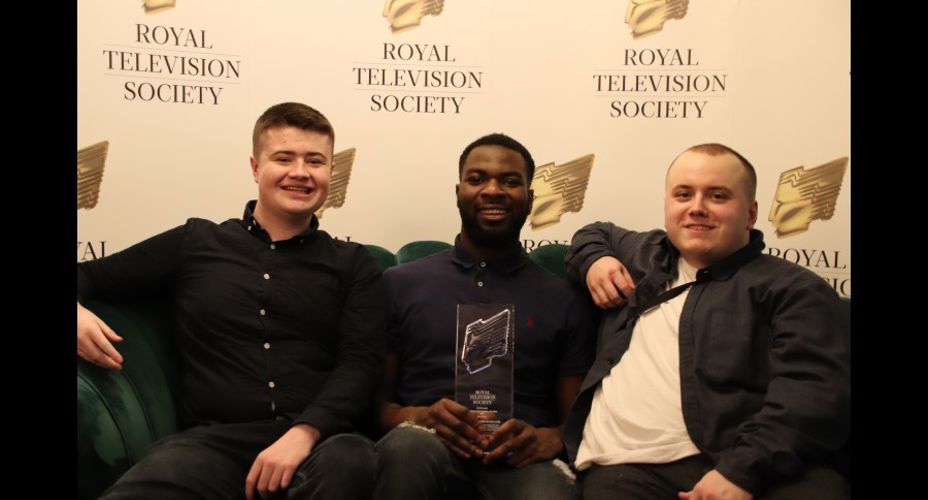 The awards celebrate the best audio-visual work created by undergraduate students in ten categories across animation, comedy and entertainment, drama, short form, factual, production design, editing, sound, camera, and writing.
Sam Firth, Lecturer in the School of Business and Creative Industries, who taught the winning UWS students, said: "I'm absolutely thrilled to see so many students' work from the BA filmmaking course being recognised in this way, both by being nominated for and winning RTS Awards for these two excellent films. I am always so impressed and inspired by our students' passion, enthusiasm, talent and desire to tell stories about people from all walks of life."  
James Wilson, Chair of RTS Scotland Student Television Awards, said: "Our industry depends upon the development of young people, their skill growing with their confidence under the guidance of their tutors and mentors.
"This year's programmes are as strong as ever and decisions were long argued and often very close. Every nominated team and individual should be proud of their achievement."
Simon Pitts, Chief Executive Officer, STV, said: "Scotland is brimming with exciting creative talent and STV is very proud to be sponsoring the RTS Scotland Student Television Awards again this year. As last year all the nominees will be offered a platform to showcase their fantastic programmes on the STV Player, where 4/5ths of the Scottish population are already registered users.
"Highlights of the awards ceremony will also be available on the STV Player and beyond that STV will be offering mentoring to the winners as they start their journey in this exciting and vibrant industry."